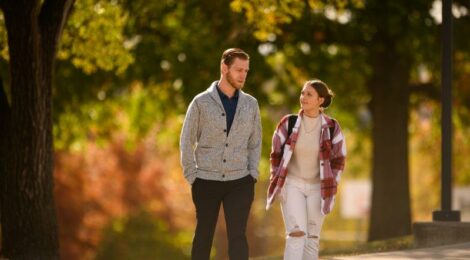 Submitted by the Prysmian Group
When Andrew Martini, a senior at Thomas More University, began his co-op at Prysmian Group North America in Highland Heights, Kentucky, he wasn't sure where his career path was headed. He considered human resources, but through his Thomas More University Robert W. Plaster College of Business Cooperative Education Program (co-op) placement at Prysmian Group North America, he realized that there were career paths out there that he had yet to explore.
Placed into Prysmian's import-export department, Martini joined the international logistics team and received hands-on training to gain work experience aligning with his degree while gaining real-world working experience. "I hadn't considered logistics, or international logistics, in general," said Martini. "It's such a different world of problem-solving."
It was a mutually beneficial match for the company.
"We had a real need here at Prysmian," said Joan Teeling, director of Import-Export Customs and Martini's manager at Prysmian. "We needed an extra person with critical thinking skills, and Andrew asks all the right questions. We would give him a project, lay out our expectations and he did it."
Teeling said it was important to give Martini projects that played into the larger aspects of the business and gave him real-world experience that he could carry into future opportunities. "A classroom is a lot more conceptual," said Martini. "When you take that step outside of the classroom, you get some experience you can carry into your career."
Through Thomas More's Co-op program with Prysmian Group, Martini has been exposed to various on-the-job skills he might not have encountered during his regular classes.
Martini gained experience with SAP, a vital tool in enterprise resource planning that allows a business to access and share common data to create a better working environment for every employee. He also worked with large data management, learned quote and booking processes, and investigative data management.
"I think the co-op program has definitely changed my career path looking forward," said Martini. "International logistics really interests me, but I'm also looking for something that will consistently challenge me and give me new problems to solve."
Learn more about Prysmian Group at https://na.prysmiangroup.com/.
More information about Thomas More's Cooperative Education and Partnerships can be found at https://www.thomasmore.edu/cooperative-education-partnerships/.
Prysmian Group North America
Prysmian Group is a multinational company headquartered in Milan, specializing in the production of cable and systems for use in the energy and telecom industries. Prysmian is the largest cable producer in the world with 30,000 associates and $16 billion in sales. Prysmian is present in North America with 28 plants, 48 in Europe, 13 in Latin America, 7 in the Middle East, Africa and Turkey, and 13 in Asia-Pacific.
Based in Highland Heights, Ky., Prysmian Group North America's operations include 28 manufacturing facilities, eight distribution centers, six R&D centers, and more than 6,000 associates with net sales of $6 billion. Additional information is available at na.prysmiangroup.com.
Media Relations
Lauren Kane
External Communications Manager
lauren.kane@prysmiangroup.com