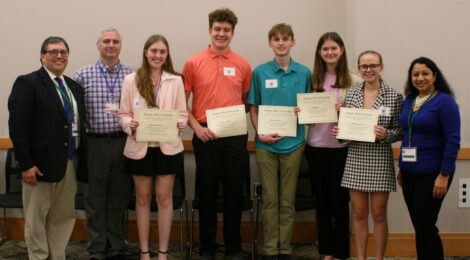 Submitted by Jyoto Saraswat, Ph.D., and William Wetzel, Ph.D.
On Feb. 25, 2023, current students, alumni, and faculty from the St. Elizabeth College of Natural and Health Sciences served as judges at the 2023 Science and Engineering Fair of Northern Kentucky (SEFNK).  Committed to the idea of planting the seed of science early, Thomas More has been organizing the Science Fair, along with other partners, for more than 10 years. Three faculty members, Dr. Bill Wetzel, Dr. Chuck Zimmer, and Dr. Jyoti Saraswat, serve on the Board of the Fair.  This science fair, which is held annually, brings together the top students in elementary, middle, and high school from its 30-county footprint to compete at the regional level. In addition to identifying the best student projects who subsequently move on to compete at the state level, Thomas More faculty and alumni award scholarships to the University to five deserving high school students. This year, scholarships were awarded to the following students: Abby Turnpaugh (Notre Dame Academy High School), Alexander Harper (Ignite Institute), Donovan Norris (Ignite Institute),  Mary Wall (Notre Dame Academy High School), Natalie Janzaruk (Notre Dame Academy High School). Congratulations to these outstanding students, we look forward to seeing you on campus as Saints.
For more information about SEFNK, visit tmuky.us/sefnk.