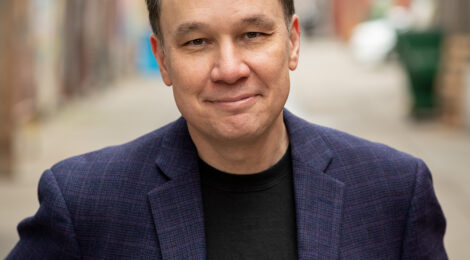 CRESTVIEW HILLS, Ky. (April 13, 2023) — Faculty and staff at Thomas More University are hard at work bringing programing and subject matter experts to campus which ensure students have exceptional learning experiences that set them up for successful careers and lives. Thomas More released a five-year strategic plan and capital campaign during its centennial celebration in 2021 with a primary focus to accelerate campus investments, solidify new partnerships, and introduce innovative academic opportunities. Three examples of innovative academic opportunities which took place in early 2023 are the hosting of film director Simonetta d'Italia Wiener and program manager Alberto De Simoni of "Unguarded" fame, Cincinnati environmental lawyer Robert Bilott, and New York Times bestselling author Jamie Ford.
On March 30, 2023, Thomas More's theology and criminal justice/sociology departments came together to host a screening of the documentary film "Unguarded." The film explores a revolutionary Brazilian prison system centered on full recovery and rehabilitation. The University welcomed Simonetta d'Italia Wiener, director and producer of the film, and Alberto De Simoni, program manager for the Restorative Freedom Initiative, to campus, hosting a discussion after the screening. "Our goal is to show the value of a dialogue between departments at the University that cover, in different ways, the same realities and to illuminate an existing reality that can give us hope and provoke interest in this important dimension of society," says Hannah Keegan, adjunct professor of theology at Thomas More. Bishop John C. Iffert and representatives from prison ministry programs in the Diocese of Covington, as well as representatives from the Archdiocese of Cincinnati, attended the event to glean how this new approach to recovery and rehabilitation tie into Catholic social justice teachings.
On March 31, 2023, the University hosted environmental attorney Robert Bilott, a Cincinnati native who spent more than 20 years litigating lawsuits against the dumping of hazardous chemicals, as a guest lecturer presenting to pre-law and science students. Bilott is known for lawsuits against DuPont on behalf of plaintiffs from West Virginia, which became the basis for "Dark Waters," a 2019 film starring Mark Ruffalo as Bilott, and Anne Hathaway as Bilott's wife, Sarah Barlage '88, a Thomas More alumna. Bilott continues the work to create awareness of deadly chemicals, traveling to university campuses across the country with a message that is all-the-more-relevant after the East Palestine train derailment in Ohio in February 2023. Bilott shared some details about the backlash that he faced in his quest to make this information available, even as he continues this important work through an understanding of his responsibility to others.
Social justice and equity are a continued topic as the English and creative writing department welcome New York Times bestselling author Jamie Ford on April 20, 2023. The guest author will talk about his writing and offer a brief, interactive question and answer session with attendees following the formal presentation. Ford's most recent work, "The Many Daughters of Afong Moy," is a provocative and timely read that intertwines history with speculative fiction related to transgenerational epigenetics, while also raising awareness about diversity, equity and inclusion (DEI), and mental health issues. This novel is featured in several Thomas More literature courses. "Thomas More is thrilled to host an author of Ford's stature to commemorate our 31st Caden Blincoe Outloud Festival, one of the English and creative writing department's most anticipated events of the year," says Julie Daoud, Ph.D., professor and chair of the department. "This year, the festival pays homage to Ford whose most recent novel touches on race, identity, love, intergenerational connectivity, trauma, and ultimately perseverance."
"As Northern Kentucky's first college, we continue to be the regional leader of a quality Catholic liberal arts education, providing students an experience that develops character, a sense of purpose, and an understanding of responsibility to others," says Joseph L. Chillo, LP.D., president of Thomas More University.
For more information about Thomas More University, visit www.thomasmore.edu.
###
About Thomas More University
For 100 years, Thomas More has created a university for the student who wants to Be More, Do More, Seek More, Win More, Achieve More, and Create More. Since its founding in 1921, Thomas More has provided a mission-driven, liberal arts education that is based in the Catholic Intellectual Tradition. Students learn to harness the power of human reason to solve problems and discover truth, which allows them to begin the journey to become the person they were created to be. Entering into the second century, it's time for More. Serving more than 2,000 students, Thomas More aspires to be the premier Catholic university in the Cincinnati/Northern Kentucky region, build upon its excellent return on investment (ranked #1 among private universities/colleges in Kentucky by MSN Money in 2021 and ranked #2 for long term gain in Kentucky by a 2022 Georgetown University study) and share with this generation the transformative power of the Thomas More experience. To find out more, visit thomasmore.edu.
MEDIA CONTACT: Lyna Kelley, director of communications and PR, kelleyl@thomasmore.edu, 859.344.3309