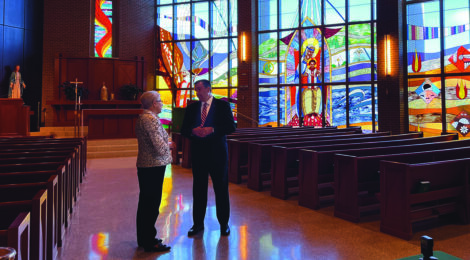 In December 2022, Mary, Seat of Wisdom Chapel celebrates 10 years at the center of campus. All are welcome to join us on Friday, Dec. 9, 2022, at 5 p.m. in the Chapel to celebrate at Mass with Bishop John Iffert, with Msgr. Gerald Twadell, rector of the chapel, concelebrating. Immediately following Mass is an Open House in Steigerwald Hall, Saints Center, on the Thomas More University campus.
Moreover invited former President Sr. Margaret Stallmeyer '68, CDP, to campus to discuss with President Chillo the journey by which the Chapel at the center of campus became a reality.

Sr. Margaret Stallmeyer: You know, I think a chapel has been something that was wanted for about 30 or 40 years, even before I got here (Thomas More University). There were two sets of plans for a chapel in the President's Office, which had never been used. One of them was across from where the new building is going to go and it was going to be an art building with the chapel attached to it. I can't remember where the other one was, but there were two sets of plans actually for the chapel. It's hard if you haven't been on this campus without the chapel, but you would come on campus and it would take a few minutes to realize it was a Catholic campus. You know where the old chapel was, you had to hunt to find the old chapel. I think people through the decades wanted it, Bishop Foys was very strong on it. In fact, Bishop Foys said to me when I asked permission for the football field, that that would be the last permission he gave me before a chapel (both laugh).
President Joe Chillo: That's an interesting blend to blend the chapel and the football field.
SMS: So it was like don't ask to build anything until you get a chapel on that campus. It was a desire and I think because it was so recognized by so many people as something needed, that really helped in terms of the fundraising for it.
JC: I think you're right that when you first come on this campus, it's hard to imagine this campus without the Chapel. It's one of the first buildings that you see and the importance from a signifying the Catholic traditions of our institution. It plays such a significant role.
SMS: It really does, yes. Then, we were so blessed with having Robert Hayes Architects. Actually, Bob Hayes who is now deceased, had started to design this with his son Joe, when Joe was in architecture school. They came (the two brothers) to say to us, "We'd like to do this in honor of our Dad."
JC: Oh, that's great, what a touching tribute.
SMS: It was and then they said this is what (we have planned) and kept working. So, things just started falling in place, and people were excited about it. And people throughout the diocese, were excited about it. There are, you probably noticed on the plaque, there are a number of parishes that supported this project. It was good and their vision, the Hayes's I'm talking about, their vision for it wasn't just for a chapel, it was really a gathering space on the campus, which you see when you look at how it's designed.
JC: And how it's used today. As we were talking, one of the things that we see is how students are intentional about using this space. It gives them the opportunity, of course, to celebrate Mass, but at the same time, it gives them a quiet place to be reflective and so we see students day in and day out coming in and using the Chapel for that particular reason. And as we were kind of joking about earlier, we've seen how the impact of COVID affected the campus and it gave us the space, and our students the space, to really have that spiritual development at a time that was really challenging that we were all going through.
SMS: Yes, it gives you the space and then I think the outside spaces are just fabulous. You're using those a lot, I see now for Convocations and things.
JC: We are. We've used this intentionally as a symbol because I think it's critically important at Catholic institutions, how we symbolize our traditions and our values. There's no better way to signify at Convocation, the role that we play in the Catholic liberal arts institution, but I think the critical part when you look at the role that the Chapel plays in signifying our Catholic liberal arts tradition and values, we start with that almost day one with Convocation and it's a great symbolism for our students to understand where they are and certainly their place in our university, and how that plays through.
SMS: For fundraising, we really did have people step up. Like this beautiful window (motions to the Jesus teaching the beatitudes window), John Griffin's wife had just lost her brother and he wanted to do that in his honor. You had those kinds of things happen and then, I think as people started to see it come together, there was even more excitement.
JC: The excitement build. We do the same thing, need to cycle up a bit and certainly as we launched the Strategic Plan – Lighting the Way and the Second Century Campaign, we've seen that same type of excitement. When we first started laying out the vision, people were nice and smiling, and said, "Okay, that sounds interesting," but then as we started rolling out some of the initiatives and the projects we saw that excitement build. Certainly as we're going into the second year of the Second Century Campaign, the excitement is just building and I think it's contagious in some ways, because it's brought new donors to the University and it's built some excitement with our alumni and other foundations that we're working with.
SMS: I think it's always a symbol for people that this University is alive, right? That we are alive and we're looking at what's going on and we're trying to make sure that we're adapting so our students are prepared.
JC: I think that's a big part of it. When you look at the position that Thomas More University certainly occupies being a diocesan institution is critically important to our identity, but also the role that we preserve in education at a Catholic higher education level. How do we integrate those values and traditions for our students to make sure that they're going to be successful, not just in a career, but how do they become successful in life?
SMS: Successful people; good community members. Good husbands, good wives. Yes, yes.
JC: They have to understand their role in our communities and with so many of our students going back to communities that they have been raised and born in, that's one of the great things about Thomas More is that we see the impact that we have within the communities here. It's always fun in our roles here when you start talking with alumni, with the ones who are second and third generation. For over 100 years, the institution has had an impact here in Northern Kentucky and the Greater Cincinnati area and we're watching that impact now in different generations. That's just the fun part, it really does.
SMS: I've even noticed that sometimes looking at some of the more recent Moreovers. It's like it's a whole new group of alumni that you are featuring and I'm like, "Oh my goodness. He graduated when I was here or she was just starting out."
JC: Speaking with our alumni especially as we get engaged in the Second Century Campaign, is having the stories and you start talking with some of our younger alumni and they'll start talking about, "Well, my mom went to Villa Madonna College and graduated from there and I'm here now" or as we heard from one alum recently who arrived here when we opened the campus in 1968 and talked about how the campus looks vastly different. I think that speaks to the success this Institution's had over that period of time, but also the intentionality of our role as a Catholic liberal arts institution and what does that mean today in the 21st century.
SMS: This was a good beginning here (motions to the Chapel).
JC: It was and we're continuing on with the progress. When you build on a good foundation, it makes things a little bit easier.
SMS: This University, no matter what name it was, whether it was Villa Madonna College or Thomas More College, and now Thomas More University, has had a good reputation in the community.
JC: It absolutely has. The academic reputation has been stellar but we've been very fortunate to have leaders like yourself and the role that you have played to make sure that the beacon of light was always shining on the University and you've done an extraordinary job. We've been very fortunate to have you.