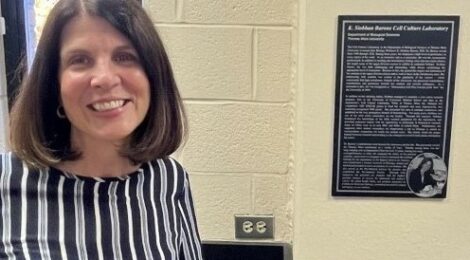 On Friday, Oct. 28, Thomas More University held a dedication ceremony to officially name the Cell Culture Laboratory in the Department of Biological Sciences after former Biology Professor, K. Siobhan Barone, Ph.D. Barone served the University from 1994 through her retirement in 2022 as an instructor, researcher, and Biology Department Chair. The consistently high enrollment of her courses was testament to the respect and admiration that she garnered from her students. Barone was recognized with the "Outstanding Full-Time Faculty of the Year" award from the University in 2009.
Barone maintained a very active research program at the Thomas More University Cell Culture Laboratory. During her tenure, she obtained two competitive National Science Foundation (NSF) Established Program to Stimulate Competitive Research (EPSCoR) grants to fund her research, as well as two nationally-recognized National Institute of Health (NIH) grants. Barone also presented data at national conferences and had her work published in the prestigious Journal of Immunology. During her time as Chair, the biology department saw the highest level of external funding in its history. Much of the equipment in the Cell Culture Laboratory was obtained through Barone's research and grant awards. She provided students from numerous majors the opportunity to participate in biomedical research, many of whom went on to earn MD.'s and Ph.D.'s in related fields.
Below are photos from the dedication of the K. Siobhan Barone Cell Culture Laboratory.