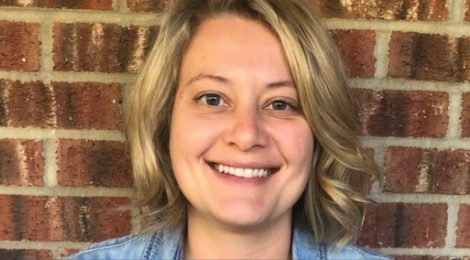 Submitted by Maria Heim '10
Since graduating in 2010, I have been asked several times what I liked about Thomas More and how it prepared me for the future. My answer is always that at Thomas More, I learned to think, work hard, and value myself. It was not just about opening a textbook, memorizing the facts, and then repeating it. It is about hearing what everyone else has to say, analyzing it, and drawing your own conclusions. This was drilled into me history course after history course. Positive feedback from professors increased my confidence and made me want to work harder. Eventually, these things combined and I did not just want to get through college, I wanted to be challenged and I wanted to excel.
An example of this that sticks out in my mind is Queen Elizabeth I of England. Having always been a fan of British history, I had read so many books, seen documentaries, movies, etc. I knew the basic premise, knew other historian's take on the "virgin" queen and for the most part just accepted that the history book facts were the facts. I can vividly remember sitting in Dr. Hebert's modern history class discussing Elizabeth as one of the "makers" and talking about her reasons for refusing to marry, whether it was that she did not want a man to rule her, no one could agree on the right person, or what have you. As all of this swirled into my head, it finally dawned on me, maybe Elizabeth knew she could not have children and rather than have it appear (in 16th century Britain) that she was failing, she chose to adopt the virgin queen persona and therefore avoid any question about her ability to produce an heir. The more I thought about it, the more it made sense to me in light of Henry VIII's notorious heir issues: Anne Boleyn's only having one child, Mary's phantom pregnancies.
Could this be true? I have no idea. If I ever write a book, maybe that will be my topic. But my point is that I did not read this theory in a book. I analyzed the facts over and over again and I drew my own conclusions. The ability to do this translates so far beyond the classroom.
The path I took was as a history major with political science and pre-legal studies minors. My plan was always to go to law school and eventually become a judge; I saw myself in the courtroom. While at Thomas More, I did study abroad, I did internships, I spent a summer at the Washington Center in Washington, D.C. I took advantage of the lectures, events, and connections that Thomas More and its professors had to offer. I feel like I left college with a well-rounded, well-lived experience. My only regret looking back is that I did not do a full semester studying abroad in Europe.
After graduation, I packed my bags and moved to Washington, D.C. I opted to go to law school at George Mason University College of Law in the evening, while working at the Internal Revenue Service (a position I was offered following my previous summer internship). I spent 3.5 years (the evening track) working full time and going to school four-to-five nights a week. It was a lot, but I had confidence in myself after my college experiences. I knew I could do it.
After completing law school, I decided to stay with the IRS. Between the benefits, flexibility, and the D.C. legal market not being great in 2013, it made more sense to me to stay with the government. I work in the Human Capital Office. This is a place I NEVER saw myself. I had not considered the federal government, let alone a human resources environment. I started here with an internship and have risen through the ranks. I have been a part of a lot of programs from hiring to workforce planning to innovation teams, some of which are day-to-day and some which impact all American people. I am successful in my job because I work hard and I can think. I tackle problems through logic, and I strategically plan for the future. I am confident that I put in a good day's work and that I make a difference. I learned these things at Thomas More.
Sometimes I beat myself up about the fact that I am not in the court room and 11 years ago when I left college, this is not where I saw myself. But the fact is, the court room is not the only path for a lawyer and I am in a position where I can raise my family and I have time to pursue other passions outside of work.
My advice to you is to think for yourself, make a plan, but do not be afraid to deviate from that plan if you find something better. Soak up everything you can while you are at Thomas More, it will serve you well on whatever path you decide to take.