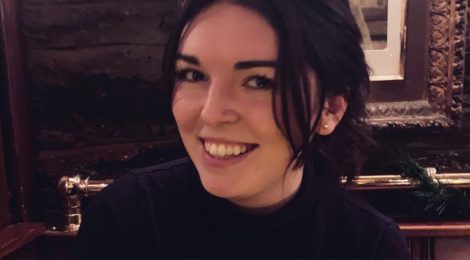 Submitted by Madison Light '19
On Aug. 15, 2015 I walked into a small classroom in what was then the business hallway of the administration building. The class was the honors first year seminar, titled "Makers of World History," taught by Dr. Hebert. I never intended to take many history classes in college – just those I would need to graduate. I wanted to major in something sensible – business, maybe even political science. Having a class that made me think about world history in a broader sense than just memorizing facts and dates, however, made me see the applicability of a degree in history. Sure, maybe debating whether Napoleon was a child or betrayer of the French Revolution will not land someone a job at a Fortune 500 company, but it taught us to think critically. Beyond that class, all of my history courses invited me to think critically and creatively. I cannot speak highly enough of the faculty and advisors in the History Department, as well as in English and philosophy, whom I studied under for minors.
My senior year at Thomas More proved to be the most important year of college for me. In the fall of 2018, Dr. Mader reached out to me with a potential opportunity. She said that a graduate from our program, Kaylan(Hart) Gunn '14, was working with a company called Cowan's Auctions in Cincinnati, Ohio, and they might be looking for interns. Knowing nothing of the auction industry, I sent in a resume and cover letter anyway. I took a risk, and that internship proved to be one of the greatest experiences of my life. I was working with Gunn in the American History department, cataloging 19th century photography, newspapers, broadsides, Civil War letters. These were things I had never seen in person, just behind glass at a museum. Once I had this special hands-on experience with history, I knew this was a career path I wanted to pursue. When I graduated, they offered me a full-time position as a cataloger in the American Indian Art department. I am still with the American Indian Art department, though as the department coordinator now. Since I started with Cowan's, we have merged with Leslie Hindman Auctioneers in Chicago and are now simply Hindman Auctions. Every year, every auction, we see truly incredible material. I would not have been presented with this wonderful opportunity had it not been for my time at Thomas More.
During my senior year I decided I wanted to pursue every opportunity possible, trying to make the most of the remainder of my undergraduate career. Dr. Sherron was leading a trip over Christmas break to London and Dublin for a global bioethics course. As a philosophy minor, I thought this might be a good opportunity for me. The trip was one I will remember forever. I am a big supporter of Christmas break trips. We left on Boxing Day, stayed at a fabulous hotel in Mayfair in the West End of London, viewed the New Years' Eve fireworks (hello, 2019!) from Green Park, had class in some of the world's finest museums, and saw one of the most beautiful cities in the world still decorated for Christmas (London decorates for Christmas). From there we went to Dublin, toured Trinity College where we saw the Book of Kells and the Long Room (one of the world's most beautiful libraries), visited Newgrange, and discussed even more philosophy. The last day in Ireland, a group of us took the train to Howth. We hiked along the Irish sea all morning and afternoon. Cold and soggy we made our way to a small restaurant by the sea called The Dog House Blue's and reminisced on our whirlwind of a trip. I look back on that trip often and fondly. I could not recommend a study abroad trip with the University more.
Now, I am still working with Hindman Auctions and I am also a graduate student at Northern Kentucky University in their Masters of Public History program. In this program we participate in historic preservation, execute exhibits for local museums, learn about best practices in museum education, and more. Thomas More certainly equipped me for success in these areas of my life.
There are many opportunities for greatness in the History Department at Thomas More. It is simply up to you to seize them.