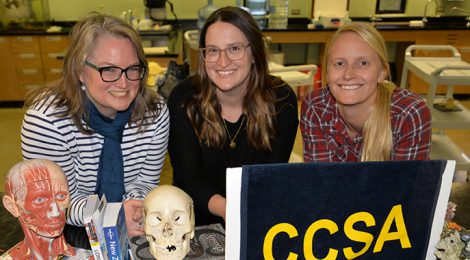 Thomas More University's "tres amigas" are spending the 2018 holiday break leading study abroad classes to London, Dublin, and New Zealand.  Sarah Blackwell, Stephanie Snyder, Ph.D., and Cate Sherron, Ph.D., are all offering classes through the Cooperative Center for Study Abroad (CCSA), which the University has been affiliated for more than 20 years. The three professors' winter classes represent diverse study abroad programs and a unique opportunity for scholarship for 19 current Thomas More University students.
English Professor Sarah Blackwell previously led a CCSA course in the summer of 2016. During this winter break, she will be in England teaching London Gothic: From White Witches to Madwomen in the Attic. Blackwell's 12 students (seven from TMU) will be exploring the city of London visiting Victorian spiritualist homes, Highgate Cemetery, and Gothic museums and locations that inspired the works the students will read in an effort to determine how well contemporary novels reflect Britain's Gothic tradition. Sarah explains, "Teaching study abroad has been a natural fit for me, as it allows me to combine my love of world travel with my passion for teaching literature. There is something powerful about walking the streets where literary greats walked, going to their houses, their favorite pubs, and seeing the inspiration for their work. Teaching abroad makes this context possible, allowing literature to come alive and feel relevant and exciting."
Assistant Professor of Biology Stephanie Snyder will spend 17 hours in the air with her 12 students (four from TMU) prior to teaching the class Island Biogeography: Exploring the Biodiversity of New Zealand.  Although this is Snyder's first study abroad class, she is a seasoned traveler, having engaged in research held in diverse environments which range from the mangrove forests in the Bahamas to the Gulf of Aqaba in the Middle East. "Teaching abroad allows me to be inspired by the magnitude and diversity of life on this planet and to share this experience with students," explains Snyder. "There is simply no better way to study biology than to explore the natural systems that we read about in our textbooks and see on our televisions."
Philosophy Department Chairperson Cate Sherron, who is also director of the University's James Graham Brown Honors Program, has extensive study abroad experience with this being her fourth trip through CCSA. During this winter break, she leads 12 students (eight from TMU) in an exploration of Ethical Thinking about Global Health, Public Health, and Medicine in the U.K., Ireland, & U.S. by spending time in London and Dublin. The class represents Sherron's more than 20 years of research and study in bioethics. As a seasoned traveler, and as a host for exchange students from Turkey, Bahrain, Ghana, and Bosnia, she has appreciated these experiences bringing different cultures into her life. Spending time in London is particularly personal for Sherron as this is her birthplace. She explains, "I especially welcome first-time travelers and novice philosophers to global bioethics!"
Faculty who are willing to engage students in study abroad programs are a source of great pride for TMU. An expanded perspective of the world comes from being a participant in life's diversity. This directly contributes to fulfilling the University's mission to help students examine the ultimate meaning of life, their place in the world, and their responsibility to others. For more information about study abroad programs, either as a student or faculty member, contact Director of Global Initiatives Luis Sierra, Ph.D., in the history department. Student financial assistance for study abroad is available through the Global Perspectives Endowment Fund, created through a grant award from the James Graham Brown Foundation, Inc. In fall 2018 alone, the Global Perspectives Fund provided more than $20,000 in awards to CCSA student study abroad opportunities.