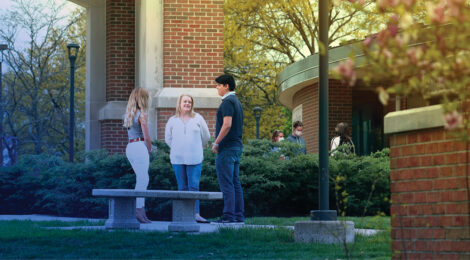 CRESTVIEW HILLS, Ky. (Nov. 18, 2021) — In response to the constantly evolving demands of the area's workforce, Thomas More University's Digital, Graduate and Professional (DGP) programs has added several new offerings. These offerings are built with the intention of providing adult learners needed flexibility, while preparing them for successful careers with research-backed, in-demand skills.
Since its founding as Villa Madonna College 100 years ago, Thomas More has been committed to ensuring that all people have the ability to receive a college education. The widely recognized Thomas More Accelerated Program (TAP), which was introduced in the '90s, opened the door for working adults to earn a degree on their terms and has now evolved into the current DGP programs. This modern translation of programming aims to increase affordable access to a high-quality education, which is in line with the University's mission as a Catholic Liberal Arts institution. "As a smaller university who has been in northern Kentucky now for 100 years, we know the community well, and we can also be nimble," says Angela Crawford, Ph.D., Vice President of DGP programs at Thomas More. "For example, we can customize credentials and professional development programs to meet the changing needs of organizations. We also have the ability to create specific cohorts of students all earning their undergraduate or graduate degrees together within the same organization. Talk about an excellent retention tool for high performers!"
Adding to the array of accessible online programming, Thomas More University also launched a 100% online accelerated bachelor's degree in psychology. Designed to meet students where they are, individuals can transfer up to 90 credit hours, allowing them to quickly finish their degree. This program prepares students with critical skills for evaluating the veracity of content in our increasingly digital age. Graduates of Thomas More's psychology program see post-graduate careers in fields such as social work, counseling, law enforcement, medicine, market research, and human resources.
Thomas More also seeks to accommodate those not interested in a degree-seeking program. The new non-credit micro-credentials and badges launched by DGP are in direct response to employer needs, adding valuable skills for employees. These professional credentials are created with working individuals in mind, with offerings in a self-paced, online format. Credential offerings differ from most other programs by integrating optional expert-led facilitated sessions. "Right now, the labor market is a significant challenge for employers. Attracting, retaining, and engaging employees is critical," says Crawford. "Through conversations with local leaders, we know that many employees need additional skills, such as leadership, management, logistics, supply chain, cybersecurity, human resources, and marketing, just to name a few. Over this past year, we acted quickly on their feedback and developed over 50 self-paced micro-credentials that can work around anyone's schedule."
For more information about Thomas More University Digital, Graduate, and Professional Programs, visit www.thomasmore.edu.
###
About Thomas More University
For 100 years, Thomas More has created a university for the student who wants to Be More, Do More, Seek More, Win More, Achieve More, and Create More. Since its founding in 1921, Thomas More has provided a mission-driven, liberal arts education that is based in the Catholic Intellectual Tradition. Students learn to harness the power of human reason to solve problems and discover truth, which allows them to begin the journey to become the person they were created to be. Entering into the second century, it's time for More. Serving more than 2,000 students, Thomas More aspires to be the premier Catholic university in the Cincinnati/Northern Kentucky region, to build upon the #1 ranking for long term gain in Kentucky (2019 Georgetown study) and share with this generation the transformative power of the Thomas More experience. To find out more, visit thomasmore.edu.
MEDIA CONTACT: Lyna Kelley, director of communications and PR, kelleyl@thomasmore.edu, 859.344.3309