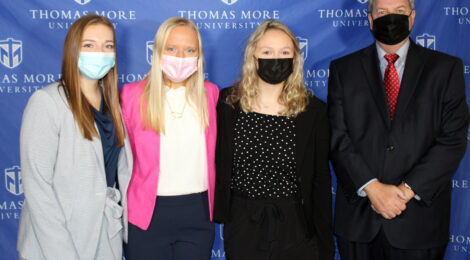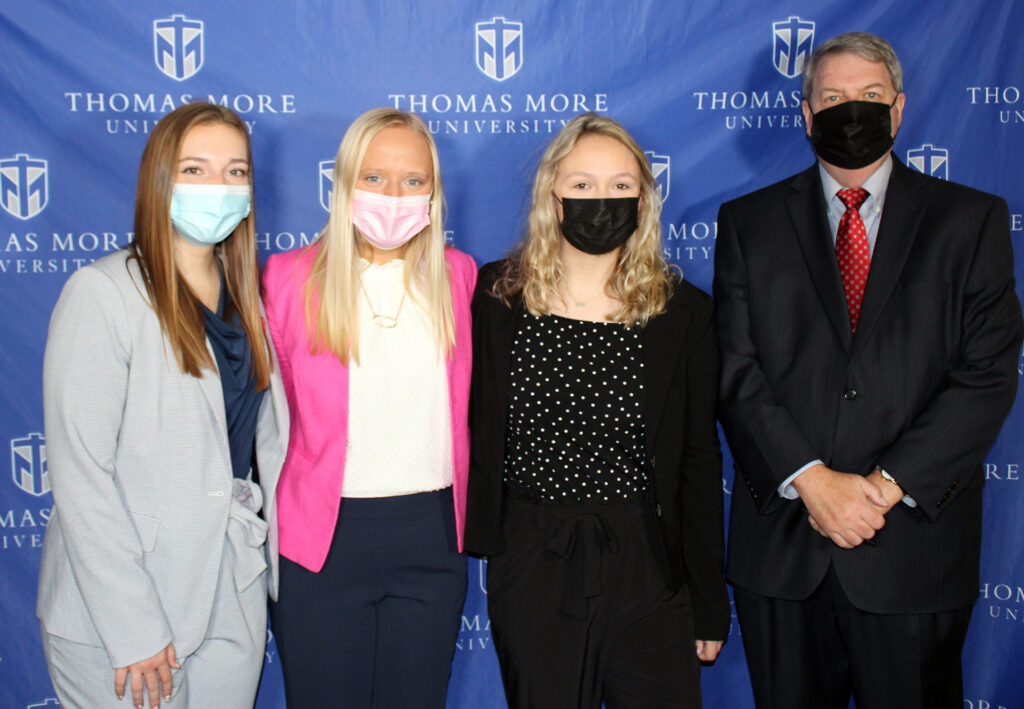 The Republic Bank Foundation Institute for Career Development and Graduate School Planning holds an annual Mock Interview Competition providing students with an opportunity to gain valuable experience and skills for professional interviewing.  The competition is sponsored by Thomas More alum Rich Lindhorst '75, who provides financial compensation for the top three participants in this juried event.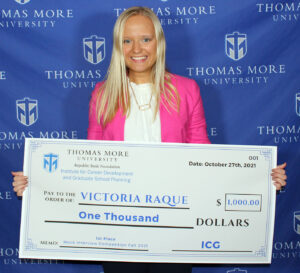 The 2021 competition was held in October with 63 students applying to participate. Twenty six students were accepted with 23 competing in round one. Based on those interviews nine students were selected to compete in round two. Those selected included: Noah Pflum, Victoria Raque, Katelyn Weldon, Troy Messerschmitt, Abby Hightchew, Kennedy Yurt, Autumn Frank, Zoie Barth, and Michael Logan.  The top three students were Victoria Raque, Autumn Frank, and Zoie Barth.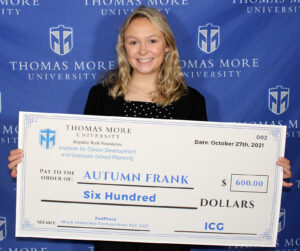 1st Place ($1,000) – Victoria Raque: Senior Accountancy Major
2nd Place ($600) – Autumn Frank: Junior Communication Major
3rd Place ($400) – Zoie Barth: Junior Biology Major
Twenty twenty one was a very competitive year; all the interviewees did a wonderful job.  The judges feedback unanimously focused on improved quality of participant preparations this year.  They said students had professional resumes, presented themselves with composure, and responded to questions with well thought out answers.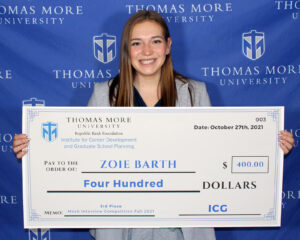 Local human resources staff and hiring managers, many of whom were Thomas More alumni, were recruited to volunteer as judges.  In fact, alumnus Joshua Hunter '17 from The Lilly Company has volunteered as a judge for the last two years. Before becoming a judge, Joshua participated in the Mock Interview Competition and was one of the winners. 
Thank you to ICG staff members Samantha Palmer, Coordinator of Career Planning, and Kiera Bowman, Project Coordinator, for planning and executing an excellent event and congratulations to all those students who participated.