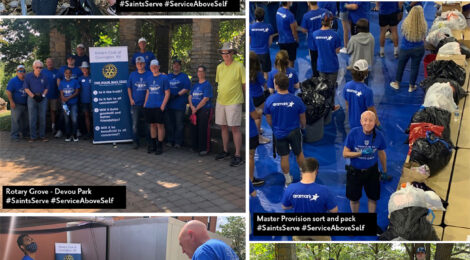 CRESTVIEW HILLS, Ky. (Nov. 11, 2021) — It began with a back porch pandemic conversation. Brenda Kelly Fauber, Service Chair of the Covington Rotary, shared with Judith A. Marlowe '69, Ph.D., Chairperson of the Thomas More University Board of Trustees, her disappointment that COVID prevented the Rotary from celebrating their 2020 centennial with Thomas More, which was approaching their centennial celebration in 2021. The longest standing service club in Northern Kentucky and the first college of Northern Kentucky should celebrate these milestones together.
Covington Rotary, chartered in Dec. 1920, is dedicated to "Service Above Self" and is known for its Four-Way Test, a non-partisan and non-sectarian ethical guide to professional and personal relationships: Is it the truth? Is it fair to all concerned? Will it build goodwill and better friendships? Will it be beneficial to all concerned? Thomas More University, founded in Sept. 1921 as Villa Madonna College, and located in downtown Covington throughout its first 50 years, challenges students to examine the ultimate meaning of life, their place in the world, and their responsibility to others, which includes service. Beyond the alignment of these guiding principles there are decades of shared members as past Covington Rotary Presidents include several Thomas More trustees and administrators.* Mary Fisher, former Vice-President of Institutional Advancement at Thomas More, was one of the first two women admitted to Covington Rotary in 1989, when membership was no longer limited to men. More recently, Covington Rotary established a Rotaract Club under the leadership of Thomas More's John Wolper, Ph.D., to develop the community service interests and skills of students from all local colleges and universities. With roots in downtown Covington, a history of shared leaders, and a mutual commitment to service, the idea to join in a special day of projects to commemorate this relationship and celebrate centennials was inevitable.
The result on Sept. 14, 2021, saw Thomas More students, faculty, and staff put aside their regular duties to work alongside Covington Rotarians, including Thomas More alumni, and even former Secretary of State and State Representative Ken Harper, the longest serving Covington Rotarian. The Rotary Club connected Thomas More with several of their ongoing service projects and facilitated additional opportunities to serve the community in a variety of locations that included:
Clearing 1.45 tons of debris from the Kentucky side of the Ohio River in cooperation with the Ohio River Valley Water Sanitation Commission, and the City of Covington Solid Waste and Recycling and Public Works teams
Preparing sandwiches and assembling personal hygiene kits for the Parish Kitchen, and painting benches at their Madison Avenue location
Clearing and mulching Rotary Grove and trails in Devou Park in cooperation with the City of Covington Parks and Recreation
Removing debris and restoring NaturePlay, a free, handicapped-accessible green space where children and their families can explore the outdoors, located at the Behringer-Crawford Museum
Delivering donated clothing to the Thomas More campus, along with sorting and packing, for Master Provisions to send to 7,000 people in need in Togo, Ghana, and Honduras
"What an exciting and inspiring day for everyone who participated," an enthusiastic Fauber remarked. "Rotarians were able to demonstrate their commitment to service, meet and share the day with wonderful Thomas More students, faculty, and staff. Best of all was the chance to enjoy seeing how the community benefited from their joint efforts as they viewed the results of their completed work. Our International Rotary President Shekhar Mehta has observed that 'Service is the rent I pay for the space I occupy on this earth' and we agree wholeheartedly. This Day of Service will be an annual opportunity for a truly rewarding experience."
Marlowe concurred, adding "Bringing together two of the longest standing community assets in Northern Kentucky in such meaningful activity is an important step in nurturing a culture of social responsibility and service that benefits our region and beyond. That has been the mission and legacy of both Thomas More University and Covington Rotary throughout our respective first 100 years. As Thomas More President Chillo reminds the campus community, 'developing a commitment to service is essential to fulfilling our mission,' and for this reason, we look forward to continuing to partner with Covington Rotary to do just that as our second century unfolds."
*Rotary Presidents: 1967 John Cronin (Villa Madonna College Board of Overseers), 1974 Frank Sommerkamp (Thomas More College Board of Trustees Chair), 1984 Raymond Hebert, Ph.D. (Thomas More University professor, Dean of the College Emeritus)
For more information about Thomas More University, visit www.thomasmore.edu.
###
About Thomas More University
For 100 years, Thomas More has created a university for the student who wants to Be More, Do More, Seek More, Win More, Achieve More, and Create More. Since its founding in 1921, Thomas More has provided a mission-driven, liberal arts education that is based in the Catholic Intellectual Tradition. Students learn to harness the power of human reason to solve problems and discover truth, which allows them to begin the journey to become the person they were created to be. Entering into the second century, it's time for More. Serving more than 2,000 students, Thomas More aspires to be the premier Catholic university in the Cincinnati/Northern Kentucky region, to build upon the #1 ranking for long term gain in Kentucky (2019 Georgetown study) and share with this generation the transformative power of the Thomas More experience. To find out more, visit thomasmore.edu.
MEDIA CONTACT: Lyna Kelley, director of communications and PR, kelleyl@thomasmore.edu, 859.344.3309