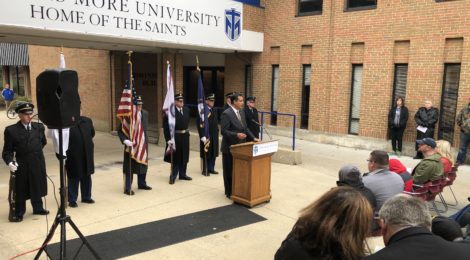 CRESTVIEW HILLS, Ky. (Nov. 11, 2019) — Pursuing a college degree after leaving the military can be a daunting experience for some student veterans. To better serve the needs of student veterans at Thomas More University, a new space on campus was established for student veterans to build community, relax, and obtain academic resources needed to advance their education. On Saturday, Nov. 9 at noon, the Thomas More community held a grand opening for this new veterans space. The ceremony took place outside the Administration Building prior to the Thomas More Military Appreciation Day football game, where all military received free admission to the game and were invited to the president's tent.
Vice President for Enrollment Management and veteran Chris Powers, Ph.D., conducted the ceremony. Welcoming the attendees, Powers invited the Green Township Veterans of Foreign Wars Post 10380 to present the colors and the Thomas More Saints Marching Band performed the national anthem. Following the national anthem and an invocation by Thomas More's Father Gerald Twaddell, student-veteran Michael McCord, a senior at the University, spoke to what the new space meant to him.
Also, during the ceremony, 1975 Thomas More grad Tom Schmitz, from the Green Township Veterans of Foreign Wars Post 10380, presented a $2,000 check to President Chillo for enhancement of the new space. The funds will go towards additional amenities for the room, such as furniture and a printer.
"As a veteran, I am happy to see that the university is able to create a space for our student veterans," said Vice President for Enrollment Management Chris Powers. "They are a special group of students that deserve recognition for their personal sacrifices for our country.
Currently, Thomas More has nearly 60 student veterans or dependents of veterans enrolled. The new space was a vision of Michelle Vezina, head of the Office of the Registrar. Her desire for a bigger space for the veteran community on campus lead her to submit a proposal as a Staff Innovation Grant, an initiative introduced in February 2019. The grants offer a way to invest in staff-lead campus projects. Vezina's proposal was selected and she was allotted the funds to move forward with her project.
Thomas More offers scholarships to veterans seeking admission to the University. For more information, contact the Admissions Office at calling 859.344.3332 or sending an email admissions@thomasmore.edu.
Thomas More University provides students with something much more than job training. Graduates are prepared for any career. But they leave prepared for much more. They are exposed to the very best thought, literature, art, and music. They learn to harness the power of human reason to solve problems and discover truth. Most importantly, they have the chance to begin to become the person they were created to be. This is the power of the liberal arts in the Catholic Intellectual Tradition at Thomas More University. Our students come here looking for more. And that's exactly what we offer. Here our students take that opportunity and…Make It More. Learn more at thomasmore.edu.
###
Thomas More Honors Veterans with a Veterans Space Grand OpeningMEDIA CONTACT: Rebecca Stratton, director of communications and PR, strattr@thomasmore.edu, 859.344.3309