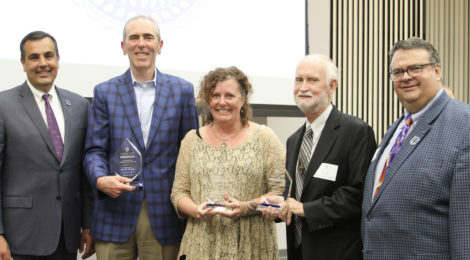 Four Community Leaders Recognized with 2019 Thomas More Alumni Awards
CRESTVIEW HILLS, Ky. (Nov. 12, 2019) — The Thomas More University Alumni Association honored four individuals at the 2019 Alumni Awards last Sunday, Nov. 10, in Steigerwald Hall in Thomas More's Saints Center.
"It's always exciting to recognize and honor our wonderful alumni," said Director of Alumni and Parent Engagement Bailey Bundy. "This year, we recognized four individuals who are not only engaged Thomas More alumni, but are individuals vital to our community. Their commitment to improving and enhancing their communities is evident, and we are thankful for them."
The Thomas More Alumni Association has been honoring esteemed alumni since 1968. Three alumni and one faculty member were awarded for their accomplishments in and around the community during the ceremony. Recipients of the awards were selected by members of the Thomas More Alumni Association Board of Directors along with the directors and Thomas More faculty and staff. Alumni Association Vice President Dave Macke '81 presented the awards during the ceremony.
The Citizenship Award recognized an alumnus who has made significant impact on the welfare of his or her community through service and leadership. This graduate has also demonstrated a commitment to the integrity, concern for justice, and service to others. The 2019 recipient is Steven Lutkenhoff '71. Lutkenhoff has dedicated his entire life to the Catholic Church and to serving the northern Kentucky community by helping underprivileged families achieve the dream of home ownership and through various other community service endeavors.
The Professional Achievement Award recognized an alumnus whose career has reached a level of excellence in their respective field of endeavor and was acknowledged as such by peers and other knowledgeable contacts. The 2019 recipient is Jeffrey Mando '80, Esq. Mando is a veteran trial and appellate attorney and a member of Adams, Stepner, Woltermann & Dusing, PLLC in Covington, Kentucky. He has tried more than 80 cases to a jury and argued more than 60 appeals in federal and state courts in Kentucky and Ohio.
The Service Award recognized alumni or friends of Thomas More who have provided continued service to the institution. This award recognized extraordinary service in terms of time, energy, and expertise rather than financial support. The 2019 recipient is Jeanne-Marie Tapke '91, Ph.D. Tapke is a lifelong volunteer focused on organizations that promote human potential as well as equality in the areas of social welfare, education, and health.
The Lasting Influence Award recognized a Thomas More faculty or staff member – past or present – who has provided a positive and lasting impact on the lives of students. Recipients in this category had served as role models for the University's mission and had been an influence in the career choice of the students they served. The 2019 recipient is Sherry Cook Stanforth, Ph.D. Stanforth is an English professor and the founder and director of Thomas More's Creative Writing Vision Program. She promotes regional authors and performance artists, providing interactive educational and public arts programs for diverse/underserved populations in the Cincinnati/Northern Kentucky community.
Thomas More University provides students with something much more than job training. Graduates are prepared for any career. But they leave prepared for much more. They are exposed to the very best thought, literature, art, and music. They learn to harness the power of human reason to solve problems and discover truth. Most importantly, they have the chance to begin to become the person they were created to be. This is the power of the liberal arts in the Catholic Intellectual Tradition at Thomas More University. Our students come here looking for more. And that's exactly what we offer. Here our students take that opportunity and…Make It More. Learn more at thomasmore.edu.
###
MEDIA CONTACT: Rebecca Stratton, director of communications and PR, strattr@thomasmore.edu, 859.344.3309