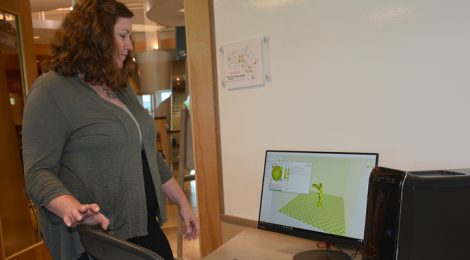 With a passion for manufacturing, economics, electro-optics, and the maker movement, Emily Fehrman Cory '05 is shaping the future of makers at the University of Dayton through her investment as a full-time faculty member and mentor of newly established makerspace. She credits her liberal arts education for shaping her passions and entrepreneurial spirit, leading to an impactful career.
Top photo: Emily demonstrates software that enables users to print their own creations using a 3-D printer in the Maker Hub she co-founded for Wright-Patterson employees. (U.S. Air Force photo/Lori Hughes)
_________________________________________________________________________________________
Emily Fehrman Cory '05 graduated from Thomas More College with a Bachelor of Science in physics and an Associate of Arts in mathematics. She is currently Faculty of Practice in Innovation and Entrepreneurship at the University of Dayton (UD) School of Engineering and was recently appointed Director of Leonardo Enterprises, the UD School of Engineering business incubator for student-founded technology startups. Prior to this, Emily received her Master of Arts and Ph.D. in electro-optics from UD. She credits Thomas More for encouraging her in her passions and helping her distinguish a career path trajectory. Her numerous accomplishments include founding the first ever makerspace in the Air Force Research Laboratory and serving as deputy director and chief technology officer for America Makes.
Emily credits her senior research project at Thomas More in astronomy with introducing her to electro-optics. What does astronomy have to do with electro-optics? For then undergraduate student Emily, astronomy was the stepping stone to discovering her passion. During her time at the College, the BB&T Observatory was being built. Emily used that opportunity to perform her senior research at the new facility. She undertook the responsibility of observing and documenting minor planets so that the Observatory could be designated as an official Minor Planet Observing site. However, she realized her love for astronomy might not mesh well with her circadian rhythm. "I realized that I'm a morning person, and astronomy is very difficult when you have a hard time staying up late!" she says. Emily did not allow that to dissuade her but to lead her to new opportunities, "I realized that I could still be a part of astronomy research (and get to bed early!) by designing and building optical equipment to support astronomers." That is where electro-optics ties in. Thomas More professor, Dr. Robert Riehemann, her mentor and support, connected Emily to the graduate program in electro-optics at UD, allowing her to pursue her passion in studying optical devices. Further, Dr. Riehemann helped her apply for the Dayton Area Graduate Research Institute Fellowship, which supplied financial support for Emily throughout her master's and doctorate research at UD. 
After graduating from Thomas More in 2005, Emily began her graduate program work in nano-fabrication under Dr. Andrew Sarangan at UD, designing and manufacturing nano-scale devices. These nano-devices are vital to modern society as they are used in everyday technology such as the LED and LCD screens on smart phones, RFID chips to identify lost pets, and are even used in precision surgical robots. After completing her master's degree, a graduate program led her to work at the Air Force Research Laboratory's Sensors Directorate under Dr. Emily Heckman. There Emily compiled research on using DNA as an electro-optic material. "It was through this work that I realized I had a passion for manufacturing, because a large part of my research was in discovering how to manufacture devices using this new biomaterial," explains Emily. Because of her outstanding research work under Dr. Heckman, Emily was offered the position of program manager at the Air Force Research Laboratory (AFRL) Materials and Manufacturing Directorate, in the Manufacturing and Technology Division, Electronics and Sensors Branch, upon completion of her doctorate. She further took on the responsibility of becoming the deputy director and chief technology officer for America Makes, the National Additive Manufacturing Innovation Institute. 
It was during her time exploring this interest that Emily realized another one of her passions: makerspace. America Makes, which is the product of the maker movement, is the national institute leading in the development of 3D printing technologies in the United States. The maker movement is a worldwide effort to encourage creativity and the sharing of ideas. All people can be "makers," whether they are artists, scientists, musicians, teachers, or students. Makers gather in public workshops, called makerspaces, to share tools, ideas, materials, and encouragement as each one works on his or her project. This invites creativity, friendly criticism, and the enlightening of minds as people forge the bonds of unity in "making" together. The effectiveness of these makerspaces is now so well accepted is that large companies, such as Apple and Google, support these communal workshops for their employees. Emily was fascinated by this modern renaissance of ideas and realized how it could benefit her own workspace.
Appreciating the importance of the maker movement, Emily became an advocate for the program. "I took the bold step of asking the AFRL chief scientist to allow me to start a makerspace for AFRL." Her risk paid off. Once the chief scientist understood the concept, Emily was able to launch the very first Air Force makerspace as founding director of the AFRL Maker Hub. This hub is still blooming, thanks to her efforts, and the Air Force has even opened a second hub in Albuquerque, NM. 
As an additional benefit to founding the Maker Hub in Dayton, Emily was contacted by the University of Dayton School of Engineering about a newly created position called the Faculty of Practice for Innovation and Entrepreneurship. UD had been following her career progress ever since her master's degree work with 3D printer innovation. Her continued efforts in the maker movement served to impress them with her intrapreneurship as "an entrepreneur who starts a new venture within their place of work." Emily was invited to apply for the position and hired about one year ago. Her ingenuity, ability to advocate for entrepreneurs as well as her experience in economics made her the perfect fit for aiding students and faculty alike to expand their knowledge. 
Today Emily is part of the Mechanical Engineering Department at UD and teaches the senior capstone course. She says, "(This) is really coming full circle for me since it was my experience in my senior research project at Thomas More that led me down this career path!" She is the faculty advisor for the new UD makerspace, advises several UD clubs such as the Maker Club and the University Innovation Fellows, and is director of Leonardo Enterprises, a business incubator for engineering students and faculty members seeking to start their own technology business. 
Looking back on her career path, Emily expresses her gratitude to the staff at Thomas More for their one-on-one help. She recalls her days studying physics, where she spent most mornings waiting in the physics department office "to ask questions about my homework or notes, and I was always welcomed and got the help I needed. In fact, the one time I didn't have questions about my homework and didn't show up to the department office, the professors actually called my mom to make sure I was ok and wasn't home sick! That's when I knew my professors actually cared about me as a person, not just as a student." That kind of one-on-one attention is what sets Thomas More apart from the other schools, and Emily takes that with her as she is on track to becoming a professor herself. 
Emily also credits the liberal arts style of education with giving her the skill sets she needed to succeed in her career path. She took far more economics classes than necessary, saying "I almost changed majors to economics because I enjoyed those classes so much. This really helped prepare me for my future career path, because throughout my time at AFRL and now at UD I am constantly working with startup companies and small businesses, so understanding their economic motives, as well as the technology they are producing, is huge." 
Thomas More was an influential factor in Emily's successes, and her story is a wonderful example of how the College helps students succeed beyond the classroom. Recalling her own college years, Emily has some excellent words of wisdom for current students, "My advice to current students is to never work in a vacuum. Your professors and advisors are here to help you succeed, and they want you to do well. Don't feel like you can't approach them for help and advice. Find other students to study with, join clubs and be a part of the Thomas More community because these experiences are as much a part of your college education as what you learn in class. Learning how to work with others and knowing your own leadership and teamwork styles are the skills that will help you build your professional network and succeed in your career. I have never had a job where I was asked to work alone and where everything rested only on my shoulders."