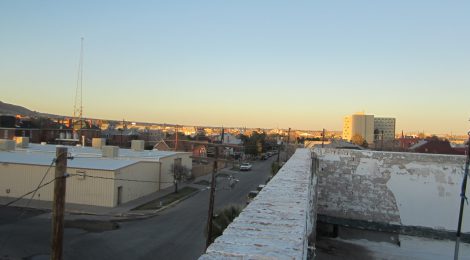 Jamaica Service Learning Project – Brad McClain '20, Psychology Major/Sociology Minor
Thomas More is a growing institution with a long tradition of service. Its mission is stated as; "Inspired by the Catholic Intellectual Tradition, we challenge students of all faiths to examine the ultimate meaning of life, their place in the world, and their responsibility to others." Nine members of the college (eight students and one professor), accepted the responsibility of fulfilling this mission through the Jamaica Service Learning Project (JSLP) this past May (2018). In the beginning, each individual member was as different from the others as they were from the Jamaican people. Just a few of those differences included race, gender, age, background, religious foundation and beliefs, future goals and aspirations. Each member responded differently to this experience in ways consistent to their own intrinsic talents and gifts. However, at the completion of this journey, this group was no longer comprised of individual members, but rather a cohesive team who had truly discovered the importance of unity, service to our fellow humans, and a personal relation to the meaning of the Jamaican saying; "One Love."
The ultimate meaning of life has no singular definition that can encompass every human being's experience. This does not mean the human experience was designed to be individualistic. Many aspects of modern culture are designed to isolate people and keep them in a constant state of competition with one another as it makes material wealth the focus and method for experiencing life. This undermines the human experience by making it artificial and contrary to how I believe humans were intended to exist; which is in service, cooperation, and community with one another. This is the greatest lesson I received from my participation in JSLP. I believe the true meaning of life is defined by our differences, how those differences facilitate cooperation and allow people to exist in concert with one another, and with their creator. In this way, each person's talents and resources are combined for the common good of all. God encourages humankind to; "Above all, love each other deeply, because Love covers over a multitude of sins. Offer hospitality to one another without grumbling. Each of you should use whatever gift you have received to serve others, as faithful stewards of God's grace in its various forms" (1 Peter 4:8-10).
Each person is born without knowing what intrinsic gifts they possess, and for some, it takes a lifetime to realize them, if ever. The benefit of programs like JSLP is that it provides an environment that each person's gifts emerge through teamwork, and while serving a purpose greater than themselves. This facilitates personal reflection through which each person evaluates how they contribute to a team, how they relate to the people they are serving, what it means to depend upon others and be depended on, and what it means to function as a citizen of this world. Examples of these types of gifts in Jamaica were youth, diplomacy, perseverance, and work ethic. Mixing and pouring concrete by hand in the hot Jamaican sun is not a task for the faint hearted. Without many of the modern technologies that make work easier such as cement mixing trucks, a roof was poured onto a school house using shovels, buckets, and human strength. The JSLP group cooperated with indigenous workers, (several of whom were previously unknown to the students) to complete this daunting task over several days. In very short order the JSLP group had to establish rapport, demonstrate selfless investment toward a common goal, and earn respect by exhibiting a strong work ethic in the face of adverse conditions.
It is not always obvious when a situation will present in which a team member's contribution will be needed. This illustrates how intrinsic gifts connect to finding one's place in the world.  While in transit from the initial service area, the JSLP group encountered a significant vehicle accident with two victims. JSLP resources were able to contribute to the stabilization of the scene and care of the victims prior to their transport. This brief incident offered an unscheduled but very serious lesson in global poverty as it illustrated the significant lack of infrastructure and services in that country, and the lack of safety and security those conditions bring to the people. The nearest ambulance was reported to be at least 45 minutes away, with another 45-minute transport time for the victims to the nearest hospital. It is a well-known fact in the prehospital services throughout the United States that patient outcomes are vastly improved if they reach definitive care within an hour of their injury. The injuries in this case were to a father and his young daughter, and were significant, but thankfully not life-threatening. This near head-on collision could have easily been far worse, with no effective resources (what we consider to be basic services in the United States) in close enough proximity to render aid.
Resources and services are definitely scarce, and yet joy and connection still remain. The spirit of the Jamaican people encountered by JSLP appeared resilient and joyful despite condition. This was a meaningful and inspiring lesson learned at the orphanage where many of the children suffer from severe physical and/or mental afflictions. Some of the children's entire existence was moving from a bed to a chair to eat, and back again. Nevertheless, as I sat and fed one small boy, with each bite his eyes would engage mine, he would look into me, and then smile with a light that was undiminished by either his affliction or his environment. The ability to find joy in routine functions and good company is something I hadn't seen in a very long time, and how refreshing and stirring it was, but also heartbreaking. This type of interaction is becoming extremely rare in the United States. Many people, especially our youth are so immersed in technology like social media, that they fail to experience this deep human connection that is the heart of relationship.
Another aspect of human connection is leadership, which can be accomplished in many situations through the act of shepherding. Humans are called to live "Christ like" lives by loving and guiding one another. Many places in this world are heavily affected by poverty, which itself can translate into crime and evil. Being a good shepherd in such places can be a very dangerous calling. A graveside reflection illustrated this fact, by combining lessons from Jesus' sacrifice, with the service Champe's father did for JSLP program and his violent death, and with our efforts of service as we learned what it means to put others above ourselves. "Greater love has no one than this: to lay down one's life for one's friends" (John 15:13). As we spent time away from our families and put our lives on the line in service to our fellow humans, they also took our needs upon themselves. This is the essence of "loving your neighbor," a process in which synergy is created by human connection and cooperation, and much can be shared and learned from one another.
I will carry the experiences and relationships established into the future by remembering that humans were not designed to live in isolation from one another. Where ever my path takes me, I will remember to care for others and allow them to care for me. I will remember that each person on this Earth is a human being regardless of any factor that could be seen as different than me. I will remember that my actions affect others, even those as far away as Jamaica, and I will seek opportunities that make that affect a positive one. I will remember to be a good shepherd, regardless of the personal risk or cost it has on me, for that is my calling. I will remember not to enforce my will on another, but instead I will listen and be attentive to their needs. I will remember to look outside my small circle and engage others in meaningful dialogue in order to strengthen human connection where ever my path leads. I will incorporate these ideals and lessons into my spiritual life, home life, school life, family life, work life in the future, and in all other aspects of my being.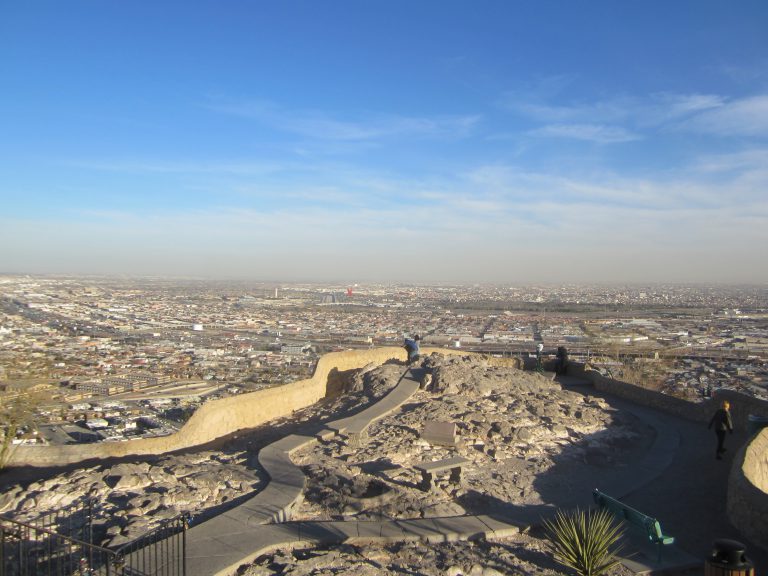 Border Studies – Shelby Sherill '21, Sociology Major
The mission at Thomas More College is to challenge ourselves within the Catholic Intellectual Tradition and social teachings to explore our place in this world, the responsibility we hold to others, and to find the meaning of life. My trip to the Mexican-U.S border fulfilled just that and not a day goes by that I don't sit and think about the positive impact of the experience. I was able to feel what it was like to work hands-on in a community that impacted others and myself tremendously. In my eyes, God doesn't want us to just attend church every Sunday, God wants us to fulfill a divine purpose by helping others and this trip did just that. 
Through this service and learning I was able to find what I was called to do in my life, helping others to the best of my ability. I was able to become a better person by understanding the difficulties others face in different parts of the world. Moments like that can be very stressful, experiencing the challenges faced by the less fortunate can be difficult. It was important to have time to journal and reflect on what we encountered each day which could include anything from hearing a mother of two infants talk about coming across the border to escape her violent and abusive husband to hearing all the different ways border patrol works. Being able to sit down for a brief period of time and journal about everything that is going through your mind can be a stress reliever in itself. 
This experience has changed my life for forever. I have truly found what I want to do in my life. I enjoy the idea of working at non-profit organizations, doing everything I can to help out with what I know is the right thing and that God will look down and appreciate the work I am doing. This journey has been a memory I will never forget and I will take with me throughout the rest of my life, all thanks to the mission here at Thomas More College. 
The Call to Reunite Families –  James Camp, Thomas More University professor of sociology
By God's grace, this past July I was called back to serve in response to the crisis of migrant family reunification. In my experience of over tens years of service to the migrant, the ten days of late July were the most emotionally challenging I have known. The call to be a welcoming presence in the face of such suffering, fear, trauma, and uncertainty was both joyful and ominous; joyful in meeting the privilege of the call to serve but ominous as I questioned my ability to live up to the call. The joys of parent and child becoming one again, the joys of hope and freedom lived in communion with anger, fear, and mistrust. The face of the migrant came to me through Maria, a Guatemalan mother who had been separated from her four-year-old son, Franco, for six weeks. I was blessed to be her advocate and by God's grace their reunification was made possible the day before the end of my service. 
Witnessing the journey of the migrant raises many questions. Are we called to become a welcoming presence in the world? What does Christ want for our lives? How are we to be the salt and the light of the world? How do we become . . . can we become the incarnation of the peace, love and justice that flows out of the pages of both Hebrew and Christian scripture? Time and time again Christ calls for an emptying of the secular world and its material baggage liberating us to move toward to true wealth of spiritual communion with God. Does this liberation put us on the migrant path to the Father? 
Is spiritual fulfillment found in communion . . . in community? If this is the source of spiritual fulfillment then we must welcome the stranger because without the stranger the completeness of community and communion with God is not possible. In recent months, the parent/child separation of migrant families has called into question the spiritual and moral ground upon which we lay claim. In recent months over two thousand parents were separated from their children and even now hundreds of parents and children are still separated. 
Can we get closer to God by heeding the call to welcome the stranger? Are persons of faith and conscience challenged to understand and empathize with the causes and struggles of the migrant? I hope so. I pray so.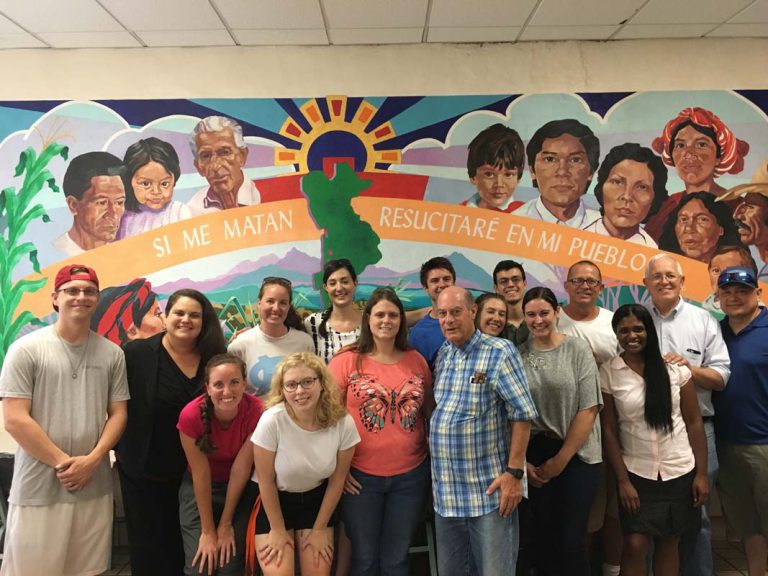 ________________
James Camp is a professor of sociology at Thomas More University, joining the faculty in 1998. Since 2000, he has been educating students in the field setting of El Paso, Texas/Cd. Juarez, Chihuahua as director of the Border Studies Program. Since 2010, Dr. Camp has also taught and served with students in communities in Jamaica through the Jamaica Service Learning Program. He currently serves as the interim chairperson of the Board of Directors at Annunciation House, Inc. 
Annunciation House, Inc., recently celebrated its 40th anniversary. During the past forty years, Annunciation House has provided hospitality for hundreds of thousands of migrants and was one of four agencies that took a leadership role in family reunification in July 2018. 
________________