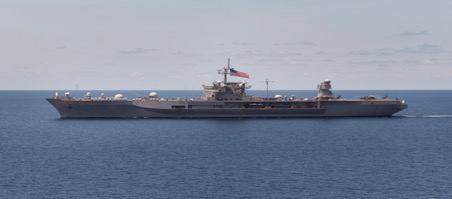 Submitted by: John (Jack) D. Rudnick, Jr., Ed.D., professor, Thomas More University
The current activation of the U.S. Navy ships Comfort and Mercy, resonate with my earlier military experience and underscores the importance of military support for sustaining "global order." The public/private partnerships that have emerged to address the current COVID-19 pandemic have opened our eyes to examples of the broad expanse of opportunities available to those who embrace education at Thomas More.
In 1978, during the height of the Iranian crisis, as a Naval officer, I was temporarily assigned to the communications carrier USS Blue Ridge. (At the time, my wife was serving as a Navy nurse at the Naval Regional Medical Center in Charleston where we both were stationed.) The exercises were identified as "medical regulating" where resources were idenitified and made available for the possibility of casualities that could result from a potential war that was brewing between the United States and Iran. The movie, "Argo," is based on the circumstances of this crisis. Military vessels do provide support for a host of services beyond safety/defense and healthcare that are often taken for granted. Two examples of these services include meteorology and oceanography.
The potential application and value of a Thomas More liberal arts education is reflected in the military as a necessary dimension of life. The intellectual tradition experienced through the Catholic liberal arts education I received near my home at Providence College in Rhode Island, prepared me to consider the military as an option after graduation to further my chosen career in healthcare management and business. There is an adage in religious tradition – "God writes straight with crooked lines." I had no idea that my liberal arts education would lead to such an interesting and relevant opportunity.
In retrospect, I am thrilled that I had the opportunity for an education rooted in the liberal arts tradition and hope that prospective students and their family consider a vision of what uncertain opportunities lie ahead.
Jack Rudnick Jr, Ed.D., served in the U.S. Navy Medical Service Corps between 1975-1980.  He is a professor in the Department of Business Administration.