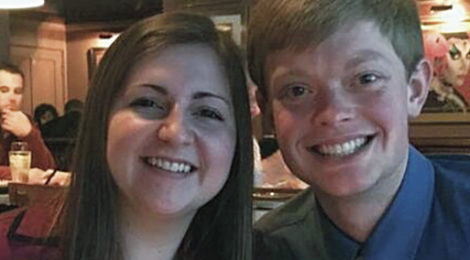 1970s

Richard P. "Rick" Baldwin '70 Ph.D., distinguished educator and professor of chemistry at the University of Louisville, was the featured speaker at the 2019 Wittliff Lecture Series at San Marcos Academy in Texas. He and coworkers at Purdue University were among the first to incorporate computers into chemical instruments. Baldwin further advanced the concept to design novel miniaturized coulometric devices, enabling networks for remote 24/7 sensing of toxic metals such as lead and arsenic. For the entire story, visit tmuky.us/baldwin.

J. Frederick Fausz '70, Ph.D., received the Albert Nelson Marquis Lifetime Achievement Award, presented by the Marquis Who's Who, the world's premier publisher of biographical profiles. Fausz celebrates many years' experience in his professional network, and has been noted for achievements, leadership qualities, and the credentials and successes he has accrued in his field. Read more on Fausz, at tmuky.us/fausz.
Dan Schadler '70, Ph.D., began a two-year term as president of the National Chrysanthemum Society (NCS) in November 2019. His appointment was announced at the NCS National Convention in Los Angeles. Dan lives in Atlanta, Georgia, where he is professor emeritus of biology at Oglethorpe University.
1980s

Dave Faust '82, Saints basketball alum and St. Henry District High School head basketball coach, celebrated his 400th career win on December 27 with a win over Ludlow High School. To read more about Faust, visit tmuky.us/faust.
o2 Urban Farms is an unconventional farm helping the Cheviot community in a unique way. Cofounder Mark Ruberg '82 says the goal of helping the community is in its name, o2: oxygen for the community and organic for the planet. The aquaponics agricultural model is a self-sustaining system using 95 percent less water than traditional farming and producing ten times the amount of food in half the time. The farm employs adults with developmental disabilities to assist in germinating, transplanting and harvesting produce. o2 Urban Farms organizes the opportunities for adults to train and work at Urban Farms. To read more about Ruberg and o2 Urban Farms, visit tmuky.us/ruberg.

Garren Colvin '86, president and CEO of St. Elizabeth Healthcare, was appointed to the Foundation for a Healthy Kentucky board of directors for a three-year term. Colvin has served in his current role at St. Elizabeth Healthcare since June 2015 with his career spanning more than 35 years having also served as chief operating officer and chief financial officer. To read more about this appointment, visit tmuky.us/gcolvin.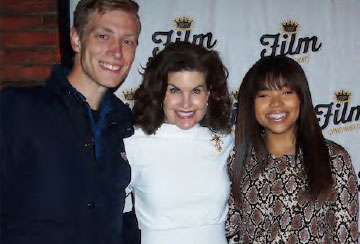 Current students Kyla Estelle '20 and David Klenk '22 joined Sarah (Barlage) Bilott '88 on the red carpet for the Cincinnati premiere of "Dark Waters." Sarah majored in history before earning her law degree and was featured prominently in the film which told the story of her husband, Robert Bilott, the attorney who exposed the major health risks from the chemical used in Teflon coating. Bilott is portrayed by Anne Hathaway in the film; Mark Ruffalo stars as husband Mark. For more information on the premier, visit tmuky.us/bilott.
Bonita Williams Goldberg '88 spoke about the difference in selling abstract art versus traditional art at the November 2019 meeting of the Cincinnati Art Club. Goldberg was an art consultant at Closson's and Eisele Galleries after graduating from Thomas More. Also in March/April 2020 she had a solo show at Ruth's Parkside Café in Northside. Look for another solo show of Goldberg's artwork in September 2020 at the Women's Art Club.
1990s
Congratulations to David Schroeder '90 and his team at the Kenton County Library for their efforts in working with local park and recreation departments. The library was honored by the Kentucky Recreation and Park Society. To read more, visit tmuky.us/schroeder.

Tim Rahschulte '93/'98, Ph.D., CEO of the Professional Development Academy, has identified a growing and persistent problem in today's corporate reality – a lack of adequate leadership training for frontline managers. Rahschulte came up with a solution to close what he calls "the leadership development gap." To read more about this solution, visit tmuky.us/rahschulte.
Long-time Ursuline head volleyball coach and Thomas More alum Jeni Case '94 stepped down from her position after completing her 14th season. Case guided the Ursuline program to become one of the dominant high school volleyball programs in Ohio. For more information on Case's career, visit tmuky.us/jcase.

Todd Schaefer '95 was promoted to associate head coach of the Arkansas women's basketball team in summer 2019. The promotion of Schaefer comes after two seasons at Arkansas and had worked with Head Coach Mike Neighbors for three seasons. To read more, visit tmuky.us/schaefer.
2000s

Kim Halbauer '00 was elected to vice-chair of the Kentucky Council on Postsecondary Education. Halbauer is a senior vice president and investment advisors executive for Fifth Third Bank for Cincinnati, Dayton and Northern Kentucky. To read more, visit tmuky.us/halbauer.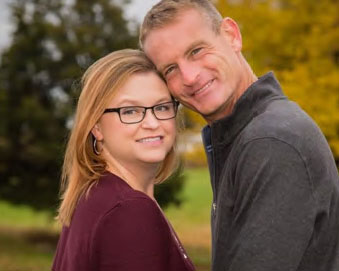 Congratulations to Shelly Koch '02 and fiancé Richard Wright, Sgt., U.S. Army (retired), who were engaged on November 7, 2019, in Shelly's hometown of Bright, Indiana.
Citrus Memorial Hospital in Inverness, Florida, has tapped Becky Baute '03, RN, to serve as chief nursing officer. To read more, visit tmuky.us/baute.

Garry Horton '06, strategic relationship manager at Gilman Partners, was featured in a September 2019 episode of the Northern Kentucky Chamber of Commerce's podcast NKY Spotlight. Horton talks to Kathrine Nero and Jeremy Schrand about how playing basketball for the Thomas More Saints and coaching for the women's basketball team at Xavier University convinced him to stay in the region. To watch the full segment, visit tmuky.us/horton.
2010s

John Bovard '11 recently launched an independent wealth management firm, Incline Wealth Advisors. Some of the services Bovard provides are wealth management, financial planning, and corporate retirement planning. For more information on the services John offers, visit incline-wealth.com.
Andrew Thole '12 accepted a position at St. Elizabeth Healthcare as assistant nurse manager of endoscopy. Congratulations to Andrew!
Holly Bronner Stiver '15 was named head women's volleyball coach for the Thomas More Saints in early 2020. To read the press release, visit tmuky.us/stiver.
In the summer of 2019, Maggie Waller '15 studied the ecology of steppe ecosystems, with a focus on the Pallas' cat, Przewalski's horse, and participatory conservation media in Mongolia. Waller, a 4th and 5th grade science teacher at Winton Preparatory Academy, lives in Bromley, Kentucky, and is a graduate student in Miami University's Global Field Program.
Congratulations to Ian Gunn '16 who was hired as the art teacher at his high school alma mater La Salle high school.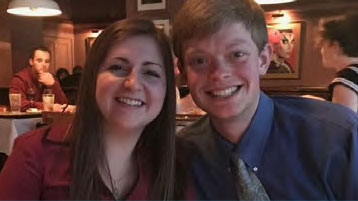 Paul James Kleier III '16 and Courtney Neltner '17 were married May 4, 2019 at St. Mary Church in Alexandria, Kentucky. Additional Thomas More grads in the wedding party were Best Man Ben Kleier '16, Matron of Honor Katherine (Hagedorn) Neltner '16, Groomsman Kyle Neltner '15, and Bridesmaids Sofie Vietas '19 and Natalie Kleier '20.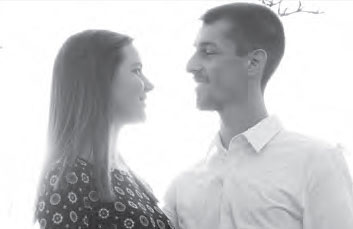 Congratulations to Alex Bramer '17 and Elizabeth Ann Kraemer '14, who were married on June 13, 2019.