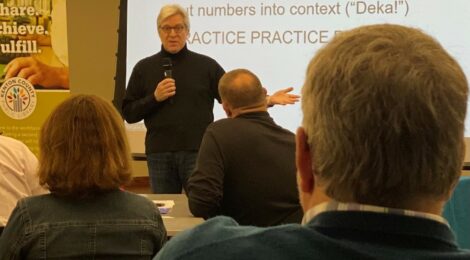 Submitted by Debby Shipp, Thomas More director of partnership development
Bruce Rosenthal, Ph.D., dean of the College of Business at Thomas More University, held a session on April 13, 2022, entitled "Getting Your Point Across: Making Effective Presentations," leading community partners with insight on how to engage and excite an audience while effectively conveying information.
Rosenthal gave the presentation to members of the Northern Kentucky Accountability Group at the Erlanger Branch of the Kenton County Public Library (KCPL). Group leader Natalie Ruppert, MLIS, manager of the Workforce Development/Career & Job Services praised the session, saying it "was educational, entertaining, and motivational! I received very favorable feedback, and I know we heightened awareness of Thomas More's Credential Program. Your stories are great! I want to go back to school after listening to you."
The Northern Kentucky Accountability Group, sponsored by KCPL, is a job search support group for professionals in career transition due to layoff, business closure, change in life situation, or a desire to switch careers. Group participants have access to KCPL job search support classes, job skill classes, weekly speakers, networking opportunities, connections to community partners, job leads, and assistance from staff and volunteer coaches. All information is based on current industry trends and community needs.
Rosenthal has had a long and varied career in business and education. He earned a Bachelor of Fine Arts from Syracuse University, a Master of Business Administration in international business at Rutgers University, and a doctorate in health policy from the University of the Sciences in Philadelphia. Throughout his career, Rosenthal has been a champion of creativity and innovative thinking, experiential programs, diversity initiatives, resource recruitment strategies, and business sustainability programs.
For more information on effective presentations and to bring this session to your location, contact Debby Shipp, director of partnership development at Thomas More at shippd@thomasmore.edu.
For more information about Thomas More University, visit www.thomasmore.edu.
###
About Thomas More University
For 100 years, Thomas More has created a university for the student who wants to Be More, Do More, Seek More, Win More, Achieve More, and Create More. Since its founding in 1921, Thomas More has provided a mission-driven, liberal arts education that is based in the Catholic Intellectual Tradition. Students learn to harness the power of human reason to solve problems and discover truth, which allows them to begin the journey to become the person they were created to be. Entering into the second century, it's time for More. Serving more than 2,000 students, Thomas More aspires to be the premier Catholic university in the Cincinnati/Northern Kentucky region, to build upon the #1 ranking for long term gain in Kentucky (2019 Georgetown study) and share with this generation the transformative power of the Thomas More experience. To find out more, visit thomasmore.edu.
MEDIA CONTACT: Lyna Kelley, director of communications and PR, kelleyl@thomasmore.edu, 859.344.3309