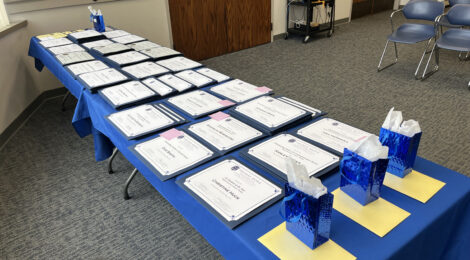 On May 12, 2023, the day before the 95th Commencement Exercises took place at Thomas More University, graduating members of the class of 2023 gathered to be honored for their excellence while achieving their higher education goals. President Joseph L. Chillo, LP.D., along with Interim Vice President for Academic Affairs Jerome Langguth, Ph.D., college Deans Kimberly Haverkos, Ph.D., Bruce Rosenthal, Ph.D., and Joseph Christensen, Ph.D., and students, families, and faculty celebrated professors who were honored as faculty of the year, graduates who earned master's degrees with a hooding ceremony, and to bestow honors on high achieving seniors with departmental and college awards. The Rev. Raymond Enzweiler closed the afternoon with the Benediction. Following here are the names of those being honored.
Faculty Awards
Outstanding Full Time Faculty
ST. ELIZABETH COLLEGE OF NATURAL AND HEALTH SCIENCES: Shiv Sharma, Ph.D.
ROBERT W. PLASTER COLLEGE OF BUSINESS: Gregory Mazza
COLLEGE OF LIBERAL ARTS AND SOCIAL SCIENCES: Alissa Ayres
Outstanding Part Time Faculty
COLLEGE OF LIBERAL ARTS AND SOCIAL SCIENCES: Pamela Caudill
Hooding Ceremony
Master of Arts in Teaching
Amanda Hope Baker
Elizabeth Jane Barker
Brooke Alexandra Bird
Maggie Irene Flanagan
Rianna Jeanelle Gayheart
Zachary Ryan Neal
Zachary Michael Ober
Corey Douglas White
Master of Business Adminstration
Joseph Brian Baxter
Kieran Edward Casey
Mckenna Arleen Clark
Martha Ann Hamblen
Chelsea Lynn Hartzler
Madison Taylor Johnson
Crystal Lynn Lawrence
Ebony Cherree Linzy
Rishit Mehta
Brian R. Minning
Molley Elizabeth Neace
Mary Kathryn Noonan
Francisco Guillermo Quiteno Burgos
Brooke Lee Ramsey
Kathleen Marie Ray
Christopher Jeffrey Reynolds
Phillip Andrew Rudolph
Sebastian Sims
Deanna J. Uhl
Collin Wood
Lucas Charles Young
Master of Ethical Leadership
Hanan H. Elgusain
Felicia Faith Medina
Venyke Payton
David John Sandlin
David Sprawl
Awards
College of Liberal Arts and Social Sciences
Creative Media: Art Student of the Year – Christine Huck
Communication: Outstanding Seniors – Ansley Rooks | Autumn Frank | Brady Brunsman | Myles Anderson | Torri King | Samantha Sloan
English & Creative Writing: Outstanding Senior – Ana Herrera
Foreign Language: Outstanding Student in Spanish – Zoie Barth
Political Science: Outstanding Senior – Stanislav Beresford
Education – Undergraduate: Academic Achievement Award – Hannah Back | Annabelle Clayton | Duncan Hoffman | Olivia Staveman | Juli Ezell | Natalie Hamilton | Destiny Souder
Education – Undergraduate: Krystal Pepper Spirit Award – Destiny Souder
Education – Undergraduate: School of Education Leadership Award – Hannah Back
Education – Graduate: Outstanding Graduate Student – Elizabeth Barker
Education – Graduate: Dr. Mary Rozier Memorial Diversity Award – Zach Neal
Education – Graduate: Ruth Wernersbach-Shreve Award – Brian Tolle
Sociology & Criminal Justice: Outstanding Senior – Ashley Cooper
Theology: Outstanding Senior – Dominic Lemma
History & Law: Sister Mary Albert Murphy, SND Award for History – Alyssa Murphy | Logan Rauen
History & Law: Sister Mary Albert Murphy, SND Award for Law- Abby Hightchew
History & Law: Sister Mary Philip Trauth, SND Award for History – Ruth Hahn | Kevin Bissonnette
History & Law: Sister Mary Philip Trauth, SND Award for Law – Garrett Flynn | Ian Daughtery
History & Law: Father Anthony Deye Award for History – Kevin Bissonnette | Emily Aisenbrey
History & Law: Father Anthony Deye Award for Law – Abby Hightchew
History & Law: Nancy Bruns Scholarship Award – Evelyn Brauer | Ruth Hahn | Alyssa Murphy | Jacob Summers
History & Law: Tenkotte-Meier Award – Sienna Anderson
Psychology: Psi Chi National Honor Society Members – Hannah Bishop | Emma Blake | Caitlin Dawson | Margaret Kinney | Kameron Nab | Harley Tomlin | Serah Whitacre | Chloe Woeste | Laurna Verbrugghen | Lillian Delk | Mariah Palmer
Psychology: Mid-America Undergraduate Psychology Research Conference – Emma Blake | Caitlin Dawson | Hannah Bishop | Chloe Woeste | Yennefer Trevino-Heun
Psychology: Midwestern Psychological Association – Serah Whitacre
Psychology: Student Research Forum – Laurna Verbrugghen | Hannah Mullane | Jonathan Litzler
Psychology: Internship Completion – Emma Blake | Lilly Delk | Haley Dougherty | Ana Herrera | Hudson Montgomery | Kameron Nab | Tori Neltner | Natalie Shabanov | Harley Tomlin | Yennefer Trevino-Heun
Robert W. Plaster College of Business
Accountancy: The Gilday Family Experiential-Learning Award – Hannah Halbig | Dominic Braun
Accountancy: The Luca Pacioli Outstanding Accountancy Senior – Branden McKinley
Business Administration: Top BBA Student Award – Mark Smith
Business Administration: Top Marketing Student Award – Matthew Lodge
Business Administration: Top Finance Student Award – Kyle Kelly
Business Administration: Top Management Student Award – Samantha Whiteman
Business Administration: Top Human Resources Student Award – Max Dierig
Business Administration: Top Sports and Entertainment Marketing Student Award – Jacob Caruso
Business Administration: Top MBA 4+1 Student Award – Andrew Martini
Business Administration: Top MBA Student Award – William Neltner
Business Administration: Wall Street Journal Award – Matthew Lodge
Organizational Management & Ethical Leadership: Outstanding Graduate Student – Karen Nieberding
Organizational Management & Ethical Leadership: Outstanding Undergraduate Student – Shelby Green
St. Elizabeth College of Natural and Health Sciences
Biology: Academic Excellence – Delaney Mederer | Hannah Spergin
Biology: Research and Service – Faith Smiddy
Biology: Academic Excellence and Service – Jared Bulluck
Biology: Academic Excellence and Research – Zoie Barth | Chase Scheben
Biology: Academic Excellence, Research, and Service – Jenna Cayze | Cassandra Drago | Olivia Jackson | Sawyer Lorentz | Rebecca Mitchell | Spencer Trimpe
Chemistry: Outstanding Senior Award – Maria Rice
Student Research Awards
Outstanding Research Political Science – Stanislav Beresford
Outstanding Research History – Ruth Hahn
Outstanding Research Biological Science – Spencer Trimpe
Benedictine Library Student Research Award – Hannah Mullane | Jonathan Litzler