Submitted by Heather Abbott, Assistant Director of the Institute for Academic Excellence, John Ernst, Ph. D., Director of the Thomas More Success Center and Rachel Marcum, Coordinator of the Office of Student Access and Accessibility | Photo by Kedrick Smith
The Cleves Scholars Program had a very successful inaugural year in 2018-19 and programs are underway for an exciting year two! Each year focuses on two or four Cs which stand for Character, Community, Career, and Classroom.  In their first year, Cleves Scholars experienced activities centered around Classroom and Career. All scholars were enrolled in one of two first-year seminar classes with Reverend Gerald E. Twaddell, D. Phil., or Professor Sarah Blackwell '06, and through co-curricular activities with guest speakers from the Northern Kentucky Chamber of Commerce, regional businesses, and alumni, scholars learned about the importance of networking to build their careers. Year two focuses on Character and Community. Events planned for this year include "Serving Our Campus Community," where speakers from Master Provisions and Thomas More's Campus Garden will discuss ways that students can help provide food and resources to those less fortunate, "Implicit Bias: The Prejudice that Lurks Within," and "Using Your Character to Improve Your Community: a TED Talk Viewing and Discussion about Finding Your Voice." Cleves Scholars Heather Konerman '22 and Kansie Disney '22 talked with us about their experiences in the Program.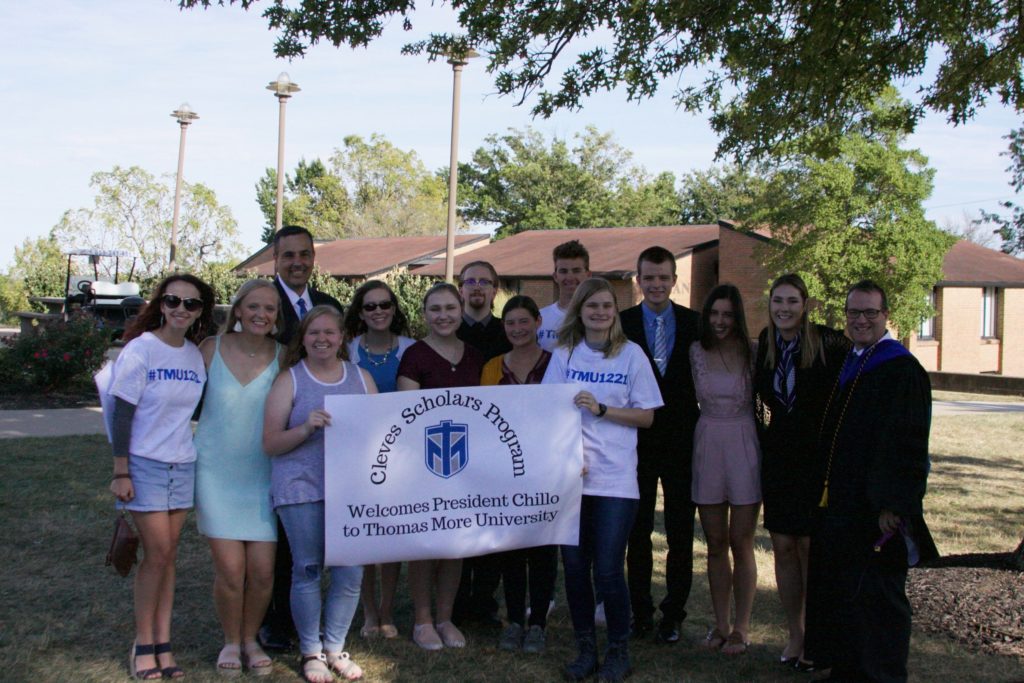 What made you interested in applying for this Program?
Heather (H): I was excited to be a part of a new project at Thomas More. The networking opportunities and friendships also excited me
What activities stood out to you in the first year?
Kansie (K): My favorite session with the Cleves scholars was a dinner and panel we had in the spring. Monsignor Cleves was there and I remember he gave some of the best time management advice. Basically, Sunday nights, schedule your week. Leave time slots for yourself. If people ask to do something on those time slots, say no (because you have a meeting – a meeting with yourself ). Giving yourself "you" time is very important – just as important as anything else in your schedule.
How do you think the Cleves Scholar Program will benefit you after graduation?
H: The program has equipped me with networking skills if I decide to work right after college, and it has certainly prepared me well if I decide to take the graduate school route.
K: The Cleves Program will have helped give me that head start on things that I wouldn't usually deal with in a couple of years. I will have those networking skills, time management skills, etc.
What is something you want the Thomas More alumni to know about the Cleves Scholar Program?
K: I believe this will be a great program for honors students.
H: The Cleves Scholar program has provided me with both lasting friendships and useful skills that I can use for the rest of my life. It is certainly a special group of students.