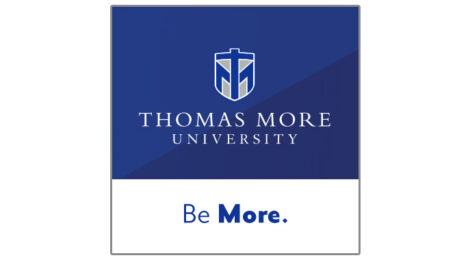 We are excited to announce the launch of Thomas More—Be More., a community focused on helping you Be More. of who you are meant to be through personal and professional development.  
The idea for Thomas More—Be More. came from our work with non-traditional students in the accelerated and graduate programs at Thomas More University. We realized that busy professionals need information and inspiration to help them find (or design) the job (and life) they love. We wanted to create a community that encourages that; a place where busy people can connect with others and Be More. Here are three ways that you can connect with Thomas More—Be More.
1. Newsletter. Sign-up for our email newsletter and share the information with friends and coworkers. If you are skilled in writing and have an experience you would like to share with others or you write your own professional development pieces, we would love to share your message! Reach out to us at bemore@thomasmore.edu for more information.
2. Facebook. Join us on Facebook to connect with other people who have a passion for living out their best lives. Develop relationships, learn, and share information with others about how we all benefit from the power of lifelong learning. Connect with us on Facebook.
3. LinkedIn. Connect with our LinkedIn group and find other professionals who share an interest in developing themselves professionally. See something interesting one of your connections on LinkedIn shared that you think everyone in the group will benefit from? Share it with our group members and help us create a community of learning. Join our LinkedIn group.
As we look toward the future, it is not static knowledge that will take us to the next level. We all must be intentional in how we connect and share information in service to one another. We hope you will take time to connect with us and help everyone within our community and at Thomas More—Be More.