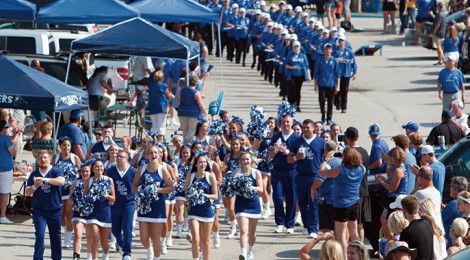 growth (noun)
1.  the process of increasing in physical size.
2.  something that has grown or is growing.
Synonyms: development, maturation, growing, germination, sprouting; blooming
Any way you define it, Thomas More College exemplifies growth. The 2016-2017 incoming class is the largest-ever in the history of the college with 474 students. That's a 41 percent increase over the 2015 incoming class. It's part of a trend that's been moving in a positive direction for a while: traditional, fulltime enrollment numbers have seen a 33 percent increase since 2013, growing from 841 students three years ago to the current 1,118 fulltime, traditional students. The total headcount currently stands at 1,964.
"The exciting part about our record number of incoming students is that they are a more diverse group with higher GPAs and higher standardized test scores. They have brought great quality and energy to our campus community." President David A. Armstrong, J.D.
Step on campus and you see this growth as first-year students fill the residence halls, classrooms, and the Seiler Commons dining hall. You can hear it too, as the Marching Saints, which began in 2014 with 26 members and now boasts nearly 100 strong, practices in Steigerwald Hall. Mostly, you can feel it; there's an atmosphere of momentum on the Thomas More College campus that can't be denied. According to junior Morgan Franks, one of the cheer team captains, "(We have) 12 incoming first-year students on the team, it's one of the biggest recruitment classes our cheer team has had." She continues, "I think that Thomas More is adapting to the changes of a bigger class and I couldn't be more excited to see where this growth leads us in the future."
There are many factors that contribute to the success and continued growth of Thomas More College, among them are the leadership and strategic vision of President David A. Armstrong, J.D., and the support he's given by the of Board of Trustees. The 2015-2020 Strategic Plan, which was crafted in 2014 with the help of over 75 members of the Thomas More College community, laid out a very deliberate path. This path uses the goals of Value More, Engage More, and Thrive More as guideposts to lead Thomas More College into its Centennial. Clearly, many of the strategies embarked on, as a result of the plan, have been implemented and progress continues toward achieving the long-term goals.
TMC can also attribute its growth to continued efforts to offer an affordable, values-based private education that gives students the tools they need to succeed after graduation. One hundred percent of traditional students receive financial aid, and books are included in tuition and fees. For the second year in a row, Thomas More College received the #1 ranking from PayScale.com for Return on Investment in Kentucky and Greater Cincinnati, proving TMC graduates make the most of their education.
Led by an outstanding and dedicated faculty, new majors and programs are added each year. Two new majors introduced for the 2016-2017 academic year are Ethical Leadership and Management Information Systems, bringing the total number of majors to 44. In addition to academic offerings, other departments are adding programs that also promote growth. Athletics added Wrestling as the newest extra-curricular, bringing the total to 22 intercollegiate sports teams. Student Affairs introduced two new, very popular, co-curricular activities: Dance Team and Club Rugby. "The more offerings we add, the more we appeal to students with varying interests," says Christopher R. Powers, Ph.D., Vice President of Enrollment Management and Admissions.
While football was what originally attracted Luis Lopes from Orlando, Fla., to Thomas More College, the sophomore quickly realized there was so much more to the TMC experience. "You can get the help and support you need. It's really the environment and the people I like the best," Lopes says.
"The more offerings we add, the more we appeal to students with varying interests." Christopher R. Powers, Ph.D., Vice President of Enrollment Management and Admissions
The growing number of students at TMC presents some exciting opportunities for the college. Thomas More College President David A. Armstrong, J.D., now in his fourth year, is enthusiastic about shepherding continued growth for the school which is closing in on the 50th anniversary of the Biology Field Station in California, Ky. in 2017; the 50th anniversary of the Crestview Hills campus in 2018; and, the College's Centennial in 2021.
One of the opportunities has been meeting the increased demand for on-campus housing. This fall, over 450 students live on campus, an almost 11 percent growth in the resident population since fall 2015 and the most students ever in the residence halls. To meet this demand, several rooms have been converted to triple-occupancy with new furniture designed to maximize space. Triple rooms may take some adjustment for students who are used to having their own room at home, but many are reporting they love the ability to live with more of their friends. Less space in each room has also encouraged them to get out and frequent common areas like The Commons, activity lounges, and the library. The residence hall re-configuration has had the positive impact of fostering a deeper sense of community among the residents.
President Armstrong, who recently accepted a contract extension that will keep him at the helm through 2022, has set four lofty goals for the next six years to ensure not only that Thomas More College survives, but also continues to thrive. The first goal is undertaking a comprehensive capital campaign. "Despite what many politicians are saying, that college education should be free—it's not. You have to pay for it and invest in it," says Armstrong. He continues, "There are real costs associated with it. But, we hope to utilize our campaign to generate scholarship dollars for today's students and to provide funds to enhance our endowment so that future students also benefit." While a goal and timeframe for the capital campaign have not yet been established, Armstrong confidently asserts that it will be the largest campaign ever undertaken. New Vice President for Institutional Advancement, Robyn Hoffman, will coordinate the planning and execution of the campaign. Hoffman comes to Thomas More College from the Washington, D.C.-based Baldrige Foundation, where she served as the Vice-President of Development. (Click Here for more on Hoffman.)
In his many speeches around the community, Armstrong touts his second goal, which is his concept of Thomas More College becoming a 'destination area for ages one to 100' for education, health and fitness, worship, arts and culture, and dining. According to Armstrong, "Retirees, living on campus, could audit classes, families could go to athletic events, choral concerts, and stage performances conducted by the Villa Players. We want to make sure people don't see us just as a college, but also as a life style." Armstrong, and his leadership team, have released a Request for Interest (RFI) to the community at large developers, construction firms, architects etc., seeking ideas and concepts for mixed-use construction on the Crestview Hills campus frontage. This would provide new revenue streams for residence halls, and new academic buildings.
A third goal, designed to ensure continued sustainability for Thomas More College, is to become Thomas More University. According to Armstrong, "we need to become a university not only for local, regional, and national recognition but also to expand our international footprint." He explains further, "The term, 'university' is more globally recognizable as an institution for higher education."
Becoming a university will more accurately reflect Thomas More's current identity and the breadth of its mission. The structural realignment that will accompany this change should allow the policies and procedures of Thomas More College to work best for each college within the University and allow TMC to be more nimble in responding to the opportunities and challenges in higher education today, including expanding TMC's presence in the adult market. It will also permit more rapid development of new academic programs to serve emerging needs, and attract new student populations. Vice President for Academic Affairs and Dean of the College, Kathleen Jagger, Ph.D., is leading the task force to research the process and develop an implementation plan. The university transition team should begin work in 2017 with the target date for moving to university status of 2018.
The fourth goal is to be a part of the answer for the delivery of education in the future. "Digitization has already disrupted journalism, the practice of law, and other industries. Innovation in the delivery of education is coming fast and furious,"  says Armstrong. He insists, "We need to be on the train, not waiting at the station."
With this enthusiasm and vision, Thomas More College, or Thomas More University, is on track for an increasingly bright future.