1960s
Patricia (Kramer) Noe '67 and Jennifer (Bucalo) Baldwin '76 had work selected for display in the Eva G. Farris Art Gallery in fall 2017 as part of the 2017 Kentucky Art Education Association Juried Art Exhibition. Jennifer is an Art Instructor at Dixie Heights High School and had three paintings accepted. Patricia teaches art at Campbell County High School and displayed two pieces of enamel and fine silver jewelry.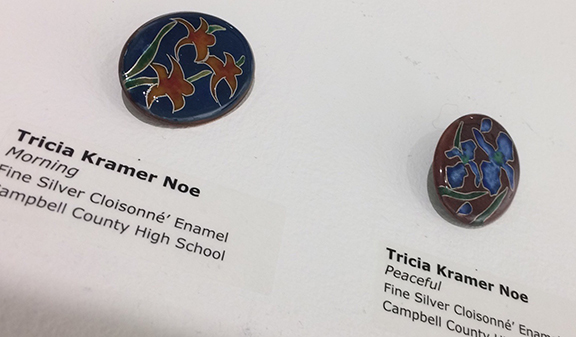 1970s
Proud grandparents Patrick Raverty '73 and Patty Raverty (TMC Communications Chair) shared this baptismal photo of Grace Emily Evans (left) and Caroline Mae Baumgartner (right) at Immaculate Heart of Mary Church. Grace is the daughter of Katie (Raverty) Evans '07 and Steve Evans '08. Caroline is the daughter of Maggie (Raverty) Baumgartner '09 and Michael Baumgartner and granddaughter of Marilyn (Annear) Baumgartner '78 and Mark Baumgartner '75.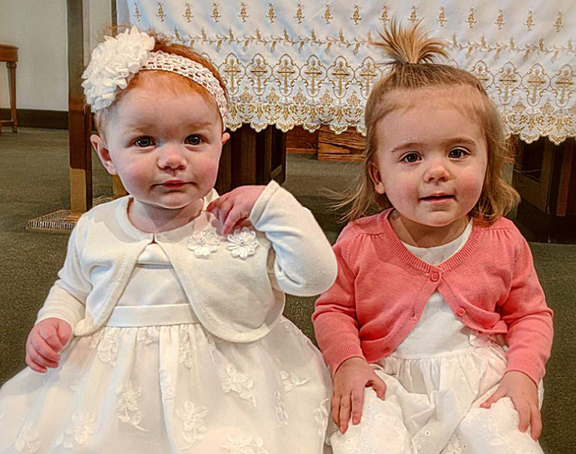 Congratulations to James Connor '75, distinguished professor of neurosurgery, neural and behavioral sciences, and pediatrics, upon receiving the 2017 Innovator of the Year Award at Penn State College of Medicine and Penn State Health Milton S. Hershey Medical Center during the seventh annual Innovation Awards ceremony on Nov. 28. James (center) is pictured here with Dr. A. Craig Hillemeier, Dean of the College and CEO of Penn State Health, and Dr. Leslie Parent, Vice Dean for Research and Graduate Studies for the college. To read more about this outstanding honor, visit tmcky.us/connor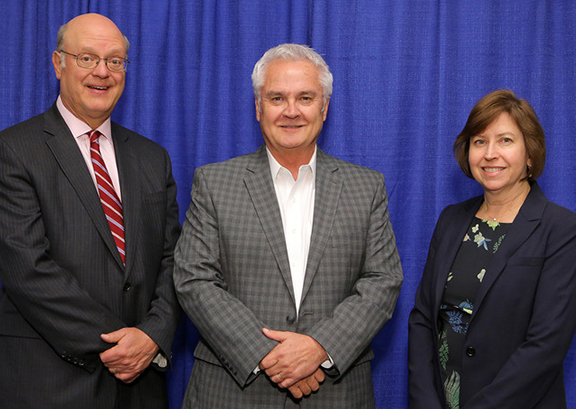 1990s
Kimberly (Marshall) Peace '92 was promoted to Senior Environmental Coordinator at the engineering firm of Hoyle, Tanner & Associates, Inc. in Manchester, New Hampshire. "My role is assisting our clients in fulfilling the federal, state and local permitting and National Environmental Policy Act (NEPA) requirements for impacts to environmental and cultural resources, and to help them minimize these impacts while promoting sustainable and responsible development."
2000s
Tom Haggard '06, Program Director at Covington Partners, was chosen to serve during the 2017-18 school year as one of 15 Afterschool Ambassadors through the Afterschool Alliance whose members are chosen from leaders across the country. "I am thrilled to join in the Afterschool Alliance's work to build support for afterschool programs," said Haggard. "In my 10 years working in the field, I've seen up close the many ways afterschool programs help students to explore their interests and discover their passions, while giving parents the peace of mind that comes with knowing their children are safe and supervised, with opportunities to learn and grow, after the school day ends."
Melinda (Borchers) Backer '08 won the Hodges Excellence in Teaching Award for experienced Graduate Teaching Assistants in August 2017 and was featured in a University of Tennessee Spotlight on Composition interview. Read the interview here: tmcky.us/backer. Melinda is currently in the English doctorate program at the University of Tennessee. She is married to TMC English alum, Hank Backer '08, who worked with U.S. Poet Laureate Robert Pinsky at Boston University, where Hank earned his master's degree. He completed his doctorate in English at Georgia State and currently teaches at the University of Tennessee, Knoxville. Congratulations to them both!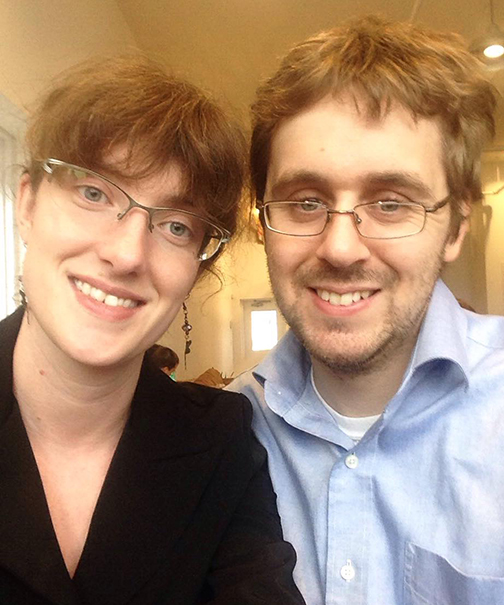 Katie (Trauth) Taylor '08 started a writing consultant company called Untold Content. The company focuses on writing to fit client's needs that include research, technical, and content marketing. Katie is a member of the core team and says of this new venture, "It's wonderful to continue doing the important work of writing." To subscribe to Untold Contents' online newsletter, visit tmcky.us/untoldcontent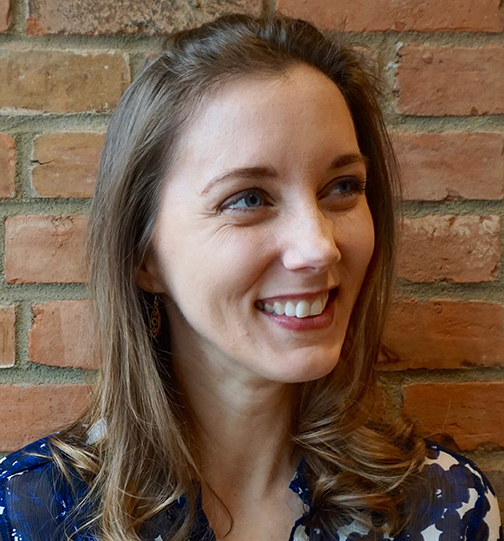 2010s
Kelsie (Rust) Bauer '13 married Gary Bauer on June 23, 2017 at Guardian Angels Church. The wedding party also included TMC grads Kristine (Rust) Trenkamp '11 (sister) as matron of honor and bridesmaid Alexa (Hlebiczki) Baudendistel '12.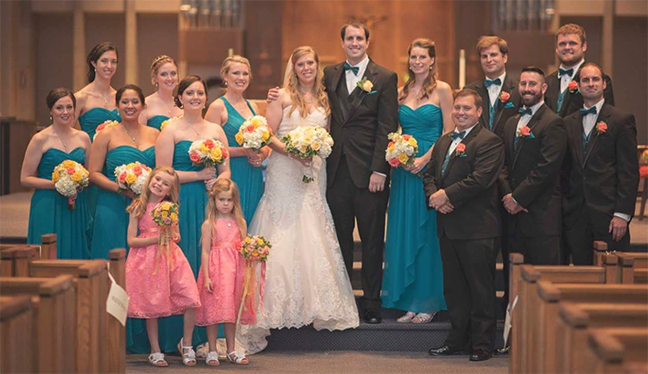 Chris Beiting '13 returned to TMC to exhibit his most recent work in the Eva G. Farris Art Gallery in October 2017. The show was entitled Surrender, and included site specific work. This means the included pieces were influenced by the surroundings (TMC and gallery)    and creatively installed in response to this environment.  PHOTO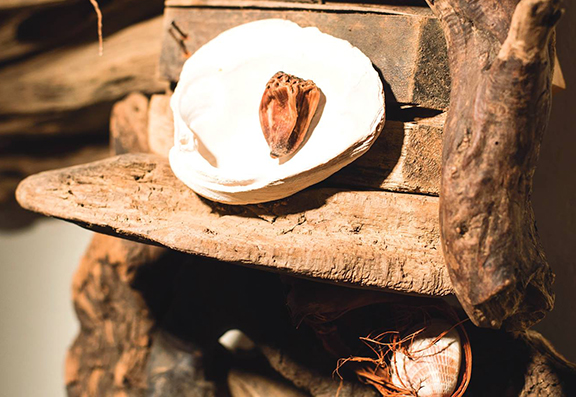 Robert Nader '13 was named Covington Chief of Police in September 2017. Robert has been a member of the department since 1997 and now takes on the responsibility to plan, direct, manage, and oversee the activities of the police department. For more about Robert's career with the Covington Police Department, visit tmcky.us/nader
Scott Kubing '17, USMC veteran, wrote to say, "Thank You to the (TMC) Servicemen to Saints program that empowered me to complete my degree while continuing to serve and empower others." Scott is the Goshen United Methodist Church Historian. He recently completed training at Kent State University with the Bruce Griffin Memorial Scholarship* TEAM members to begin teaching the Medal of Honor Character Development Program. The program provides grade-level specific content and activities (kindergarten through high school) that put values such as courage, commitment, integrity, sacrifice, citizenship, and patriotism, into language and behavior that children can comprehend and embrace. Upper level content features non-fiction accounts of Medal of Honor recipients' and citizen heroes' actions. The TEAM plans to use the program with local youth at the church, and at annual Memorial Day and Patriot Day events. For more information on the program, visit: www.theMedalofHonor.com
*The Memorial Scholarship is named in honor of Bruce Griffin, who at 18-years-old was the first person from Clermont County to lose his life in the Vietnam War.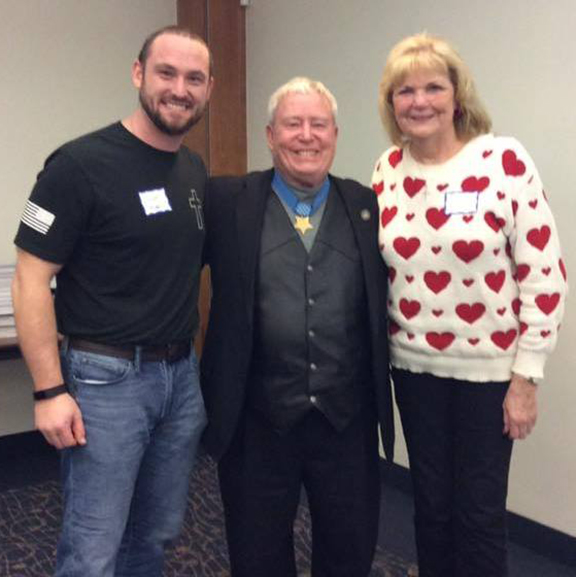 Jaime Maley '17, as a young and emerging artist, had two pieces of work featured in the Carnegie's 2017-18 exhibit entitled Studio Open 2. The show, which took place in Covington, Ky., December through February, featured the work of recent graduates from 14 different colleges and universities.
Thank you to biology alums for sharing your stories in the classroom!
Winter Okoth '12, while in town for Homecoming 2017, met with the Senior Biology Seminar to discuss how a TMC education prepared her for graduate school. As a native Kenyan, Winter has been driven to pursue malarial research as her life's work. She earned her Master of Science in Molecular Microbiology and Immunology from Johns Hopkins in May 2017, and also earned a fellowship in Washington, D.C., which is her current position. To pursue the fight against malaria through advocacy, Winter became a United Nations Foundation Nothing But Nets campaign champion, and was chosen to be one of eight youth delegates for the global malaria summit during the Commonwealth Heads of Government annual meeting in London this month. She plans to pursue a doctorate program in the near future.
Penny Feltner '12, an alumna of the Environmental Science program and also the James Graham Brown Honors Program, was the featured speaker (via Skype) for the BIO 489 course on November 11. Penny currently lives in Jamaica and serves in the US Peace Corps with husband Dan Stephenson '12. Her role is "Environmental and Agroforestry Promoter."
Joe Schucter '99, an epidemiologist with an MPH joined the class via Skype on November 30. Joe has worked overseas with Doctors Without Borders and locally with Cincinnati Children's Hospital. He is now at the University of California-Berkeley where he earned his Doctorate in Public Health. While at UC Berkeley, he has delved into the world of social entrepreneurship and impact investing, working first at a social enterprise accelerator before joining Boys and Girls Clubs of San Francisco as Director of Evaluation and Impact.
Andrew Hebbeler '99 returned in December via Skype to discuss his career path and the various roles he has held within the U.S. Department of State. Andrew was featured in the fall 2013 Moreover, to read that story visit tmcky.us/hebbeler