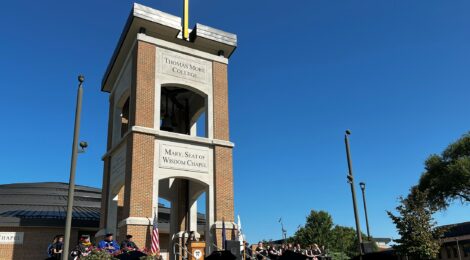 CRESTVIEW HILLS, Ky. (August 25, 2022) — Thomas More University welcomes its newest class of incoming students as enrollment continues to rise. Four hundred fifty five first year students joining returning Saints in a statistic that tops previous years' numbers. The incoming class in 2022-23 has an average GPA of 3.63, up from the 3.4 average of 2021-22. Holding strong as the region's premier Catholic University, Thomas More registered 35 students from the Diocese of Covington and 31 students from the Archdiocese of Cincinnati. Combined they account for 14.5% of incoming students.
The incoming Saints set several enrollment records for the University. With 41 international students, nearly 10% of the incoming class, Thomas More sees its largest raw total and percentage of students from outside of the U.S. The international students arrived on campus from home countries that include Spain, Norway, the Netherlands, South Africa, Germany, Italy, the United Kingdom, Peru, Argentina, Venezuela, Canada, and Jamaica. Residence halls have seen a boost, with 451 students living on campus, the largest residential population in University history. The incoming class also sees a surprising ratio of male students, 59%, versus female students, 41%. The larger percentage of male students points to Thomas More's heavy athletic recruitment, as the University adds new athletic offerings, introduces new and upgraded facilities, and recently announced provisional membership in the National Collegiate Athletic Association (NCAA) Division II.
Thomas More held a convocation to celebrate the new academic year on Wednesday, August 24, 2022. Classes were paused that morning for faculty, staff, and students to come together under the Mary, Seat of Wisdom Chapel bell tower. "By the time you are an alumnus, you will understand the values of a Thomas More education, designed intentionally to give you a framework and mindset to examine the ultimate meaning of life, your place in the world, and your responsibility to others," said Thomas More University President Joseph L. Chillo, LP.D., to the incoming class. "A Catholic Liberal Arts education is more than a mission; it's about how you will use your education in your professional and personal lives. As we shape this future together, I ask that you do so with humility, honor, and character. Your education matters, but where and how you obtain your education matters as well."
The Convocation keynote was given by Austin Corsmeier '16, M.S.N., assistant professor in the School of Nursing. "Any college can teach practical or intellectual job skills, but not every institution evokes a sense of curiosity within you to become a truly conscious, critical thinker," said Corsmeier. "I am not talking about the liberal arts cliché about 'teaching you how to think.' I am talking about the ability to choose what to think about and how to think about it, the ability to break free from that unconscious, default setting. I challenge you to let the Thomas More University community help you find clarity in the cloudy water."
A draw for potential students is also seen in the immense campus changes that have taken place since the launch of the 2021-26 Strategic Plan – Lighting the Way, and the corresponding Second Century Campaign – It's time for More, with a philanthropic target of raising $30 million for the University enhancements geared toward student success. The University recently broke ground on a new academic building, introduced esports, gained naming rights to the Florence Y'All's home field, launched the Center for Teaching, Learning, and Scholarship, and started renovations of the Saints Center, returning it to its original purpose as a student center.
For more information about Thomas More University, visit www.thomasmore.edu.