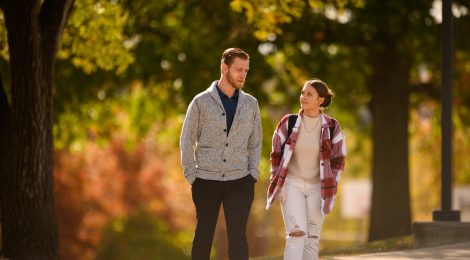 CRESTVIEW HILLS, Ky. (Sept. 14, 2023) — Thomas More University is listed by the Wall Street Journal (WSJ) as one of the 2024 Best Colleges in the U.S. WSJ shared the rankings list of 400 schools in a release on Sept. 5, 2023. Thomas More took position 207 among private and public colleges and universities from across the U.S., having the best ranking among local tri-state schools and placing third among the seven institutions on the list from Kentucky.
"The University's inclusion on the Wall Street Journal's 2024 Best Colleges is a testament to the high-quality, Catholic Liberal Arts education that we provide at Thomas More," says the University's President Joseph L. Chillo, L.P.D. "Our outstanding faculty and staff prioritize student success and high impact practices while guiding students to discover the ultimate meaning of life, their place in the world, and their responsibility to others."
WSJ's rankings consider how much a college/university improves its students' chances of graduating on time as well as how much that degree boosts the salary they earn after graduation. The America's Best Colleges 2024 ranking aims to guide prospective student across the nation while recognizing the colleges doing an outstanding job in higher education. The final ranking of the top 400 colleges was based on two pillars: student and alumni surveys and student outcomes metrics. To be included in the ranking, a minimum of 50 responses to an initial WSJ student/alumni survey was required in late winter 2022/to early spring 2023. A variety of metrics around student outcomes are used to determine the salary impact vs. similar colleges, the number of years to pay off net price, and graduation rates vs. similar colleges. An assessment for the level of diversity on campus was also a part of the analysis.
Thomas More students have recently benefited from the on-going physical changes on campus and the many new initiatives supporting student success that have taken place since the launch of the 2021-26 Strategic Plan – Lighting the Way, and the corresponding Second Century Campaign – It's time for More. The University's newest academic building stands tall with a projected completion date of Spring 2024. Thomas More also launched several new academic programs and a new core curriculum, the Second Century Core. The overall wellbeing of Thomas More students remains a focus as the University launched Saints Essentials for academic year 2023-2024. Saints Essentials is a health and wellness initiative that covers a multitude of benefits to meet students' social, academic, spiritual, and physical needs all within the price of tuition. The University's athletic programs have also seen change, now competing in year two as provisional members of the National Collegiate Athletic Association (NCAA) Division II after four years in the National Association of Intercollegiate Athletics (NAIA).
For more information about Thomas More University, visit www.thomasmore.edu.
###
About Thomas More University
For 100 years, Thomas More has created a university for the student who wants to Be More, Do More, Seek More, Win More, Achieve More, and Create More. Since its founding in 1921, Thomas More has provided a mission-driven, liberal arts education that is based in the Catholic Intellectual Tradition. Students learn to harness the power of human reason to solve problems and discover truth, which allows them to begin the journey to become the person they were created to be. Entering into the second century, it's time for More. Serving more than 2,000 students, Thomas More aspires to be the premier Catholic university in the Cincinnati/Northern Kentucky region, build upon its excellent return on investment (ranked #1 among private universities/colleges in Kentucky by MSN Money in 2021 and ranked #2 for long term gain in Kentucky by a 2022 Georgetown University study) and share with this generation the transformative power of the Thomas More experience. To find out more, visit thomasmore.edu.
MEDIA CONTACT: Lyna Kelley, director of communications and PR, kelleyl@thomasmore.edu, 859.344.3309