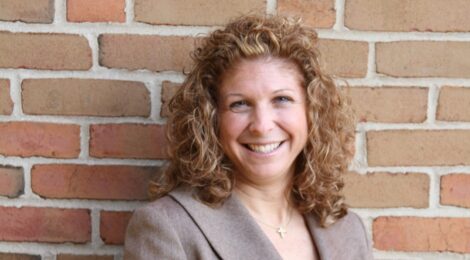 CRESTVIEW HILLS, Ky. (Jan. 5, 2023) —Thomas More professor Christy Petroze, Ed.D., department chair of the University's School of Education, joins the re-established Diocese of Covington School Board, being appointed by Bishop John C. Iffert. According to its official mission statement, the board seeks to promote Catholic education in a way that spreads the Catholic faith, through acting "as a consultant to the bishop of Covington, the superintendent of Catholic schools, and the director of catechesis and evangelization" for educational programs of "Catholic schools and parish school of religion programs." Re-establishing the Diocesan School Board was one of the first proposals presented to Bishop Iffert when he arrived at the Diocese of Covington in 2021.
"I am excited and honored to have the opportunity to share my professional experience and expertise while representing Thomas More University and our Teacher Preparation Program on this board," says Petroze, who has been at Thomas More since 2009. Serving on the board carries even more significance for Petroze, as her late mother served on the original board for many years. The Diocesan Board of Education first existed in the 1990's under Bishop William A. Hughes and continued under Bishop Robert W. Muench. That rendition of the board was disbanded in 2002.
Members of the re-established Board were selected through a recommendation process, and include representation in the fields of education, health, legal, finance, and safety. Members joining Petroze include David Cooley, co-director and office manager of the Office of Catechesis and Evangelization, Pam Dumaine, IT support specialist at Verst Group Logistics, Theresa Guard '91, principal at Immaculate Heart of Mary School, Tim Kappes '87, Ph.D., owner of Impart Consulting, Rachel Noll, Ph.D., principal of St. Patrick School, Col. Chris Schutte, Lakeside Park chief of police, Angie Smorey, administrative assistant for Catholic schools in the Diocese of Covington, Kendra McGuire, superintendent of Catholic Schools for the Diocese of Covington, Michele Ulrich, Ed.D., assistant superintendent of Catholic Schools for the Diocese of Covington, Dr. Kelley Burchell-Young, pediatrics physician at St. Elizabeth Healthcare, Jim Cahill '74, Villa Hills city councilmember, Stephanie Schumacher, Mason County clerk, Natalie Ruppert, manager of career and job services at the Kenton County Public Library, Dave Schlachter, author and former teacher at St. Catherine of Siena School, John Huber, J.D., attorney at Hemmer, DeFrank, and Wessels, and Sister Lynn Stenken '77, C.D.P., director of religious education at Sts. Peter and Paul Catholic Church. Fr. Michael Black and Bishop Iffert will also serve the board as non-voting members, advising on matters of the Catholic faith.
"Dr. Petroze's representation of Thomas More University on the Diocese of Covington School Board will allow us to strengthen the University's relationship with our fellow Catholic institutions of the region," says Thomas More University President Joseph L. Chillo, LP.D. "Her wealth of expertise in education and teacher preparation will be a great asset to the board."
For more information about Thomas More University, visit www.thomasmore.edu.
###
About Thomas More University
For 100 years, Thomas More has created a university for the student who wants to Be More, Do More, Seek More, Win More, Achieve More, and Create More. Since its founding in 1921, Thomas More has provided a mission-driven, liberal arts education that is based in the Catholic Intellectual Tradition. Students learn to harness the power of human reason to solve problems and discover truth, which allows them to begin the journey to become the person they were created to be. Entering into the second century, it's time for More. Serving more than 2,000 students, Thomas More aspires to be the premier Catholic university in the Cincinnati/Northern Kentucky region, build upon its excellent return on investment (ranked #1 among private universities/colleges in Kentucky by MSN Money in 2021 and ranked #2 for long term gain in Kentucky by a 2022 Georgetown University study) and share with this generation the transformative power of the Thomas More experience. To find out more, visit thomasmore.edu.
MEDIA CONTACT: Lyna Kelley, director of communications and PR, kelleyl@thomasmore.edu, 859.344.3309