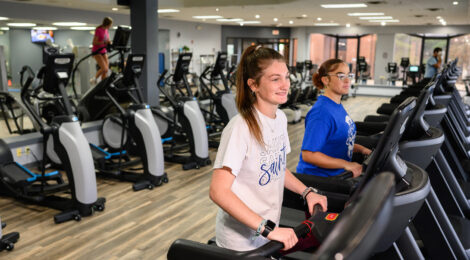 CRESTVIEW HILLS, Ky. (Jan. 3, 2023) —Thomas More University is ringing in the new year with a bang as they announce the acquisition of the Northern Kentucky Racquet Club, better known to the community as the Five Seasons Family Sports Club facility in Northern Kentucky, located at 345 Thomas More Parkway in Crestview Hills.
This acquisition includes the largest philanthropic gift in University history, as well as financing through Thomas More partner Republic Bank. Part of ongoing initiatives to expand the University's geographic footprint and enhance student spaces, the addition of Five Seasons increases Thomas More's acreage by 9% and its facilities square footage by 24%. Its Crestview Hills campus now spans 126.7 acres, with a total facility square footage coming in at 577,594.
As Thomas More continues the momentum of expanding its campus, providing a student-centered experience remains the priority. "Acquiring this Five Seasons location in Northern Kentucky will ultimately be a huge benefit for our students," explains Thomas More University President Joseph L. Chillo, LP.D. "Since launching our Strategic Plan: Lighting the Way in 2021, and the corresponding Second Century Campaign: It's time for More, we have been transforming campus to better serve our students. The Catholic Liberal Arts educational experience provided at Thomas More is strategically designed for student success. By providing our students with the very best facilities, resources, and opportunities, we ensure that they have the tools to thrive in their careers and in their lives."
This expansion also creates cohesion by uniting Thomas More's south campus. In Nov. 2022, the University announced relocation of the Education and Psychology departments to the newly named Cabrini Hall at 365 Thomas More Parkway, which borders the Five Seasons club. In similar fashion, north campus was just made more accessible to the community through a new crosswalk placed just down Thomas More Parkway connecting Covington and Centennial Halls, 207 and 209 Thomas More Parkway, where select offices were relocated early last year.
Thomas More University will maintain their strong partnership with Five Seasons as business will continue at the club as usual. The club will continue to operate under the Five Seasons brand name.
"The Five Seasons management team will continue overseeing day-to-day operations and members can expect a seamless transition and the same amenities, programming, and services that they have enjoyed over the years," added Chillo
For more information about Thomas More University, visit www.thomasmore.edu.
###
About Thomas More University
For 100 years, Thomas More has created a university for the student who wants to Be More, Do More, Seek More, Win More, Achieve More, and Create More. Since its founding in 1921, Thomas More has provided a mission-driven, liberal arts education that is based in the Catholic Intellectual Tradition. Students learn to harness the power of human reason to solve problems and discover truth, which allows them to begin the journey to become the person they were created to be. Entering into the second century, it's time for More. Serving more than 2,000 students, Thomas More aspires to be the premier Catholic university in the Cincinnati/Northern Kentucky region, build upon its excellent return on investment (ranked #1 among private universities/colleges in Kentucky by MSN Money in 2021 and ranked #2 for long term gain in Kentucky by a 2022 Georgetown University study) and share with this generation the transformative power of the Thomas More experience. To find out more, visit thomasmore.edu.
MEDIA CONTACT: Lyna Kelley, director of communications and PR, kelleyl@thomasmore.edu, 859.344.3309