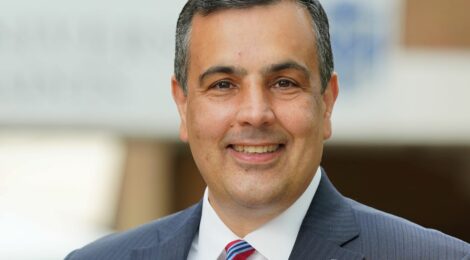 CRESTVIEW HILLS, Ky. (June 21, 2022) — Thomas More University President Joseph L. Chillo, LP.D., is among 51 participants named to the Leadership Kentucky class of 2022. Leadership Kentucky Foundation, a non-profit educational organization created in 1984, brings together a diverse group of people with a broad range of leadership experience, career accomplishments, and volunteer activity, to gain insight into the complex issues facing Kentucky. Through the creation of new relationships and educating members on the interconnectedness of these issues, Leadership Kentucky fosters a unified effort in shaping the future of the Commonwealth.
"I look forward to collaborating with leading professionals from across the Commonwealth in Leadership Kentucky's class of 2022," says President Chillo. "This program gives Thomas More an opportunity to strengthen ties with Kentucky communities and businesses, while allowing us to contribute our knowledge and expertise to a collective that ensures innovation in the Commonwealth."
Leadership Kentucky's flagship program consists of monthly three-day sessions held from June through December. Participants meet and network with Kentucky's current leaders and explore the state's opportunities, needs, and resources. Program participants visit different regions of the Commonwealth and are introduced to various aspects of Kentucky's cultural heritage and unique diversity. Sessions cover topics ranging from business and economic development, arts and tourism, natural resources and the environment, education, healthcare, diversity and social issues, agriculture, and government. Since 1985, Leadership Kentucky graduates have brought an enlightened and informed perspective to their communities and companies, serving as important catalysts in a collaborative effort to improve the Commonwealth.
To view the entire list of participants in Leadership Kentucky class of 2022, click here.
For more information about Thomas More University, visit www.thomasmore.edu.
###
About Thomas More University
For 100 years, Thomas More has created a university for the student who wants to Be More, Do More, Seek More, Win More, Achieve More, and Create More. Since its founding in 1921, Thomas More has provided a mission-driven, liberal arts education that is based in the Catholic Intellectual Tradition. Students learn to harness the power of human reason to solve problems and discover truth, which allows them to begin the journey to become the person they were created to be. Entering into the second century, it's time for More. Serving more than 2,000 students, Thomas More aspires to be the premier Catholic university in the Cincinnati/Northern Kentucky region, build upon its excellent return on investment (ranked #1 among private universities/colleges in Kentucky by MSN Money in 2021 and ranked #2 for long term gain in Kentucky by a 2022 Georgetown University study) and share with this generation the transformative power of the Thomas More experience. To find out more, visit thomasmore.edu.
MEDIA CONTACT: Lyna Kelley, director of communications and PR, kelleyl@thomasmore.edu, 859.344.3309