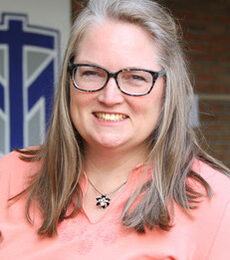 CRESTVIEW HILLS, Ky. (June 14, 2022) — Thomas More University announces the appointment of Cate Sherron, Ph.D., as the University's Faculty Athletic Representative (FAR) effective immediately. Sherron has been a long-standing member of the Thomas More community and serves as a professor of philosophy and director of the James Graham Brown Scholars Program.
"I am thrilled to serve again as FAR affording me the opportunity to ensure academic integrity across our athletics program and to make it possible for our student-athletes to flourish into their best selves: mind, body, and soul," says Sherron.
As Thomas More University awaits the National Collegiate Athletic Association's (NCAA) decision regarding membership as a Division II competitor, the appointment of Sherron as the University's FAR is a critical step in ensuring the academic integrity of the intercollegiate athletics program. The FAR facilitates institutional control and compliance with NCAA and the Great Midwest Athletic Conference (G-MAC) rules related to academic eligibility and transfer requirements. Until such time as the NCAA makes their decision, Sherron serves as the FAR to the National Association of Intercollegiate Athletics (NAIA). Sherron previously served as NCAA Division III FAR for a period of time between 2011 and 2015.
"I certainly look forward to working with Dr. Sherron in this role," says Thomas More University President Joseph L. Chillo, LP.D. "I am grateful for her willingness to serve as the FAR in support of our student-athletes and our athletics program."
For more information about Thomas More University, visit www.thomasmore.edu.
###
About Thomas More University
For 100 years, Thomas More has created a university for the student who wants to Be More, Do More, Seek More, Win More, Achieve More, and Create More. Since its founding in 1921, Thomas More has provided a mission-driven, liberal arts education that is based in the Catholic Intellectual Tradition. Students learn to harness the power of human reason to solve problems and discover truth, which allows them to begin the journey to become the person they were created to be. Entering into the second century, it's time for More. Serving more than 2,000 students, Thomas More aspires to be the premier Catholic university in the Cincinnati/Northern Kentucky region, build upon its excellent return on investment (ranked #1 among private universities/colleges in Kentucky by MSN Money in 2021 and ranked #2 for long term gain in Kentucky by a 2022 Georgetown University study) and share with this generation the transformative power of the Thomas More experience. To find out more, visit thomasmore.edu.
MEDIA CONTACT: Lyna Kelley, director of communications and PR, kelleyl@thomasmore.edu, 859.344.3309