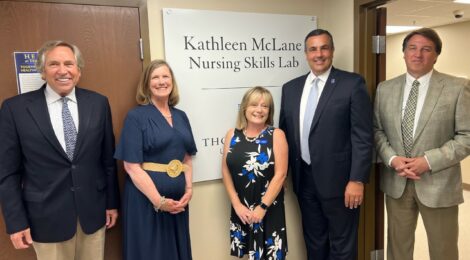 CRESTVIEW HILLS, Ky. (August 10, 2022) — Thomas More officially named a nursing skills lab located at the Center for Health Sciences (in partnership with St. Elizabeth Healthcare) the "Kathleen McLane Nursing Skills Lab" after the late Kathleen McLane, a devoted nurse who served the Northern Kentucky/greater Cincinnati community. The dedication of the lab was possible due to a gift from Mary (McLane) '73 and S. Frank '73 Fritsch, sister and brother-in-law of the late McLane to the University's Second Century Capital Campaign – It's time for More.
Mary Fritsch remembers her sister fondly, "Kathy was a dedicated, loving, and kind nurse who was always there for her patients, her colleagues, her friends, and her family. She was a true caregiver in every way! She's remembered for her humble spirit." McLane was born and raised in Northern Kentucky. After graduating from St. Thomas High School, she went on to work as a nurse at the University of Cincinnati until her sudden, accidental death in 1982. Through the Kathleen McLane Nursing Skills Lab her legacy will live on, making an impact on the region's future nurses.
"We honor Kathy, a dedicated nurse who sought to serve others, a mission of Thomas More University, and what the nursing profession is all about," says Joseph L. Chillo, LP.D., president of Thomas More University. "Mary and Frank's gift honors Kathy's memory and has allowed us to purchase much needed equipment for the Nursing Skills Lab that will continue to benefit students at Thomas More University for years to come."
The dedication ceremony was held on what would have been McLane's 70th birthday, Saturday, July 30, 2022. The dedication started with a Mass held at the Mary, Seat of Wisdom Chapel on Thomas More University's campus. Tours of campus were offered to visitors prior to the official dedication ceremony and reception.
Thomas More launched the public phase of the Second Century Capital Campaign – It's time for More in fall of 2021, setting benchmarks that positioned the effort as the most ambitious fundraising campaign in University history. This campaign seeks to support the goals of the five-year Strategic Plan – Lighting the Way with a focus to accelerate campus investments, solidify new financial partnerships, and institute innovative academic opportunities with the ultimate vision of elevating Thomas More University's visibility and stature in the global community as the region's premier Catholic university.
For more information about Thomas More University, visit www.thomasmore.edu.
###
About Thomas More University
For 100 years, Thomas More has created a university for the student who wants to Be More, Do More, Seek More, Win More, Achieve More, and Create More. Since its founding in 1921, Thomas More has provided a mission-driven, liberal arts education that is based in the Catholic Intellectual Tradition. Students learn to harness the power of human reason to solve problems and discover truth, which allows them to begin the journey to become the person they were created to be. Entering into the second century, it's time for More. Serving more than 2,000 students, Thomas More aspires to be the premier Catholic university in the Cincinnati/Northern Kentucky region, build upon its excellent return on investment (ranked #1 among private universities/colleges in Kentucky by MSN Money in 2021 and ranked #2 for long term gain in Kentucky by a 2022 Georgetown University study) and share with this generation the transformative power of the Thomas More experience. To find out more, visit thomasmore.edu.
MEDIA CONTACT: Lyna Kelley, director of communications and PR, kelleyl@thomasmore.edu, 859.344.3309