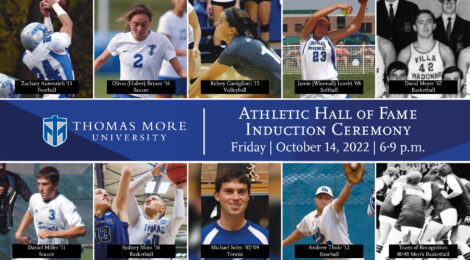 CRESTVIEW HILLS, Ky. (July 12, 2022) — Thomas More University announced its 2022 Athletic Hall of Fame class on Wednesday, July 6. The 2022 Hall of Fame class includes nine stand out former athletes and also recognizes a Team of Distinction. The inductees are scheduled to be recognized October 14 at a ceremony on Thomas More University campus.
The nine inductees account for both men and women from various Saints athletic programs including: National Collegiate Athletic Association (NCAA) DIII football career interception record holder Zach Autenrieb '13, D3Baseball.com All-Midwest Region baseball standout Andrew Thole '12, women's basketball two-time NCAA DIII National Player of the Year Sydney Moss '16, women's volleyball two-time Presidents Athletic Conference (PAC) Player of the Year and Freshman of the Year Kelsey Castiglioni '15, men's soccer PAC Player of the Year Dan Miller '11, women's soccer three-time D3Soccer.com All-American and PAC Player of the Year Olivia (Huber) Bryant '16, three-time All-PAC softball player Jamie (Wisenall) Leavitt '08, men's tennis PAC Player of the Year Michael Selm '07, '09, and men's basketball standout Dave Meyer '67.
The University also presents a special recognition to the 1980-81 men's basketball team as the Team of Distinction.The team held a 21-13 record, including a 10-6 game achievement in the Kentucky Intercollegiate Athletic Conference (KIAC). The team also saw a 12-2 record at home, including a perfect 8-0 in KIAC. They averaged 77-7 points per game without the three-point line. The men defeated Berea in the KIAC first round, falling to Cumberland (now Cumberlands) in the Semifinals.
"It has been a monumental year for Thomas More athletics as we continue to grow and take home championships," says Thomas More Athletic Director Terry Connor. "We are thrilled to honor several of our former athletes who have shown the dedication and sportsmanship that our Saints are known for."
For more details on each stand-out athlete, visit https://www.thomasmoresaints.com/general/2022-23/releases/20220706j593hx.
For more information on all things Saints athletics, contact Macara Vonderahe, at vonderm@thomasmore.edu.
For more information about Thomas More University, visit www.thomasmore.edu.
###
About Thomas More University
For 100 years, Thomas More has created a university for the student who wants to Be More, Do More, Seek More, Win More, Achieve More, and Create More. Since its founding in 1921, Thomas More has provided a mission-driven, liberal arts education that is based in the Catholic Intellectual Tradition. Students learn to harness the power of human reason to solve problems and discover truth, which allows them to begin the journey to become the person they were created to be. Entering into the second century, it's time for More. Serving more than 2,000 students, Thomas More aspires to be the premier Catholic university in the Cincinnati/Northern Kentucky region, build upon its excellent return on investment (ranked #1 among private universities/colleges in Kentucky by MSN Money in 2021 and ranked #2 for long term gain in Kentucky by a 2022 Georgetown University study) and share with this generation the transformative power of the Thomas More experience. To find out more, visit thomasmore.edu.
MEDIA CONTACT: Lyna Kelley, director of communications and PR, kelleyl@thomasmore.edu, 859.344.3309