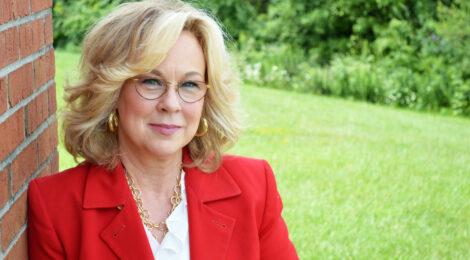 CRESTVIEW HILLS, Ky. (July 8, 2022) — Thomas More University announces the appointment of Debby Shipp as the director of co-op & corporate engagement for the College of Business. In her new role, Shipp provides oversight, programmatic development, and additional support for the implementation of the cooperative education program for the College of Business. She will ensure the success of Thomas More students through successfully connecting graduates to career opportunities and designing and offering professional development curricula. Shipp will play an important role in advancing partnerships with local, regional, and national corporations creating relationships that will benefit Thomas More students and alumni.
"In the fast-paced, competitive world of business, real-life experiences are an essential part of every student's preparation," says Bruce Rosenthal, Ph.D., dean of Thomas More University's College of Business. "We have appointed Ms. Shipp as our full-time director of Co-Op & Corporate Engagement. Her wealth of talent, experience, and focused dedication to the students and the University will serve her well as she sets up experiential co-op and internship opportunities with local and regional businesses, giving our students guided, real-world education."
For the past two years, Shipp served Thomas More as the director of business partnership in the Digital, Graduate, and Professional department; aligning the needs of corporate partners with valuable talent development educational opportunities provided by the University. Prior to her time at Thomas More University, Shipp served as the vice president of business growth and international affairs at the Northern Kentucky Chamber, delivering assistance, professional development, and educational programming to regional businesses. She has over 20 years of human resources experience where she consistently used continuing education to attract candidates, keep employees engaged, and improve retention.
"Through education and professional development, I have been able to help employees increase the value they brought to their organization and expand their future opportunities," says Shipp. "I have seen firsthand that helping one employee or student increase their earning potential often benefitted three generations: the student, the children, and the elderly relatives that rely upon them."
For more information about Thomas More University, visit www.thomasmore.edu.
###
About Thomas More University
For 100 years, Thomas More has created a university for the student who wants to Be More, Do More, Seek More, Win More, Achieve More, and Create More. Since its founding in 1921, Thomas More has provided a mission-driven, liberal arts education that is based in the Catholic Intellectual Tradition. Students learn to harness the power of human reason to solve problems and discover truth, which allows them to begin the journey to become the person they were created to be. Entering into the second century, it's time for More. Serving more than 2,000 students, Thomas More aspires to be the premier Catholic university in the Cincinnati/Northern Kentucky region, build upon its excellent return on investment (ranked #1 among private universities/colleges in Kentucky by MSN Money in 2021 and ranked #2 for long term gain in Kentucky by a 2022 Georgetown University study) and share with this generation the transformative power of the Thomas More experience. To find out more, visit thomasmore.edu.
MEDIA CONTACT: Lyna Kelley, director of communications and PR, kelleyl@thomasmore.edu, 859.344.3309