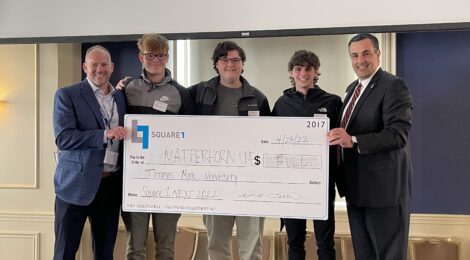 CRESTVIEW HILLS, Ky. (Mar. 8, 2023) — Square1 introduces entrepreneurship to hundreds of high school students in the region through the NEXT program and is set to hold the annual NEXT High School Final Pitch event co-sponsored by U.S. Bank and Thomas More University on Thursday, March 23, 2023, at the University's main campus. The event provides opportunities to participating students for prizes, additional coaching, networking with local professionals as they share their experiences, startup support, and a chance to explore new pathways.
Three teams of stand-out students are selected by a panel of judges for top honors in the competition and are offered scholarships to Thomas More University. The first-place team can take advantage of full-tuition scholarships, second place receives $25,000 scholarships, and third place earns $22,000 scholarships. Last year's first-place winning team, MatterhornONE, included students Alex Woods, Carson Floyd, and Colin Wilmhoff of Beechwood High School. The three students were offered full-tuition scholarships to Thomas More University as a result of their pitch which detailed an innovative, single-person tent design serving a social purpose.
Runners up in last year's contest, team Fast Fashion, consisted of Holy Cross High School students Kennedie Welliver and Annalee Grout, who pitched a men's quick pick-up accessory store. Team WaitIN took home third place in the competition for their pitch about solving staffing issues for small restaurants by providing plug-and-play ordering software. Team WaitIN was made up of Theo Helton and Steven Weil from Covington Catholic High School.
The event also serves to honor community members for their role in innovation and entrepreneurialism in the region. The 2023 NEXT event honors Chad Scott, founder and managing director of Tindall Capital, a growth investment firm focusing on lower-middle market technology and early-stage software investments operating in targeted industries. Thomas More University President Joseph L. Chillo, LP.D., was one of several honorees at the 2022 NEXT event, receiving the Entrepreneur Engagement Award in recognition of his commitment to providing the winning teams with life-changing scholarships to the University and for establishment of the Dr. Anthony '65 & Geraldine '66 Zembrodt Center for Entrepreneurship and Innovation at Thomas More.
Square1's NEXT program works with high school students to teach them how innovation and an entrepreneurial mindset can change their life's trajectory. Schools and students from across Greater Cincinnati participate in this region-wide innovation and work skills education and development program.
For more information about Thomas More University, visit www.thomasmore.edu.
For more information about Square1, visit www.ideastartgrow.com/.
For more information about U.S. Bank, visit www.usbank.com/about.
###
About Thomas More University
For 100 years, Thomas More has created a university for the student who wants to Be More, Do More, Seek More, Win More, Achieve More, and Create More. Since its founding in 1921, Thomas More has provided a mission-driven, liberal arts education that is based in the Catholic Intellectual Tradition. Students learn to harness the power of human reason to solve problems and discover truth, which allows them to begin the journey to become the person they were created to be. Entering into the second century, it's time for More. Serving more than 2,000 students, Thomas More aspires to be the premier Catholic university in the Cincinnati/Northern Kentucky region, to build up the excellent ranking for ROI in Kentucky (#1 – 2021 MSN Money, #2 2022 Georgetown University study), and share with this generation the transformative power of the Thomas More experience. To find out more, visitthomasmore.edu.
About Square1
Square1, with locations in Covington and Cincinnati, seeks to uncover, educate, support, and inspire emerging entrepreneurs and leaders, who ultimately create opportunities for themselves and others by overcoming the many obstacles life poses. This mission is achieved through the NEXT program, which works with high school students to teach how innovation and an entrepreneurial mindset can change their life's trajectory. Schools and students from across Greater Cincinnati participate in this region-wide innovation and work skills education and development program. To find out more, visit ideastartgrow.com.
About U.S. Bank
U.S. Bancorp, with approximately 77,000 employees and $675 billion in assets as of December 31, 2022, is the parent company of U.S. Bank National Association. The Minneapolis-based company serves millions of customers locally, nationally and globally through a diversified mix of businesses: Consumer and Business Banking; Payment Services; Corporate & Commercial Banking; and Wealth Management and Investment Services. MUFG Union Bank, consisting primarily of retail banking branches on the West Coast, joined U.S. Bancorp in 2022. The company has been recognized for its approach to digital innovation, social responsibility, and customer service, including being named one of the 2022 World's Most Ethical Companies and Fortune's most admired superregional bank. Learn more at usbank.com/about.
MEDIA CONTACT: Lyna Kelley, director of communications and PR, kelleyl@thomasmore.edu, 859.344.3309