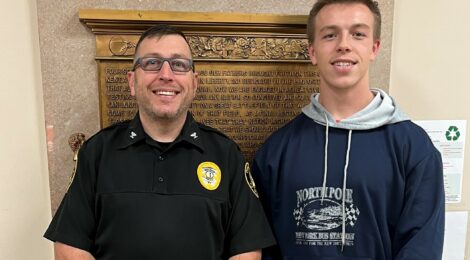 CRESTVIEW HILLS, Ky. (Jan. 24, 2023) — Officials at the City of Bellevue in Kentucky are very familiar with what graduates from Thomas More University have to offer. "We were joking in the office about how Thomas More grads are taking over the City of Bellevue," says Colonel Jon McClain '19, Bellevue chief of police, "the top-notch talent from Thomas More is represented here!"
McClain is a graduate of Thomas More's criminal justice program, a field that gained his interest after departing from the U.S. Navy. "My time at Thomas More was great," recalls McClain, "I used my military benefits, and the Veterans Affairs (VA) rep, Michelle Vezina (also Thomas More's registrar), was outstanding in helping navigate any paperwork." The personalized experience McClain found at Thomas More did not stop at VA services, he credits the small class sizes and the ability to connect with professors in strengthening his education and career readiness. "Thomas More helped me prepare for my current role by teaching me to look at the bigger picture," says McClain. "Classes in criminal justice research gave me the ability to take alternate views other than that of a law enforcement officer." McClain was appointed as chief of police in January 2022, after serving on the force for 12 years. He is also a member of the Campbell County Fire Investigation Team and the Campbell County Special Investigations Team.
The City of Bellevue has also welcomed interns from the University over the years. It was an internship that paved the way for Pierce Turner '21, assistant to the city administrator and alcohol beverage control administrator, to find a permanent role with the city. The opportunity was introduced to him through John T. Spence, Ph.D., AICP, Thomas More professor of political science. "I initially had no intention of going into local government or public administration, but once I went through the internship, I had built an admiration for it," explains Turner. "The City of Bellevue asked me to stay after my internship had ended, and I have been rising through the ranks to get to where I am now." Turner's educational experience did not begin at Thomas More; he was drawn to the University for its small class sizes and opportunities to make connections with faculty and staff. "My academic advisor and I were very close," recalls Turner, as he describes his relationship with his faculty advisor. "I was in a few of his classes, and I was able to progress in my academic career exponentially faster than I would have been able to at a larger school." Further, he credits the smaller class sizes in building an invaluable sense of camaraderie with classmates, which strengthened his team building skills. "Students could rely on others and work together to reach a common goal," says Turner. "That is what it's all about in local government. With limited resources, having a group that can work together cohesively is essential."
Thomas More University students will no doubt continue to find career opportunities with the City of Bellevue. "Whenever the City is in need of personnel for small projects, I always look to Thomas More to give a potential intern some experience in the workforce and to invite them into our community at the City of Bellevue," says Turner.
For more information about Thomas More University, visit www.thomasmore.edu.
###
About Thomas More University
For 100 years, Thomas More has created a university for the student who wants to Be More, Do More, Seek More, Win More, Achieve More, and Create More. Since its founding in 1921, Thomas More has provided a mission-driven, liberal arts education that is based in the Catholic Intellectual Tradition. Students learn to harness the power of human reason to solve problems and discover truth, which allows them to begin the journey to become the person they were created to be. Entering into the second century, it's time for More. Serving more than 2,000 students, Thomas More aspires to be the premier Catholic university in the Cincinnati/Northern Kentucky region, build upon its excellent return on investment (ranked #1 among private universities/colleges in Kentucky by MSN Money in 2021 and ranked #2 for long term gain in Kentucky by a 2022 Georgetown University study) and share with this generation the transformative power of the Thomas More experience. To find out more, visit thomasmore.edu.
MEDIA CONTACT: Lyna Kelley, director of communications and PR, kelleyl@thomasmore.edu, 859.344.3309