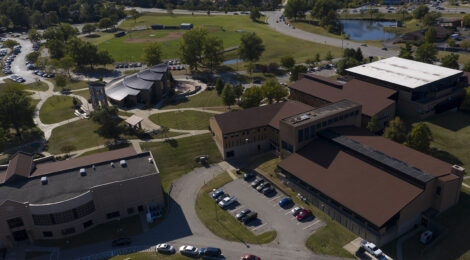 Choe Sergent, Ph.D., is one of the University's newest faculty members, joining the Thomas More community in fall of 2022. He is a member of the Governing Board Equity in Student Success Project*, also called the Gardner Institute Initiative, at Thomas More University. We asked Professor Sergent to speak about this commitment to student retention and explain the importance of the work that's being done. The project is a multi-year commitment and Sergent gives his input on his involvement, as well as a little information about his history before coming to Thomas More.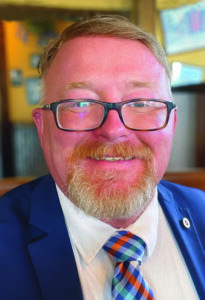 Choe Sergent: I was asked to be on this committee and a student survey was conducted. They are in the process of compiling the data to try to determine the variables that would increase student retention. Retention is one of the big three: fundraising, enrollment, and retention, that any university has to focus on. It was an honor to be asked to be on this committee, because this is very important work. I'm on the academic retention portion of the committee. The hope is that once we're done, that we can find methods to increase retention for our students, whether it's providing additional support or providing a resource that enables them to stay with us and make sure they complete their degree at Thomas More. That's the goal.
Judy Crist: So tell me a little bit about what you were involved in before you came to Thomas More; what was your pathway to getting into academia?
CS: I was an assistant vice president at Campbellsville University. I was over the operations of the Southern Regional Center. We built an entire campus and when I say we built a campus we came in from scratch – nothing there. We built over 15 buildings, including a gymnasium, four sets of dorms, and four academic buildings. We had about 800 students enrolled, started a Doctor of Chiropractic program, and even developed the athletics program. We offered associates, bachelor's and master's degrees, as well as that one doctorate. We also had certificate programs: welding, plumbing, HVAC, barbering, cosmetology, all of that.
How I got into it (academia) was one of my best friends' dad was president. I don't know why, but he just treated me like a son and took me under his wing; he showed me everything that he did. He was the university's president for 21 years. When he started at Campbellsville, there were about 700 students and when he retired, there were over 13,000. Campbellsville has several campuses, the one I spoke to you about is the flagship but they also have a campus in Los Angeles (California), Ontario, Islamabad (India), and in Kentucky at Somerset, Liberty, and two campuses in Louisville.
Hopefully, we (Thomas More) might utilize some of the things they (Campbellsville) did with retention. For example, they would offer a 10-course certificate at a reduced price, and the student, if they wanted to, could count those 10 classes as 30 hours towards a bachelor's degree. That was very tempting, so the student would go ahead and enroll right on to a bachelor's degree. Then you try to retain and enroll them on into a graduate program.
JC: Getting back to the Gardner Institute Initiative, what are your thoughts on that? From what I understand, it's a push for retention for all students, but in particular, it's a push for meeting the needs for Black, Indigenous, and People of Color (BIPoC).
CS: One thing that's going to come out of this with retaining and enrolling people of color, is the need to increase the amount of faculty of color. That was one of the things that I was responsible for at Campbellsville. I wrote out the diversity plan, which was part of the enhancement plan. It was part of the overall objectives and goals of the university to hire faculty of color, because they could relate to the students in a way that other faculty could not. Another aspect to that, and this is something that I'm hoping the Gardener Institute addresses, is that sometimes it's simple things (that retain students). For example, when I talked to students, there was an entire floor that the microwaves didn't work. They're hungry and the microwave does not work so that they can cook something. Let's fix the microwaves and they (students) will probably be happy. Or being able to use their meal card to get a box lunch when they don't have time to eat in the cafeteria. A lot of times it's very simple things like that, that actually make a huge impact.
JC: What is the size of the group that is involved in the Gardner Institute pilot? What else do you feel is important?
CS: I would say there is at least 15 participants. There's two different sides of this committee; I'm on the academic retention side and there is another side for student services. I believe right now it is still in the admin stages as the student survey went out right before the winter break. They are compiling the data to see where they are and what adjustments need to be made; that is the initial pilot survey.
We have a great president. I don't know if people here realize this, but President Chillo is really good and one thing I think he's really good at is raising money. That is going to be key. To help people of color, you need scholarships because you are dealing with a socio-economic demographic that doesn't have the resources. They are going to need some help financially because many can't afford the tuition.
With regards to the results of the survey, I don't know if they're going to continue with a purely quantitative approach or if we will also explore some qualitative approaches. The Gardner Institute is really good at what they do but qualitatively, I think, is the only way to find some of the issues that are unique to Thomas More that will increase our retention. There's definitely going to be things that they see at every university that we need to implement or bring correction, develop policy that will enhance retention, but I'm sure also there is need for the exploration of a qualitative method to find out what's unique to us that we can do specifically because we're in a unique area. We have NKU, University of Cincinnati (and other institutions), but we have also got a large population around us. There's some interesting things we can do. And how is DII going to impact us? That might impact us very positively. There's still some variables that are unknown, that really need fleshed out and explored. I'm looking forward to the work, but I'm the new guy. I am sitting back, and I have made a couple of suggestions, but you all are the ones who've been here a while – I am the new guy.
JC: This is very helpful, a lot of good information. It sounds like you have a really good handle on what is going on and some of the things that need to happen down the road.
CS: I love being at Thomas More. I absolutely love the faith tied to the mission of the school. It has a very good reputation; everybody really cares and does a great job. I think that makes a top-notch, wonderful school.
*The Governing Board Equity in Student Success Project is supported through the John N. Gardner Institute for Excellence in Undergraduate Education (Gardner Institute) and the Association of Governing Boards of Universities and Colleges (AGB), and is an effort to significantly and equitably improve retention, graduation, and employment rates for all students, but especially for those who hail from low-income, rural, and historically marginalized backgrounds. To read the original press release about this commitment by Thomas More, CLICK HERE.