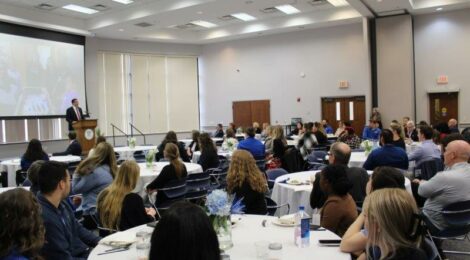 CRESTVIEW HILLS, Ky. (Mar. 2, 2023) — Thomas More University welcomed local media to campus on Thursday, March 2, 2023, for a celebration of the success seen in the first 24 months of the Second Century Campaign: It's time for More, the funding mechanism for the University's Strategic Plan: Lighting the Way. Representatives from media outlets across Cincinnati and Northern Kentucky joined Thomas More students, faculty, and staff for lunch as University President Joseph L. Chillo, LP.D. updated the community on landmarks of the capital campaign and what lies in the future.
"There is no doubt that higher education has experienced a changing landscape over the past several years," said Chillo. "Steady stories of deficits, increase in costs, inflation, a broken business model have been regular news stories both nationally and regionally. The challenges faced by other universities have not presented the same constraints at Thomas More University because of our focus on mission, a value-based, and personalized educational experience, and making certain that our institution is student-ready and financially responsible."
Three months into a global pandemic, Thomas More boldly launched the largest capital campaign in University history. Chillo enthusiastically reported that the campaign surpassed its $30 million goal three years ahead of scheduled. The campaign's success is evident on Thomas More's vibrant campus as construction is underway on the new academic center, student spaces have been renovated, Thomas More Stadium was introduced in partnership with the Florence Y'alls, new academic programs were announced, the Five Seasons Sports Club location adjacent to the main campus was acquired, and various naming opportunities were established to ensure students have the best facilities and equipment to succeed in the classroom and in their future careers.
Chillo alluded to coming initiatives stemming from the strategic plan. An innovative education model will soon be unveiled to address the need for more highly qualified teachers in PreK-12 classrooms throughout the Commonwealth. The University launches the Center for Faith, Mission, and Catholic Education in summer 2023, leaning into the Catholic values that have been a cornerstone of the institution. Chillo also shared that on Friday, March 24, 2023, a ceremony is planned celebrating the official name the College of Business, one of the first gifts to the Second Century Campaign and a vision to shape the ethical business leaders of tomorrow.
"Founded in 1921 as northern Kentucky's first college, we continue to be the regional leader of a quality Catholic liberal arts education, providing students an experience that develops character, a sense of purpose, and an understanding of responsibility to others," said Chillo.
For video of the press event, click here to visit Thomas More's YouTube channel.
For more information about Thomas More University, visit www.thomasmore.edu.
###
About Thomas More University
For 100 years, Thomas More has created a university for the student who wants to Be More, Do More, Seek More, Win More, Achieve More, and Create More. Since its founding in 1921, Thomas More has provided a mission-driven, liberal arts education that is based in the Catholic Intellectual Tradition. Students learn to harness the power of human reason to solve problems and discover truth, which allows them to begin the journey to become the person they were created to be. Entering into the second century, it's time for More. Serving more than 2,000 students, Thomas More aspires to be the premier Catholic university in the Cincinnati/Northern Kentucky region, build upon its excellent return on investment (ranked #1 among private universities/colleges in Kentucky by MSN Money in 2021 and ranked #2 for long term gain in Kentucky by a 2022 Georgetown University study) and share with this generation the transformative power of the Thomas More experience. To find out more, visit thomasmore.edu.
MEDIA CONTACT: Lyna Kelley, director of communications and PR, kelleyl@thomasmore.edu, 859.344.3309