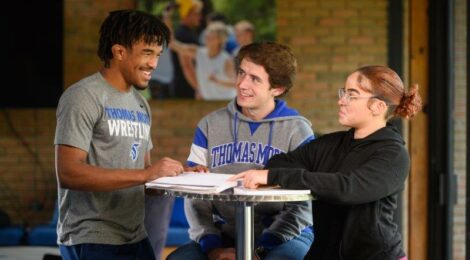 CRESTVIEW HILLS, Ky. (Mar. 1, 2023) — Thomas More University meets regional workforce needs and student career goals with several new academic programs launching in the 2023-24 academic year. The list includes two offerings from the College of Business: A Bachelor of Science in finance and a Bachelor of Arts in tourism and recreation management; and two offerings from the St. Elizabeth College of Natural and Health Sciences: A Bachelor of Arts in life science and a Bachelor of Arts in physical science.
University administration sought community input to build a Bachelor of Science in finance program that answered both employer and student needs. The result is a program that offers students the option to choose one of two tracks – financial services or corporate finance. Each track leads students toward the skill set required for different areas of finance. "Investment courses center on financial analysis," says Lawrence Byerly, Ph.D., professor of finance at Thomas More. "The personal finance class is vital as it provides information on applying the tools from the other courses." The corporate track focuses on the tools necessary for working in the corporate environment. Byerly adds that courses in the track, "…provide an excellent background on the theories and application of tools needed to manage operations of a business."
The College of Business introduces a Bachelor of Arts in tourism and recreation management, which recognizes an area with the potential for significant career growth while there are few other programs in the region offered. "This engaging, new program prepares students for the unique opportunities that exist to champion and lead the continued growth of the tourism and recreation boom being experienced throughout the Commonwealth of Kentucky," says Robert A. Arnold, J.D., Ph.D., professor in Thomas More's College of Business. The program is unique in that it provides students with a well-rounded approach to the field, drawing from the areas of business, economics, communication, art, law, and ethical leadership, while also focusing on diversity and sustainability.
The St. Elizabeth College of Natural and Health Sciences seeks to offer students interested in STEM careers greater flexibility and options. A truly student-centered degree, the Bachelor of Arts in life science delivers content in an extremely flexible framework. The program is designed for students who desire a working knowledge of life science, flexibility in course selection within the major, or the ability to pair it with programs in other disciplines. This flexibility makes the life science program ideal for a student looking to double major, or for transfer students, as the program is compatible with a broad range of incoming science credits from other institutions and degrees.
Adding more flexible options for Thomas More University students interested in a STEM career, the Bachelor of Arts in physical science program is designed with career preparation in mind. The curriculum focuses on an interdisciplinary approach to the physical sciences, blending courses in physics, chemistry, mathematics, and computer programming to prepare students for technical jobs immediately after graduation. In addition to research experience, the program also offers the flexibility for students to incorporate a minor or second major to cater toward their specific career goals.
Thomas More University also recently announced a new Master of Public Health program. The new programming is a result of goals set forth in the University's five-year Strategic Plan: Lighting the Way, supported by the major comprehensive fundraising campaign, The Second Century: It's time for More. Through new academic offerings, the University moves forward with the Strategic Plan: Lighting the Way and its commitment to student success and academic innovation.
For more information about Thomas More University, visit www.thomasmore.edu.
###
About Thomas More University
For 100 years, Thomas More has created a university for the student who wants to Be More, Do More, Seek More, Win More, Achieve More, and Create More. Since its founding in 1921, Thomas More has provided a mission-driven, liberal arts education that is based in the Catholic Intellectual Tradition. Students learn to harness the power of human reason to solve problems and discover truth, which allows them to begin the journey to become the person they were created to be. Entering into the second century, it's time for More. Serving more than 2,000 students, Thomas More aspires to be the premier Catholic university in the Cincinnati/Northern Kentucky region, build upon its excellent return on investment (ranked #1 among private universities/colleges in Kentucky by MSN Money in 2021 and ranked #2 for long term gain in Kentucky by a 2022 Georgetown University study) and share with this generation the transformative power of the Thomas More experience. To find out more, visit thomasmore.edu.
MEDIA CONTACT: Lyna Kelley, director of communications and PR, kelleyl@thomasmore.edu, 859.344.3309