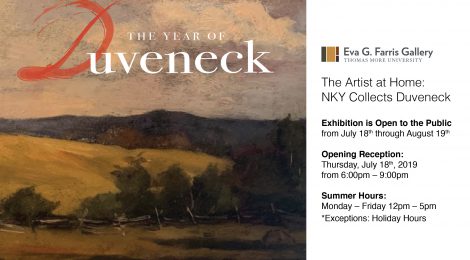 CRESTVIEW HILLS, Ky. (July 18, 2019) — Thomas More University will host an art exhibition titled "The Artist at Home: Northern Kentucky Collects Duveneck," celebrating the life and work of Covington artist Frank Duveneck. This year marks the 100-year anniversary of his death.
The exhibition will be held in the Eva G. Farris Gallery and is free to the public starting with a reception on July 18 from 6 – 9 p.m. The exhibition will run through August 19. Gallery hours are 12 – 5 p.m., Monday through Friday, and two Sunday afternoons, July 21 and August 18, from 12 – 5 p.m.
Frank Duveneck (1848-1919) was one of the most talented young American artists who studied and worked abroad during the 19th century. With few places in America to study art, many promising young painters chose to go to Europe to learn the art of painting. Born locally in Covington, Duveneck left his home in 1869 to study painting in Munich. He would later work in Paris, Florence, Polling, and Venice.
Despite his worldly reputation and international esteem, Duveneck spent nearly two-thirds of his life working in his studio in the Northern Kentucky/Covington area painting portraits of his family and neighbors.
"This exhibition is about connections and collections," said Rebecca W. Bilbo, Ph.D., TMU Art Department head. "As the title indicates, we are featuring works that have been borrowed from Northern Kentucky collectors and private collections housed in this region."
The exhibition will feature an important work on loan from the Benedictine Sisters. This earliest known independent work titled "Madonna and Child" was painted in 1869 as a gift for the Sisters. There is also a portrait of the artist's niece from the Kentucky Historical Society. Other works included in the exhibition are from private collections in northern Kentucky, some of which are portraits of Duveneck descendants who have held these paintings in their family for more than 100 years. Also featured will be two paintings by his wife, Elizabeth Boott Duveneck.
Thomas More University is the Catholic liberal arts university of the Diocese of Covington, Kentucky. At TMU, we challenge students of all faiths to examine the ultimate meaning of life, their place in the world, and their responsibility to others. Through our integrated and traditional undergraduate, graduate, and certificate programs, we are inspiring innovation for a better tomorrow. Learn more at thomasmore.edu.
###
MEDIA CONTACT: Rebecca Stratton, director of communications and PR, strattr@thomasmore.edu, 859.344.3309