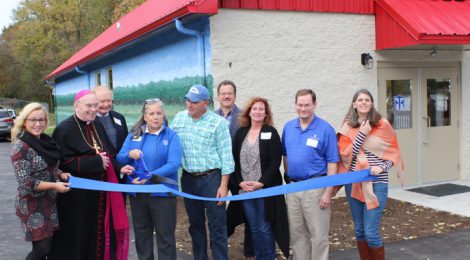 A celebratory ribbon cutting on November 4 indicated the grand opening of the new Science, Technology, Engineering, and Math (STEM) Outreach Center at the Thomas More University Ohio River Biology Field Station in California, Ky. The celebration of the regional resource for education, research, and outreach was also an opportunity to thank the center's contributors – R.C. Durr Foundation, Dr. George A. & Delores E. Renaker Charitable Foundation, Inc., and Duke Energy Foundation.
The new STEM Outreach Center, an $875,000 expansion to the Biology Field Station, directly results in more schools being able to access TMU's STEM outreach programs, more professional development opportunities for K-12 teachers that promote inquiry-based teaching strategies, increased scientific literacy for visitors of all ages, and an enhanced research facility with a separate stand-alone building for the STEM program.
"The opening of the new K-12 STEM Outreach Center demonstrates our commitment to student learning at all levels," said Chris Lorentz, Ph.D., director of Biology Field Station. "The building is the quintessential space to implement innovative, hands-on lessons in the STEM fields. By providing a dedicated space for grade schools and high schools, we are enhancing our existing programs; expanding our offerings to include new activities; and through the IT capabilities, extending our reach to schools around the country. Further, the new building will free up needed space in our existing lab building and create more research opportunities for our undergraduates at Thomas More."
The STEM outreach programs have received national recognition and are currently filled to capacity. Programming includes day-long field trips for grade school students, week-long summer camps for high school students, and workshops and professional development opportunities for teachers rooted in astronomy, biology, chemistry, engineering, mathematics, and physics. During these visits, TMU's undergraduate education and science majors conduct hands-on science activities that they have developed for elementary and middle school students. Nearly 2,000 school children throughout the region visit the Biology Field Station each year. Alongside the school programs, the center offers seminars, tours, and other programs for the general population.
"This is a place where people of all ages can experience the wonders of nature," said Acting President Kathleen Jagger. "The Biology Field Station is one of the crown jewels of TMU. As a biologist and as president looking after the well-being of this college, I'm grateful to everyone who had a role with this new building, and God bless everyone who will be utilizing it."
On March 10, 1967, Thomas More University, then Villa Madonna College, acquired the 25-acre site of the former Lock and Dam #35 on the Ohio River from the federal government. Today, this one-of-a-kind facility for applied biological research is the only working field station on the banks of the entire stretch of the 981 mile Ohio River just 30 minutes from Thomas More University's main campus in Crestview Hilly, Ky.
The Biology Field Station celebrated its 50th anniversary year this past March with a series of events and activities. Its mission is to educate and engage visitors about the ecology of the Ohio River watershed and empower them to make a positive impact on the environment.