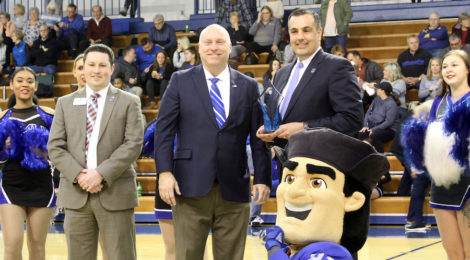 CRESTVIEW HILLS, Ky. (Jan. 31, 2020) — Thomas More University awarded the Northern Kentucky Chamber of Commerce (NKY Chamber) with a Saints Salute yesterday evening during the Saints' basketball double header against the University of Pikeville in the Connor Convocation Center.
A Saints Salute is a special recognition of the University's community partners. The NKY Chamber received the fifth salute distributed by Thomas More. The salute was presented during half time of the women's basketball game to Brent Cooper, president and CEO of the NKY Chamber, by President Joseph Chillo, LP.D. NKY Chamber leaders were also honored on the court during the presentation of the award.
"The NKY Chamber has been a significant community partner of the University for many years," said President Chillo. "Honoring them with a Saints Salute is a token of our appreciation for the work they do within our community and the investment they make in Thomas More. Our campus community is greatly enhanced by the partnership and support of the NKY Chamber."
Past Saints Salute awardees include the Cincinnati Reds, St. Elizabeth Healthcare, Republic Bank, and Alpha Delta Gamma fraternity.
Thomas More University provides students with something much more than job training. Graduates are prepared for any career. But they leave prepared for much more. They are exposed to the very best thought, literature, art, and music. They learn to harness the power of human reason to solve problems and discover truth. Most importantly, they have the chance to begin to become the person they were created to be. This is the power of the liberal arts in the Catholic Intellectual Tradition at Thomas More University. Our students come here looking for more. And that's exactly what we offer. Here our students take that opportunity and…Make It More. Learn more at thomasmore.edu.
###
MEDIA CONTACT: Rebecca Stratton, director of communications and PR, strattr@thomasmore.edu, 859.344.3309