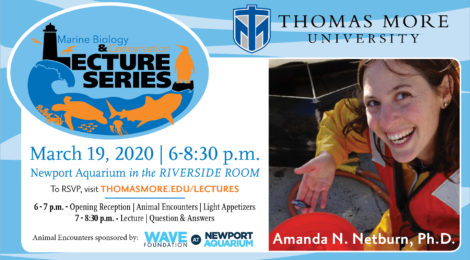 CRESTVIEW HILLS, Ky. (Jan. 24, 2020) — Thomas More University will present Amanda Netburn, Ph.D., on "Expeditions in Ocean Exploration" as part of its Marine Biology and Conservation Lecture Series at the Newport Aquarium on Thursday, March 19.
The event will start at 6 p.m. with animal encounters, courtesy of the WAVE Foundation, and refreshments. The lecture will begin at 7 p.m. and will be followed by a question and answer session to conclude the program. Those interested in attending can register at thomasmore.edu/lectures.
Netburn is an oceanographer at the National Oceanic and Atmospheric Administration's (NOAA) Office of Ocean Exploration and Research, where she serves as a program manager for ocean exploration grants and leads efforts to advance exploration in the water column. Netburn advises on NOAA Ship Okeanos Explorer and other expeditions and develops novel partnerships with federal, academic, and industry interests. She earned a doctorate in oceanography and a master's degree in marine conservation and biodiversity from the Scripps Institution of Oceanography at University of California, San Diego.
"By highlighting current research in marine biology and conservation, this lecture series is a great example of how Thomas More's collaboration with Newport Aquarium and the WAVE Foundation makes an impact in our local community," said Stephanie Snyder, Ph.D., assistant professor of biological sciences. "We are so excited for the opportunity to share Dr. Netburn's work in ocean exploration with the general public in this upcoming lecture."
The lecture series is a joint effort between Thomas More and the Newport Aquarium to address and promote critical issues in the fields of marine biology and conservation. Speakers for the lecture series are scientists, naturalists, educators, and other professionals working in related areas. Netburn will be the 10th speaker in the ongoing series. The lectures focus on a variety of topics and are geared toward the general public and students of all ages.
For more information, contact Stephanie Snyder, assistant professor of biology,
at snyders@thomasmore.edu or Chris Lorentz, director of the Thomas More University Biology Field Station, at lorentc@thomasmore.edu .
Thomas More University provides students with something much more than job training. Graduates are prepared for any career. But they leave prepared for much more. They are exposed to the very best thought, literature, art, and music. They learn to harness the power of human reason to solve problems and discover truth. Most importantly, they have the chance to begin to become the person they were created to be. This is the power of the liberal arts in the Catholic Intellectual Tradition at Thomas More University. Our students come here looking for more. And that's exactly what we offer. Here our students take that opportunity and…Make It More. Learn more at thomasmore.edu.
Newport Aquarium, named one of the top 10 U.S. aquariums in 2019 by USA Today's 10Best.com and one of the top U.S. aquariums 2016 by Leisure Group Travel, has showcased thousands of animals from around the world in a million gallons of water since 1999. Named a top U.S. aquarium by US City Traveler and Destinations Travel Magazine, and also by Travel Channel, Newport Aquarium is a Herschend Family Entertainment company and an accredited member of the Association of Zoos and Aquariums. Newport Aquarium is open to the public 365 days a year and is located across the Ohio River from downtown Cincinnati at Newport on the Levee.
###
MEDIA CONTACT: Rebecca Stratton, director of communications and PR, strattr@thomasmore.edu, 859.344.3309