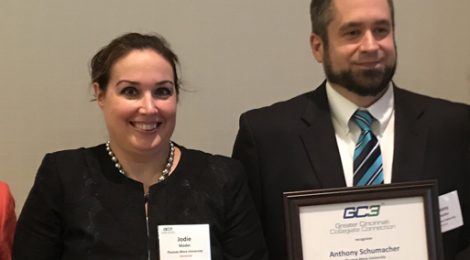 Barbara Amato, academic coach for the Institute of Academic Excellence, part of the TMU Success Center, participated as a national judge for the Mensa Foundation's U.S. Scholarship Program, scoring essays for American Mensa. This was her fifth year as a judge.
Robert A. Arnold, J.D., Ph.D., professor, College of Business, was elected mayor of Wilder, Kentucky in November 2018. He is pictured with Kentucky Governor Matt Bevin at a new mayor's ceremony. In this new role of service, Arnold will continue to help build strong connections with the community.
Angela Crawford, Ph.D., dean, College of Business, attended the Accreditation Council for Business Schools & Programs (ACBSP) Dean's Symposium in fall 2018. She also conducted a design thinking workshop for the Greater Cincinnati Chapter Association for Talent Development Conference held in October 2018. Crawford presented at the IABC Heritage Conference in Richmond, Virginia, with Lisa Gick, president of the Curious Agency. Their workshop was called "Engaging Conversational Energy to Deliver Possibilities and Innovation from All." In addition Crawford co-wrote a paper titled "Optimizing Frontline Shift Composition for Increased Customer Satisfaction and Firm Performance." The paper was one of the winning papers for the Third Annual Organizational Frontline Research (OFR) Competition and the authors were recognized and received their award at the OFR Preconference Symposium held in February.
Caitlin Dwyer, M.T.S., instructor/lecturer, College of Arts and Sciences, had her review of Helen Alvaré's book "Putting Children's Interests First in U.S. Family Law and Policy: With Power Comes Responsibility" (Cambridge University Press, 2017) published on humanumreview.com. The article, entitled "Free Love at the Price of Children's Well-being," covers the position Helen Alvaré, professor of law at George Mason University's Antonin Scalia Law School, takes on the legal and sociological effects of the U.S. government's promotion of the sexual expressionist position through judicial decisions, laws, and executive orders (beginning in the 1960s) as they pertain to child welfare, sex, and marriage.
Christine Griffiths, Ph.D., ATC, assistant professor and chair of sports sciences, College of Education and Health Sciences, announced that the TMU athletic training program received national accreditation from the Commission on Accreditation of Athletic Training Education (CAATE). 
Lynnette Guzzino, J.D., associate professor, College of Business, Jodie Mader '98, Ph.D., associate professor, College of Arts and Sciences, and Anthony Schumacher, Ph.D., assistant professor, Institute for Ethical Leadership and Interdisciplinary Studies, were honored at the Greater Cincinnati Collegiate Connection's (GC3) 31st Annual Celebration of Teaching held at Northern Kentucky University in October 2018. The Celebration of Teaching collectively honors and acknowledges the faculty award winners at the GC3 member colleges and universities. Guzzino also moderated an event titled "How to Lead a Multi-Cultural Workforce" at the Metropolitan Club in Covington, Kentucky, in September 2018 and was nominated for ACBSP's International Teaching Excellence Award with winners being announced in April 2019.
Jesse Leong, assistant director, choir activities, was appointed the recipient of the Julius Rudel/Kurt Weill Conducting Fellowship by the Kurt Weill Foundation of Music. Leong will serve as assistant conductor to Ted Sperling, artistic director of MasterVoices, for that organization's presentation of Weill's "Lady in the Dark" in April 2019 at New York City Center. For more information on this award, visit tmuky.us/leong.
Chris Lorentz, Ph.D., professor, College of Arts and Sciences, announced the "Environmental Monitor," a publication for environmental professionals, published an article highlighting the 50 years of research performed at the Biology Field Station. To read the article, visit  tmuky.us/monitor. 
Steve Oldfield, M.A., instructor/lecturer, College of Arts and Sciences (left in photo), appeared as a guest on WVXU's Cincinnati Edition with Michael Monks and WVXU Media Writer John Kiesewetter talking about the film business in Cincinnati and this year's Oscars. 
Malcolm Robinson, Ph.D., professor and chairperson of economics, College of Business, is featured on wallethub.com with his predictions for US economic performance in 2019. To read more about Robinson's predictions, visit tmuky.us/robinson19.
Wes Ryle, Ph.D., associate professor, College of Arts and Sciences, announced that TMU was awarded a grant from the NASA Kentucky Space Grant Consortium of which Thomas More is an affiliate member and Ryle is campus representative. For more information on the announcement, visit tmuky.us/nasagrant.
Charles J. Zimmer, Jr. '11 Ph.D., assistant professor and chair of information systems, College of Business, received his doctorate in computer science and engineering from the University of Cincinnati in December 2018. Zimmer's dissertation was titled "Development and Evaluation of a Cost-Effective Concussion Diagnostics System Using Virtual Reality."