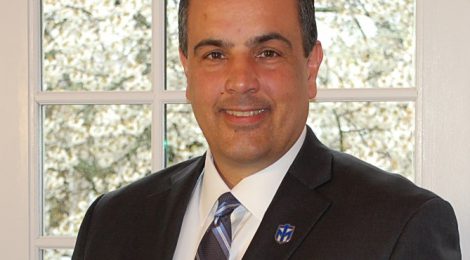 CRESTVIEW HILLS, Ky. (May 1, 2019) —Thomas More University's Board of Trustees announced this morning that, following a national search, they have elected Joseph L. Chillo, LP.D. as the University's 15thpresident. Chillo, who begins at TMU on June 1, has served as the president of Newbury College in Brookline, Massachusetts, since 2014.  He is also a professor of humanities and has taught first-year seminar and courses in American History.
The TMU community will have the opportunity to welcome president-elect Chillo as the University's 15thpresident on Thursday, May 23 outside the Mary, Seat of Wisdom Chapel on campus at 10 a.m.
"While Thomas More University was blessed with a pool of excellent candidates who met our presidential qualifications, it was Dr. Chillo who emerged as our unanimous choice for this appointment given his executive, academic, and administrative experience, along with his energy, insights, and collaborative style," said Board of Trustees Chair Judith Marlowe, Ph.D.
During his presidency at Newbury, the college increased its fundraising, received its largest donation ever, built a nationally-recognized Student Success Center, and established the Center for Excellence in Learning and Teaching. Chillo's student-centered focus led to the development of new academic programs, athletic and co-curriculum expansion, and improvements in student outcomes. He served as executive vice president and vice president for enrollment management and dean of admissions from 2008 to 2014.
Chillo, a first-generation college graduate, earned his bachelor's degree at Binghamton University, a Master of Public Administration at Long Island University, and a Doctor of Law and Policy at Northeastern University. With more than 25 years of private, higher education experience, prior to Newbury, his past positions include senior leadership roles at Colby-Sawyer College, Wheelock College, and St. Thomas Aquinas College.
"It is a great honor and my distinct privilege to be selected to serve as Thomas More University's 15thpresident," Chillo said.  "I look forward to working with the entire TMU community as someone who serves as a mission-driven, servant leader dedicated to academic and student excellence. I strongly believe that Thomas More University is well positioned for the future and has the unique opportunity to create a bold and visionary future for Catholic higher education."
"His enthusiasm for leading Thomas More forward into our second century of educational excellence inspired by the Catholic Intellectual Tradition focuses on preparing learners of all ages for life's opportunities and challenges," said Marlowe. "Optimism, stewardship, team building based on trust, and mutual respect are the bedrock of his approach to leadership.  We are grateful that he has accepted our offer and very pleased to welcome Dr. Chillo to our campus and community."
Chillo plans to focus on TMU's future through an emphasis on expanding academic program development across the institution, creating a dynamic student experience, building local, regional, national, and international partnerships that boost student and alumni opportunities as well as fundraising. He is eager to lead TMU towards its future as he serves as the University's next president.
Thomas More University is the Catholic liberal arts university of the Diocese of Covington, Kentucky. At TMU, we challenge students of all faiths to examine the ultimate meaning of life, their place in the world, and their responsibility to others. Through our integrated and traditional undergraduate, graduate, and certificate programs, we are inspiring innovation for a better tomorrow. Learn more at thomasmore.edu.
###
MEDIA CONTACT: Rebecca Stratton, director of communications and PR, strattr@thomasmore.edu, 859.344.3309