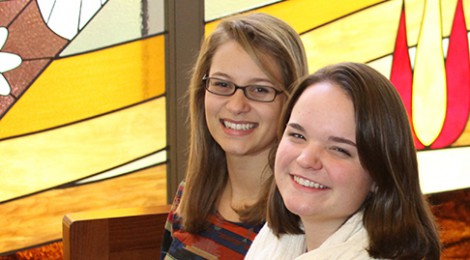 During the hectic years of college, most students are hard pressed to find time to stand up for something they feel strongly about. Between classes, work, athletics, homework, and a social life, a small percentage of the students who do get involved in a cause have the drive and ambition to really make a difference. Sophomores Katie Bischoff and Maria Syfert are the exception.
They have re-established a pro-life club "Saints for Life" at Thomas More College.
According to Katie, the student interest level and support for Saints for Life is overwhelming.  Fifty students signed up for their club at the club fair this semester.
"When we were planning to form this club, we realized there was a lot of interest on campus just from talking to many people. However, we were simply blown away by how many students are interested and how many people are supportive," said Maria. 
A common misperception about the title "pro-life" is that it only pertains to the topic of abortion.  However, both students agreed that their main goal within the club is to spread the culture of life on campus. The club is also trying to get students engaged in the topic of the death penalty.
With this club there are many off-campus opportunities to engage the community and serve others. The Saints for Life group attends Mass at several local high schools and attends Holy Name Church together on the first Saturday of every month. Every other week, they attend Kenosis, a Theology of the Body discussion group at Ruah Woods in Cincinnati. They recently made baby blankets for Rose Garden Mission in Covington.
The coming months look to only get busier for the Saints for Life. They plan to adopt several elderly individuals at a nursing home in Covington; writing letters throughout the year and singing Christmas carols during the holidays.  Saints for Life plans to attend the March for Life in Washington D.C. in January and several of the club members will travel to Nashville to attend SEEK, a Catholic youth conference presented by the Fellowship of Catholic University Students.
"I grew up in a very Catholic family and was encouraged in my faith throughout my whole life," said Katie.
"As a child and young adult, my parents were constantly encouraging me to find joy in my faith," said Maria. "Katie and I have a great passion for bringing Jesus to others, which is one of the reasons for this club. It seems like it has all fallen into place because God wants this club to be at Thomas More."
Katie and Maria had the gift of faith shared with them, and they are excited to share it with others. They saw an opportunity to draw students into campus ministry on Thomas More College's campus and felt compelled to act on this vision.  They are determined to establish a strong foundation for the Saints for Life club so that it can make a difference within the College and the community not only while they are enrolled at Thomas More, but to be sustained once they have graduated.