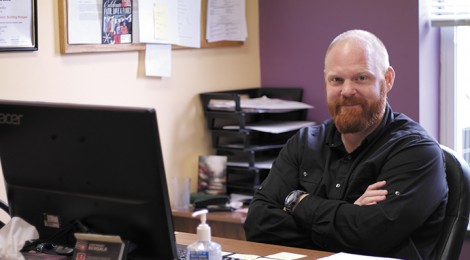 Chris Mueller '00 graduated with a Bachelor's Degree in Speech Communication and an Associate Degree in Business Administration. Today he transforms the world through his efforts at the Brighton Recovery Center for Women in Florence, Ky.
Last weekend, Chris Mueller rode his Harley-Davidson 150 miles through the winding back roads of Kentucky. He enjoyed the opportunity to clear his mind in preparation for the upcoming week's challenges. Working as a Program Coordinator at Brighton Recovery Center for Women in Florence requires much energy and focus. His Master's Degree in Social Work (MSSW) with a specialization in Substance Abuse Counseling from the University of Louisville not only gave him the skills to work with individuals in recovery at Brighton, but also helps him navigate his own recovery. Drawing from his own personal experiences, he can empathize with the women he works with, who have been swept up and strangled by the vice grip of addiction, particularly heroin addiction. Last year, Brighton Recovery Center served 240 women, the majority of them having experimented with heroin.
 "Heroin addiction is fueled by the horrible effects of the withdrawal, as opposed to the feeling of the high."
The heroin epidemic in Northern Kentucky has reached dire levels in the last two years. The data supporting the usage of the term epidemic is overwhelming. Total heroin cases in Kentucky jumped from 451 in 2010 (2.3 percent of all drug cases) to 3,570 in 2013 (17.9 percent of all drug cases), according to Kentucky State Patrol Records. The number of heroin trafficking and possession arrests in Boone, Kenton, and Campbell County jumped from 409 cases in 2009 to 2,204 in 2013, according to the Kentucky Administrative Office of the Courts. This number represents 37 percent of the heroin-related arrests in the state, despite Northern Kentucky's hosting only 8.4 percent of the state's population. Forty-eight precent of the current inmates in the Campbell County jail are either heroin users or have heroin-related charges.
"Heroin addiction is fueled by the horrible effects of the withdrawal, as opposed to the feeling of the high," explained Chris. As with any epidemic, heroin cannot be stamped out in Northern Kentucky without the leadership of individuals like Chris. His admirable role in such a quickly exploding branch of the Brighton Center does not go unnoticed by members of Thomas More College and the Northern Kentucky community. On a daily basis, he oversees all programming at the 100-bed facility on Weaver Road and makes sure all programs are running smoothly. He manages the day-to-day operation, as well as ensuring compliance with government contracts and Veterans Affairs contracts.
Chris credits much of his ability to manage tasks and priorities in his fast-paced career to his time as a student at Thomas More College. He also acknowledges that the well-rounded education he received from his alma mater gave him great preparation for his career and fostered a desire for lifelong learning. "Thomas More College was a springboard for me academically. I went from being an academic concern to someone who loved school and wanted to continue my education beyond undergrad." In addition to receiving his MSSW at the University of Louisville, he earned a CSW (Certified Social Worker) and is currently working toward a LCSW (Licensed Clinical Social Worker).
His college choice was due in part to the high regard for TMC in Northern Kentucky but also to his family legacy. His mother is an alumna, and his father and grandfather both received an Honorary Doctorate of Humane Letters from Thomas More College in 2000.
On the recent anniversary of the 9/11 attacks, he reminisced with a former classmate about where they were when they heard the news. This conversation caused him to reflect on the friendships he built as a student at TMC. Chris said he hasn't kept up friendships with any former classmates from elementary school through advanced education except those he formed at Thomas More College. He attributes that to the small size of the College along with the community of support that TMC provides. "I made really good, lifelong friendships at TMC, and I never expected that to happen."
"I was a young 18 when I arrived at Thomas More College. I was not mature by any stretch of the imagination, I was grateful to have that true sense of community as a student."
Rev. Ronald Ketteler, TMC Theology Department Chair, recalled Chris as "enthusiastic and engaged" during his time at Thomas More College. "During his senior course on Church social doctrine, he was captivated. I judge that he experienced a transformative moment that semester and discovered an integration of faith with this life's vocation."
Communications professor Patricia Raverty echoed these sentiments about Chris, adding, "He's energetic and passionate. He was someone who always wanted to give back. His vocation working at Brighton Center does not surprise me." Chris credits Professor Raverty with showing him his gift for public speaking and how to apply it in the real world. To this day, he appreciates the investment that his professors made in him. "I had blue hair and piercings; I stood out – and they were okay  with that."
Managing the day-to-day operations of a recovery center is bound to produce high levels of stress, which stirs Chris' desire for a creative outlet. Chris has been interested in music since he was a teenager. He first became a drummer at age 16 and started recording/performing/touring at age 17 with several regional and national bands. He studied classical percussion at Northern Kentucky University. These days, Chris is the drummer for the band Alone at 3AM and at Faith Church in Park Hills, where he is a member. He is the founder, president, and CEO of SofaBurn Records, a Northern Kentucky independent label dedicated to supporting DIY bands and launching artists. Professor Raverty commented, "I would say that music is Chris' avocation, the thing he loves to do most of all."
Outside of his job at Brighton Center, Chris works with men from twelve step support groups. Drawing from personal experiences, he is an advocate for those in recovery and helps them move forward after escaping the jaws of addiction. He selflessly devotes his life to others through his professional and volunteer endeavors.Northern Kentucky is a better place thanks to TMC alumni like Chris.
_________________________
Professor David Blythe, a lasting influence 
Former Thomas More College English Professor, the late David Blythe, made a strong impression on Chris. "When I was a student of his, I asked him what would be a good book to start with and he gave me The Call of the Wild (by Jack London). It is to this day my favorite book, complete with an inscription: 'For Chris – a book starting –  yet one that will stay –  October 6, 1999 David Blythe.' It is one of my most prized possessions.
"During my senior year when I had to deliver my presentation before the faculty panel, the question I was asked was, 'Who is your favorite character from literary history?' I gave my speech about Buck the dog. He (Blythe) was the professor I remember who connected the most with the part of my brain that learns."