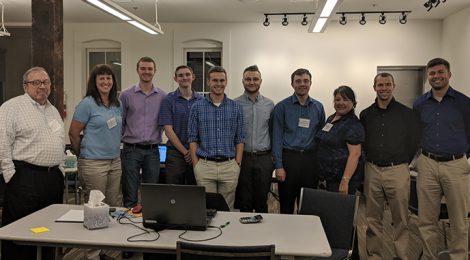 TMC accountancy majors once again participated in the Volunteer Income Tax Assistance Program (VITA) in Over-the-Rhine in Cincinnati, Ohio. This year marks the 37th year that Thomas More students have participated in the activity spending their Wednesday afternoons/evenings assisting low income and elderly individuals in the preparation of their federal, state and local tax returns, during the months of January, February and March. While there is some faculty supervision and students have completed at least one course in taxation, many of the students have already developed some proficiency in tax preparation while working at area CPA firms as part of the Co-operative Education Program at the College. Several of the volunteers have worked for multiple years in this community service activity.
As in several past years, CPAs from Rudler, PSC are partnering with the college and working alongside students, assisting them in the preparation of the returns. Most of the volunteers from Rudler, PSC began as volunteers in VITA when they were students at TMC. VITA is just one of the experiential learning programs available to accounting students. The site for the activity this year was the Center for Great Neighborhoods of Covington.
The VITA program helps students to understand the "responsibility to others" and "social responsibility" addressed in the College's mission statement.
Pictured above (from left): Professor Tom Gilday, Melanie (Lameier) Smart '92 (Rudler PSC), Adam Lang, Rob Augspurger, Owen Lung, Logan Jacobs, John Wood '14 (Rudler PSC), Monica Ibarra (Center for Great Neighborhoods – our host), Ronny Smith and Jacob Hensley. Additional students (not pictured) that participated include Jessica Dudi, Johnathan Eha, Mary Beth Odom, and Christopher Odongo.