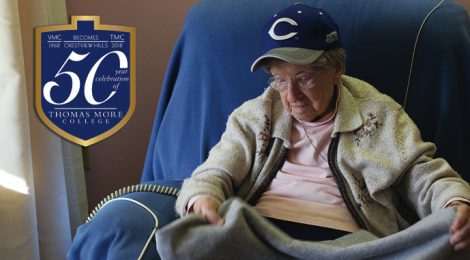 TMC has just begun celebrating the 50th anniversary of the Crestview Hills campus and the dedication of renaming Villa Madonna College as Thomas More College. This history column began in 2014 to give a voice to the experiences of those alumni who graduated (or started their college career) previous to the move in 1968. Somehow these two ideas morphed for this particular edition and resulted in a search for the oldest living VMC/TMC alumna.
After digging in the database and searching online, sending emails and making phone calls, the quest resulted in discovering Sr. Mansuetta Martineau '36, who lives locally in Holy Family Home in Melbourne, Ky. Sr. Mansuetta celebrates her 104th birthday on March 3, 2018. Abby Mattingly (TMC class of 2019) and I arrived to find Sr. Mansueta ready and waiting to start the interview. She is very sharp and witty, a true gem. We learned in advance that Sister was a huge Cincinnati Reds fan, so we brought a Saints Reds' ball cap from College Weekend 2017 to add some blue to her selection of Reds gear. She was tickled and placed the cap on her head even before we began discussing just a few of the many things she has seen in her lifetime.
Sister Mansueta was born in Pierceville, N.Y., in 1914. When she was eight years old, her father packed up the family (eight children at the time) and moved by train to Johnson City, Tenn. It was Depression Era and the family went to Tennessee in search of work after the hotel her father managed closed. Being skilled as a barber, Sister's father found work by establishing his own shop. The family settled in Johnson City and joined Saint Mary's Parish. It was unusual to find a Catholic Parish in that area of Tennessee and the family became the chief members, making up 11 of the approximately 40 parishioners.
Upon reaching high school age, Sr. Mansuetta's mother did not want her girls going to the public school. Sister Mansuetta and her younger sisters were sent to Saint Camillus Academy in Corbin, Ky., as boarding students. Sr. Mansuetta graduated in June 1931 and entered the convent that August. She and two of her younger sisters so loved the nuns that taught at St. Camillus that all three joined the Congregation of Divine Providence, continuing their faith journey with a religious vocation after high school. Sister made her vows at Saint Anne Convent in 1934, and while being trained, she went to college to earn her bachelor's degree.
When asked how she came about attending VMC, Sister said, "It was understood that I would go to college, although I told Mother Lucy (Mother M. Lucy Damidio – Superior) that I did not want to teach. She said 'Well, you will teach.'" Sister laughed at her own naivety and continued, "I had classmates, Sr. Agnes Margaret and I were classmates … she became the head of the English Department at the College. She was a very, very excellent teacher." Sister recalled boarding the bus with her class mates headed to Covington each morning and returning home by noon. She only remembers taking classes in one building but believes other students may have gone between the VMC building (also the Benedictine Sisters' mother house) and Notre Dame Academy which was located in Covington at that time. She recalled that other than speaking to each other during class, there was no interaction among the Religious Orders. There also were no men in her classes throughout the years she attended, but there were several lay women.
As far as instructors, Sister recalled three priests: Rev. John J. Laux, Rev. Michael Leick, and Rev. Edmund Corby. In addition, Sister enjoyed class with Sr. M. Callixta Blom, CDP (her favorite), and Sr. M. Irmina Saelinger, OSB. There were a number of others but their names escaped her at the time. They all provided an excellent education. She believes there were less than 50 students when she began her studies, and recalled classes not being very big. In performing additional research*, it turns out enrollment during the 1935-36 academic year numbered 78 students with Sister's graduating class consisting of six religious and five lay women. Sister vividly remembers receiving her degree at St. Joseph School (adjoining the College building) with Father Leick presenting the candidates and Bishop Francis W. Howard conferring the degrees.
Immediately after graduation, she was assigned at Corpus Christi School in Newport, Ky., where she taught elementary education, four grades in one room. She remained at Corpus Christi for seven years, just one of many assignments that involved teaching grades one through eight. Mother Lucy would be proud of how well she took to the task of teaching.
Abby inquired if Sister had any advice for current students, Sister said, "Yes, I guess. Of course nowadays I'm outdated but they should love their school, be loyal to it, and be good in their studies. At that time (when she was in college), there was very little social activity, everything was study, study, get your classes and get your degree." When asked about what she thought of the growth that has been experienced by VMC/TMC, she said, "I think it's wonderful and hope it continues. You expect Villa Madonna would grow with the times … it had a wonderful spirit. The students were very nice to their school."
*Retrospect and Vista, the First Fifty Years of Thomas More College Formerly Villa Madonna College by Sister M. Irmina Salinger, OSB, PhD
Sister Mansueta gave Cammy Dierking of Local12 a fun interview celebrating 2016 Opening Day. To see the interview, visit http://tmcky.us/2FpoFIC