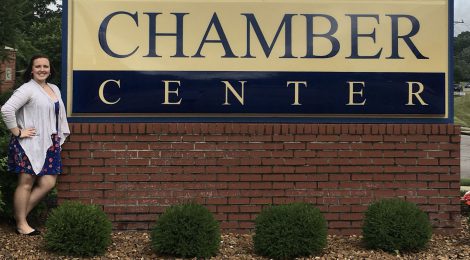 Working for the Northern Kentucky Chamber of Commerce in their Marketing and Communication Department as a graphic design intern under Marketing and Communication Director Jeremy Schrand, was extremely informational in my learning. I began the internship in January of 2018, and not only I was introduced to many amazing people, but my knowledge has been expanded of how businesses like the Chamber run. Also as a result of the internship, my own knowledge and skill level in using Adobe Creative Suite software (programs including InDesign, Illustrator, Photoshop, and Premier Pro) has improved.
Beginning work at the Chamber as a graphic design intern, I only had a basic working knowledge of InDesign (for page and graphics layout); my software of choice was Illustrator. The NKY Chamber of Commerce works with many different businesses around Northern Kentucky and Cincinnati helping these businesses get their name out there as well as helping their clients make connections through the many events the Chamber sponsors. It seemed like every week there was either an event or everyone was gearing up for an event happening the next week. This meant I was creating a lot of flyers, except I wasn't just making flyers, I was making headline sliders for the website, half-page flyers to hand out at meetings/events, t-shirts for Leadership NKY, and even redesigning one-pagers which might include 15 different events, discounts, and programs that the NKY Chamber was offering. All collateral materials the Chamber creates are pretty much arranged and designed in InDesign, allowing me to really practice and grow in my skills in the software.
I think the most exciting thing about my internship, besides the people I met, was learning how to use Adobe Premiere for video production. Premiere was an application I have had on my computer for years but had never used, not really knowing what it was. The Chamber creates video spotlights for their clients to get their name out to other Chamber members and the public. These videos were fun to put together as you must work to cut out stumbles and mishaps by the speaker creating smooth transitions as well as working in pictures and videos to show off the business the speaker is highlighting. I now only have a basic knowledge of the application, but that is a lot more than I had at the beginning of my internship.
Lucky for me, I had the opportunity to continue my work with the Chamber past the end-of-summer deadline. This meant a few more months to keep practicing InDesign and Premiere and getting to learn more from the company and the staff. This internship was only a sneak peak into what a graphic designer can do once they get into the corporate world and I'm excited to see where I can go working for bigger marketing or advertising firms with the knowledge I have gained from this internship.
After my year at the Chamber (finished at the end of January 2019), I said my goodbyes and moved on to complete my last semester at TMU planning to double major in graphic design and creative writing. I've been hard at work on my senior art show, which I am creating the branding/marketing for a theatre in digital media. It has been a journey of creating love.Through ticket designs, posters, playbills, logos, and newsletters, this show gave me a chance to combine my love for graphic design and writing, while also pulling in my love for theatre. The knowledge I gained at the Chamber brought me closer to my understanding of how to create the materials for my art show.
While it was a sad day finishing my year-long internship and saying goodbye to the amazing people at the Chamber, I cannot wait to see how this year comes to a close with the creation of my senior art show and the many other things this year still has to offer. If you are looking for something to do on Friday, April 26, 2019, I highly recommend coming to check out the opening reception for the Senior Show from 5-8 p.m. Be sure to view my little theatre creation. If you can not make the opening, the show runs through April 30. Consider this your personal invitation!