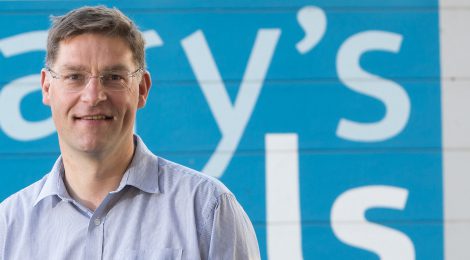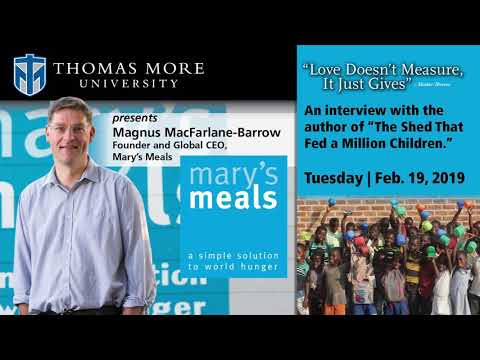 Thanks to the connections and generosity of TMU Board of Trustees Chair Marc Neltner, Thomas More University had the good fortune this past February of hosting a man who is making a difference in the world, literally. Magnus MacFarlane-Barrow is the founder and CEO of an organization called Mary's Meals. You've never heard either name? Don't feel bad, I had not either and I would like to think that is because here, in the US, we do not need their help.
Mary's Meals is a global movement of people who are united by the belief that no child should endure a day without food. This organization offers hope to the poorest of children by providing them with a daily meal in their place of education. There are many areas in the world where children are starving and either have to choose (or don't have the choice) to beg, work, or steal food for themselves and/or their family instead of going to school. These are the places where this work began more than 25 years ago.
To understand how this came about, you need a short history about this man. MacFarlane-Barrow grew up in Argyll, Scotland. In 1983, as a teen, he and his family made a pilgrimage to the Marian shrine of Medjugorje (Bosnia-Herzegovina) which renewed his family's Catholic faith and led his parents to convert their guesthouse into a retreat center or 'Family House of Prayer.' In 1992, Magnus and his brother Fergus were enjoying a pint in their local pub when they saw TV news reports of the Bosnian conflict. Having visited the region and having personal relationships with people being affected, they felt moved to help those suffering and organized a local appeal. Food, clothing, medicines and donations of money arrived at their home. They took a holiday from the fish farms where they worked, bought a second-hand Land Rover, and joined an aid convoy to deliver the donated goods to Medjugorje. Believing their good deed was done, the brothers returned home to find that public donations had continued to flood in, filling their parents' shed. MacFarlane-Barrow decided to give up his job and take a 'gap year.' He sold his small house so he could drive aid out to Bosnia-Herzegovina for as long as the public kept donating. The public did not stop and MacFarlane-Barrow never returned to his old job. 
After 10 years of delivering aid to Bosnia and other areas of extreme need, MacFarlane-Barrow met a young woman named Emma in Malawi, who was dying from AIDS. As they sat on her dirt-floor hut surrounded by her six children, he asked her 14-year-old son, Edward, what his dreams were in life. Edward's reply was: "To have enough food to eat and to go to school one day." This simple reply inspired MacFarlane-Barrow with the idea that by providing a daily meal in a place of education, there would be a two-fold outcome: chronically hungry children would receive daily sustenance and gain an education that can provide a route out of poverty. Thus, Mary's Meals (MM) began with feeding 200 children in one school in Malawi and has since expanded to more than 1,400,000 children in 18 countries, including Malawi, India, Kenya, Lebanon, South Sudan, Haiti, Syria and Ethiopia.
This wonderful story, the journey that resulted in this simple concept which spread from one school to thousands, is outlined in MacFarlane-Barrow's book "The Shed That Fed a Million Children." With the news that this man with this incredible story would be visiting campus, a group of us started a book club and read his account in preparation for the lecture event. Imagine our joy when we were given the opportunity to speak with him for a short period of time before the larger presentation. The following are some of his answers to our interview questions:
Elizabeth: What is the number one need right now for MM?
M: I always start with prayer. The truth is there isn't just one thing, there are many different ways to support this mission. Not everyone has to do it in the same way, there are many people who get involved and take part in our mission that are not people of prayer and that's fine. I think MM is a fruit of prayer and not just in the sense that that is where it began, it's the fruit of prayer every day.
(At this time, the book club presented Magnus with information on a Mother Theresa Novena we had been praying on behalf of MM. The idea for a prayer gift came from TMU student Heather Konerman – don't you just love this young woman?)
Judy: Many of the places you serve have rampant corruption at the government and at the local level, do you worry about this corruption? How do you safeguard against it?
M: Yes, absolutely we are concerned about corruption. When you choose to work in the world's darkest places where the need is the greatest then there is corruption. It's a daily reality for us on many different levels: buying food, delivering food, recruiting people; we are constantly striving to put systems and processes in place that safeguard, whether that is financial control or stock control – those systems need to be very, very robust. I would say more important (for us) is our approach of local ownership and empowering people. When you think about the food and the risk of food being stolen – that's a real risk because when people are very, very hungry it is a massive temptation! Because our project is locally owned with the volunteers being parents, aunts, and grandparents, they are not people who will take lightly someone who is trying to misuse the food meant for their own children. So we wrap around those (volunteers) other processes which are very robust like monitoring every school twice a week for stock. At the heart of it, our local ownership is even more important for safeguarding.  
Lynette: Here at TMU, we are constantly asked to assess and relay outcomes. How does MM assess or measure success? Every time a child received a meal is success in itself but does MM have a way to quantify success?
M: It's funny, I just came from speaking to a business class (Magnus visited several TMU classes that day) where I talked about that. It's an interesting balance because MM is a work of love and for that reason there are some things you can't measure, I believe it was Mother Theresa that said "Love doesn't measure, it just gives." There are also things that we should (measure) when we can. In recent years we have been carrying out an impact assessment looking at the impact of MM on school communities and individual children over the last five years. It is a serious undertaking as an independently verified piece of work, we want to create a body of evidence that proves that we are not just telling nice stories. We are reaching the end of that study and it's producing amazing data. I'm going to Washington, D.C., next in order to present (Mary's Meals) to the World Bank. They are very interested in impact assessment and they recognize, when it comes to school meal provisions, there's been very little done in the developing world. We are creating a body of evidence of the long-term impacts for them and also for our own learning. We don't want to become lazy or complacent in our thinking. We want to keep challenging ourselves by asking is it really working? Is there something we can adjust in the model to do this even better? So we sit down and do surveys in the communities we serve (completed by an independent organization not affiliated with MM). One thing I never thought much about at the beginning of this, is the anxiety that hunger causes in children and parents. Horrendous anxiety about whether I am going to have something to eat today or tomorrow, and that can have such a negative impact on a child's life. You create a baseline and, I can't remember exact numbers, but that survey came back at like 60 percent (experiencing anxiety); a year later after the introduction of MM, it comes back as less than five percent. The same with happiness; are you happy at school? Similar result.  
Nancy: Please tell us about your experience in Medjugorje. What would you say to skeptics that don't believe in the apparitions?
M: I was in Medjugorje recently and there was a group there who asked that question to one of the visionaries. Her answer was "not everyone has to believe, it's not obligatory. Don't spend lots of time and energy trying to convince someone about whether it's true or not." I believe absolutely with all my heart. In terms of my own experience, I went there as a youth quite early on and that was a real blessing because it was before it became a site of international pilgrimage and was still the same quiet village. We were a bit of an oddity being from the outside and that was a blessing because the visionaries invited us in as they were having their apparitions. I almost hesitate to talk about Medjugorje and don't talk about it that much because there's a thing with those of us that have experienced God's grace there. Sometimes I think we turn people off by talking about it all the time. I find it very hard to put into words the important things about my experience which include things of the heart: my experience of God as a loving Father, my sense of being worthy in His eyes, that He has a plan for me. It was a very, very profound experience – a life changing experience.
Caitlin: You are very clearly a family man and this work requires you to spend time away from your family. How to you achieve work/life balance? How is your family involved in this work? And my children would like to know, how do you feed a child for $19.50 a year?
M: I think everyone would like to know the answer to that! The part about family and being away from home, that's a reality. I think the perception is that I am away from home more than I am, I probably have never travelled more than 25 percent of the time. The toughest part of the job is the travel but that is a tiny sacrifice compared to a lot of sacrifices that people are making. It's the hard bit of the job, I don't enjoy it but on the other hand there is the blessing of how we deal with it as a family – I met my wife (Julie) as a result of this work and she is equally as passionate about this work as I am. We've done this quite deliberately as it's gone on with the kids as well. For us as a family it's not about 'Dad's off doing the Mary's Meal thing,' it's we are, as a family, doing the Mary's Meals thing. It might be that Dad's got to go and meet some people somewhere and he's away; they understand that that can be their sacrifice. It's probably not always a sacrifice for them, I'm not sure that sometimes my teenagers even notice when I'm gone! We talk about it, it's a family thing and the kids absolutely love Mary's Meals. I've always been quite protective of them in that regard because everyone we meet, especially in Scotland, want to know about Mary's Meals and me. I try to protect them because, though this has been my calling in life, I certainly don't expect them to devote their lives to it. Maybe God will ask one of them to do something with Mary's Meals but that is not the expectation, and while I say that this is a family mission, the other way around is that Mary's Meals isn't a family business. We deliberately created an organization that we don't have control over and is a global movement. 
And then about the $19.50, there are a couple things that make that possible. That's a global average so there is a spectrum of less than $10 in Malawi for a year but then maybe $40 in the more expensive countries. Also there is the relatively low cost of food within some of those countries, especially when you are buying enormous quantities. The second part is that incredible army of volunteers, there are 85,000 of them in Malawi alone giving of their time. You can imagine how different the cost would be if they were all being paid salaries.  
Leslie: Can you tell us how you became a speaker and writer?
M: I never intended to do either of those things, especially the speaking part! How gentle God has been because if at the beginning, when I made the decision to give up my job, I had been aware that talking to big audiences, media things, or whatever was going to be involve, I think I would have run away and hidden. I was very, very shy and it would have been a really awful thought to have to do public things. I would have avoided it at all costs. God definitely has a sense of humor! 
In the early days when we were asked to do talks, I would make an excuse and persuade my wife or mom to do it. There came a time when they (wife/mom) weren't available and I had to do it. I hated it the first few times but gradually grew into it. I still get nervous but I also love it because what could be better than telling the story of MM? I see the joy it brings. Just coming here and hearing your stories about being inspired to do different things because of the story, that is a beautiful thing. That's also why I wrote the book. At first I had this fear of it wrongly being thought that this was about me. The reason I got to the point of writing the book is I saw more and more how this story is really an important one. I know my story, it involves my journey and is something that God has done. It is really important that people know about this amazing thing that God has done and to give glory to God. There are some secondary things too, obviously spreading awareness of MM but less obviously is protecting the organization; the values of what MM is in essence as we grow beyond those of us who founded it. I think recording the truth of how MM was born and how certain events and experiences shaped our way of doing things and our values, was one very important way of protecting those values. The experience of writing was very good for me, I hadn't spent much time reflecting on certain things that got "it" done and writing the book deepened my sense of gratitude and awe. I feel like some other people feel who write: like "did that really happen?" 
Heather: According to the book, you trust so much, how do you trust, what do you think of when you trust?
M: It's not something I find very difficult. I would say that's probably because of the experiences I have everyday. God has never, ever let us down; very much in the sense of the providence of God. He might not do that in a way we always expect or when we expect it but he never lets us down. I don't know what that means in terms of how MM will unfold. It's really interesting; I challenge some of our co-workers and board members. Our board is a typical board, accountants and people from business backgrounds; they are performing the role they should do, i.e. saying "are you sure it's wise to make that investment?" those due diligence questions about our financial responsibility. I'm coming from the place where MM has come from based on all our experiences and what we say about ourselves. We should be making decisions in a slightly different way than other organizations, if we really believe in God's providence. That doesn't mean that removes all debate and difficult decisions; it means when you think about things like financial reserves, money you keep in the bank in case something goes wrong, as being influenced by our trust in divine providence. We're not being irresponsible, we have reserves, but at the end of the day we feel the best kind of reserves we can have is food in the belly of a hungry child. The reality today is that kids are hungry.
And so the interview ended. Such a simple concept and yet there is still so much hunger in the world. In the US, we take for granted that children who go to school will eat a meal. There are safeguards in place to provide reduced/free breakfast or lunch to those in need, sometimes there are even take-home packages available for the weekends. This is not the case in much of the rest of the world. Thanks to this movement started in a shed in Scotland by MacFarlane-Barrow, almost a million and a half children are eating at least one meal a day while being educated, creating the potential for a better future for themselves and, as a result, their children. What a great story of charity and love, of doing God's work in the world.