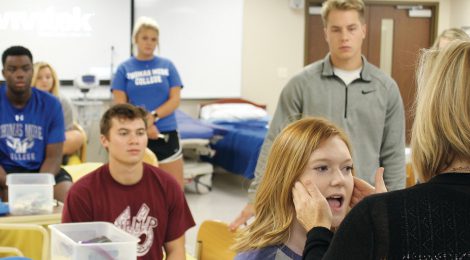 October 1, 2018, welcomed a new era for Thomas More as the Board of Trustees announced that the College would officially become Thomas More University. A new identity, though a simple name change, inaugurated a new institutional structure, welcoming three new colleges and a new institute.
To leverage expanding academic offerings, the College of Business, College of Education and Health Sciences, and College of Arts and Sciences were formed. These three colleges, each organized under a separate dean reporting to the provost, along with the Institute for Ethical Leadership and Interdisciplinary Studies, now house the University's academic degree programs and departments. Under new leadership, the colleges collectively focus on enhanced academics, interpersonal experience and development, as well as career and real-world readiness. With an emphasis on value, leadership within each of the colleges unfold their vision for the programs housed under their care.
College of Business
Under the guidance of Dean Angela Crawford, Ph.D., the College of Business serves as the largest college within the University. Currently, 653 undergraduate traditional, undergraduate adult, and graduate students are receiving a values-based Thomas More education to prepare them for a diverse and competitive work field. The college houses business administration, the University's most popular major among undergraduate students.
Collectively, the leadership within the college has created a vision for future success which represents a commitment to community, academics, relationships, and experience (CARE). Having CARE at the core of their foundation allows the college to focus on how students will discover the value of giving back to the community – building upon Thomas More's strong liberal arts foundation – while establishing firm faculty and student relationships and providing students with real-word experience to set them up for future successes. 
With a focus on CARE, the college and its students are connecting and advocating for the community across departments. Accountancy students had the opportunity to spend Tuesday afternoons and evenings during the spring assisting low-income and elderly individuals in Covington, Kentucky, with preparing their federal, state, and local tax returns. Other students within the Accountancy Department are partnering with CPAs from Rudler, PSC and other organizations, which allows them to be engaged citizens within the community and gain valuable, real-world experience. Also this year, students and faculty within the Information Systems Department have been working with Be Concerned, Inc., a nonprofit in Northern Kentucky that has operated one of the largest free food pantries in the area since 1987, to evaluate and improve the organization's current process for storing and securing data as well as sharing information internally. 
The college is not only connecting students to the community, but its faculty and staff are connecting and engaging more with prospective and current students as well. With her background in marketing, Crawford has revamped many of the college's recruitment materials to better communicate the value of accountancy, information systems, and business administration degrees. She has begun hosting Donuts with the Dean, an event where Crawford talks to students in an informal and inclusive setting, encouraging an environment where students can have their voices heard and share ideas for new initiatives. 
"We are here because we truly want to educate and empower students to be the best version of themselves that they can be." – Dean Angela Crawford
The momentum from the college is expected to continue as new and exciting initiatives are on the horizon. Set to launch this fall is a new 4+1 degree where students earn a Bachelor of Business Administration and a Master of Business Administration in five years. Additional programs are also being created through collaboration between faculty members and the business community, such as minors in professional selling and entrepreneurship along with an opportunity for students to earn a certificate and/or an associate degree in project management. Within the college, two community, student, and faculty roundtables were held this year. One roundtable in the fall of 2018 was held to design the professional selling and business development program; and one in the spring was held to discuss designing a program for entrepreneurship and innovation. Through these partnerships between TMU, the community, and students, the college believes that it will better meet the needs of for- and not-for-profit organizations seeking growth.
"It is through prayer for guidance and a dedicated team of full-time faculty members, adjunct instructors, and one of the most positive assistants you will ever meet that I am fortunate to serve as dean of the College of Business," notes Crawford. "We are here because we truly want to educate and empower students to be the best version of themselves that they can be. In the College of Business, more than half of our students are also working professionals, which means we teach days, nights, online, on-campus, undergraduate, graduate, professional, and traditional students – all because we CARE about connecting our students to their future."
Meet the Dean: College of Business
Angela Crawford, Ph.D., founding dean of the College of Business, earned her doctorate from Case Western Reserve University, Master of Business Administration from Cleveland State University, and a bachelor's degree of business administration from the University of Cincinnati. Crawford teaches graduate and undergraduate courses in the areas of strategy, innovation, marketing, and management at TMU. Her research focuses across disciplines on the topic of igniting passion within people. Within the community, she serves as a hospice volunteer for Bluegrass Care Navigators, and a WE Lead Coach for the Cincinnati Chamber of Commerce.
Fields of Study*
Accountancy | Business Administration | Computer Information Systems | Management Information Systems | Sports and Entertainment Marketing | Web Design
College of Education and Health Sciences

 
Like the College of Business, the College of Education and Health Sciences, under the guidance of Dean Kim Haverkos, Ph.D., has established a collaborative vision to ensure that graduates are able to meet the diverse needs of the communities in which they will serve. With this focus, the college equips these future service providers with critical skills in their chosen field of study, whether education or healthcare, that are necessary to assist them in defining the specific challenges to overcome for the individuals they meet. 
"…all of us must engage in life-long learning…" – Dean Kim Haverkos
The College of Education and Health Sciences has greatly progressed since its establishment in October 2018. Since the fall, the athletic training program received accreditation by the Commission on Accreditation of Athletic Training Education (CAATE) as a result of the dedication of Christine Griffiths, Ph.D., chair of the Sports Sciences Department, and Justin Farr, Ed.D. Also, the TMU campus has geographically expanded to include two new buildings in Edgewood, Kentucky – one of them being the new Center for Health Sciences, in partnership with St. Elizabeth Healthcare. The new Center houses the Sports Sciences Department and includes three new athletic training labs outfitted with equipment to aid learning in the areas of clinical modality and rehabilitation. It also is home to the Nursing Department, which includes the University's traditional four-year nursing and accelerated RN to BSN programs. In addition, the Education Department has branched into the Boone County School District with work at Yealey Elementary. The work that is being done within this collaboration is showing a positive impact on the value of learning for students at Yealey as well as the Thomas More education students who have experienced classes at the elementary school. Additionally, Yealey administrators Renee Turner and Mellissa Dunn, Dean Haverkos, and Christy Petroze, Ph.D., presented this work in February 2019 at the National Association for Professional Development Schools (NAPDS) annual conference in Atlanta. 
Staying true to the mission of Thomas More, Haverkos sees developing the knowledge, skills, and values to meet the needs of diverse communities, as a key investment into the college's students. "As a community of people within this college, I believe we recognize that our work within these walls and out in the community is more than just work towards a degree," says Haverkos. "Instead, we – faculty, staff, and students – recognize that our work and our success in that work impacts real people with complex lives and issues that we have to be prepared to address. As nurses, teachers, and athletic trainers, our graduates must recognize that their place in the world will have a direct impact on the lives of those they serve and that they have a responsibility to those individuals and communities." 
With this emphasis on impact, leadership is a significant element in the vision for the college.
"Leadership within our college isn't about me, as the dean of the college, directing from afar, but rather, it is about a community of people working to meet the needs of those around them in a professional, communal, and culturally responsive way," Haverkos adds. "It is about recognizing that all of us must engage in life-long learning and, as a whole, we must seek out opportunities to better connect to our professions, our communities, and our stakeholders."
The College of Education and Health Sciences has a total of 383 students. Making up this grand total are 329 undergraduate traditional students, 33 undergraduate adult students, and 21 graduate students. The most popular major within the college is nursing. Exclusive to the college, the athletic training program, which was launched in 2014, currently offers the only master's degree of its kind in the area.
Meet the Dean: College of Education and Health Sciences 
Kim Haverkos, Ph.D., founding dean of the College of Education and Health Sciences, earned a bachelor's degree from Xavier University in biology and a Master of Education in science education from the University of Cincinnati. She joined Thomas More's Education Department in the fall of 2012 after receiving her doctorate from Miami University, where her dissertation work explored girls' attitudes and behaviors around "going green" and Science, Technology, Engineering, and Math (STEM). Her areas of research and teaching continue to focus on STEM education and cultural studies. Haverkos also teaches in the graduate and undergraduate programs in the Education Department.
Fields of Study*
Athletic Training | Education: Educational Studies, Elementary School, Middle School, Secondary School  | Exercise Science  | Nursing | Special Education 
College of Arts and Sciences
The College of Arts and Sciences, under the guidance of Dean Shelby Thacker, Ph.D., has aligned with the University mission of seeking to transform the lives of students through rigorous academics. The college strives to produce graduates who are prepared to engage with a world that is increasingly complex. Students within the college will be equipped to enter the workforce and society as confident and capable graduates, holding the abilities to speak and write clearly, to reason critically, to solve problems, and to interact with others as good citizens. Emphasizing the value of communication skills, literature, history, creative and performing arts, natural and social sciences, philosophy, and theology, the college focuses on high-quality teaching, service, and research, utilizing approaches that are interdisciplinary, experiential, and service-minded. 
The College of Arts and Sciences houses 471 students. This total number is composed of undergraduate traditional students. The college is the second largest on campus and houses one of the University's most thriving majors, biology. 
Like the other two colleges, exciting new initiatives have come from Arts and Sciences since its inauguration in October 2018. In November, a ribbon cutting ceremony marked the grand opening of the Thomas More STEM† Outreach Center at the Biology Field Station. The afternoon was a celebration of this regional resource for education, research, and outreach, while presenting the perfect opportunity to thank the Center's donors. The Center is an $875,000 expansion of the Biology Field Station and directly results in more schools being able to access TMU's STEM outreach programs. This stand-alone building, designed as an enhanced research facility, offers additional professional development opportunities for K-12 teachers who seek to promote inquiry-based teaching strategies in their curriculum, and helps increase the scientific literacy for visitors of all ages. Nearly 2,000 pre-college students throughout the region visit the Biology Field Station each year. 
Also new to TMU, the college will offer a Master of Fine Arts in the field of creative writing this upcoming fall. Familiar to the University, but now housed within the College of Arts and Sciences, is TMU's Creative Writing Vision program, which hosted nearly 20 events this spring under the direction of Creative Writing Vision Founder and Director Sherry Stanforth, Ph.D. Each event intertwined students, community, poetry, cultural heritage, and local artists, emphasizing the value TMU places on the liberal arts. The program includes an Appalachian Writers Series, writing workshops, a writer's retreat, open-mic poetry, the annual Caden Blincoe Outloud Festival (which celebrated its 27th annual event on campus in February) and more. 
"I hope to lead the College of Arts and Sciences in fulfilling the mission of the University by listening carefully to the immensely talented faculty within the college," says Thacker. "The college is staffed by content experts in every discipline, many of whom have considerable experience in the classroom and in the administration. They are already accomplished problem solvers. In my opinion, the best approach is to build a consensus on the important issues that face us by utilizing the strengths of the faculty."
Meet the Dean: College of Arts and Sciences 
Shelby Thacker, Ph.D., founding dean of the College of Arts and Sciences, earned his doctorate in Spanish literature from the University of Kentucky. His dissertation focused on the Spanish Regenerationist Essay of the late nineteenth and early twentieth centuries. Thacker is presently working on a multimodal and intertextual anthology of Spanish for American undergraduate students. He has been at Thomas More since July 2018. Prior to arriving at TMU, he was a Spanish professor and chair of the Department of Ancient and Modern Languages at Asbury University.
Fields of Study*
Art | Biology | Biochemistry  | Bioinformatics and Computational Biology | Biology | Chemistry | Communication | Communication and Theatre | Criminal Justice | Economics | English | Environmental Science | French | Gerontology | History | International Studies | Mathematics | Medical Laboratory Science | Multimedia Design | Music | Non-Profit and Public Administration | Philosophy  | Physics | Political Science | Psychology | Sociology | Spanish | Theatre | Theology
Pre-Professional Programs*
TMU's current core curriculum involves many undergraduate degrees that can lead to immediate entry into the workforce or continuing on to graduate school studies. In the spirit of making the transition to graduate school easier, the following pre-professional programs are offered as specific tracks: Pre-Dental | Pre-Engineering | Pre-Medical | Pre-Pharmacy | Pre-Physical Therapy | Pre-Veterinary
The Seven Institutes*
In addition to the three colleges, there are seven institutes at TMU serving specific needs for the University community. These Institutes help to further the mission of the University:
Institute for Higher Education Compliance
Wm. T. (Bill) Robinson III '67 Institute for Religious Liberty
Insitute for Ethical Leadership and Interdisciplinary Studies – Houses Ethical Leadership Studies and Law fields of study
High School Summer STEM Institute
Housed within the TMU Success Center:
Dr. Anthony R. and Geraldine Zembrodt Institute for Academic Excellence
Institute for Learning Differences
Institute for Career Development and Graduate School Planning
*Fields of study are subject to change and include programs that encompass minor, associate, bachelor's, and master's degrees. For more information on a particular field of study, individual colleges, or the institutes, please call 859-344-3443 or email  moreover@thomasmore.edu.